Welcome to the on-line edition of June 1997 issue.
As with our hard-copy format, we welcome readers' comments andreactions. Our Internet address is uchicago-magazine@uchicago.edu.
---
THE UNIVERSITY OF CHICAGO MAGAZINE
June 1997
---
Table of Contents
VOLUME 89, NUMBER 5 JUNE 1997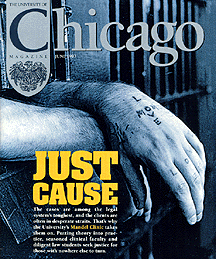 JUST CAUSE: The cases are among the legal system's toughest, and the clients are often in desperate straits. That's why the University's Mandel Clinic takes them on. Putting theory into practice, seasoned clinical faculty and diligent law students seek justice for those with nowhere else to turn. (See "Theory in Practice," below). Photograph by Lloyd DeGrane.
---