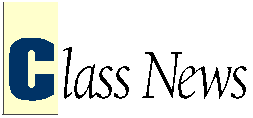 1980s
---
What's the news? We are always eager to receive your news at the Magazine, care of the Class News Editor, University of Chicago Magazine, 1313 E. 60th St., Chicago, IL 60637, or by E-mail: uchicago-magazine@uchicago.edu.

To write us with your news directly, click here for our e-mail form: uchicago-magazine@uchicago.edu.

No engagements, please. Items may be edited for space. As news is published in the order in which it arrives, it may not appear immediately.

Please specify the year under which you would like your news to appear. Otherwise, we will list: (1) all former undergraduates (including those who later received graduate degrees) by the year of their undergraduate degree, and (2) all former students who received only graduate degrees by the year of their final degree.
---
80
Nancy DeFrancesco Griswold, AB'80, AM'81, and Donald M. Griswold, AB'79, announce the birth of their daughter, Rachel Grace, who joins Michelle, 14; Danielle, 11; and Matthew, 7. Nancy is vice-president and counsel for the Boston Company, a subsidiary of Mellon Bank, and Don is a national partner in charge of state and local tax advocacy and consulting for KPMG Peat Marwick. The family lives in Sudbury, MA. Ralph P. Locke, AM'74, PhD'80, a professor of musicology at the University of Rochester's Eastman School of Music, won a 1996 ASCAP-Deems Taylor award for outstanding print and media coverage of music for his article, "Paradoxes of the Woman Music Patron in America," the sole winner in the symphonic articles category. Locke was honored at a December press conference and reception in NYC. After teaching English in Japan for more than ten years, Christine Dickinson Matsushita, AB'80, "fell into" a job in radio. Her first broadcast of Yasashii Business Eigo, or Easy Business English ("although most people tell me it's not easy," says Matsushita) aired April 7 on Japanese national radio. "I hope the current 300,000 listeners continue to tune in," she writes. Susan L. Meekins, AB'80, is a partner in the law firm Molton & Meekins, which handles commercial litigation and arbitration in New York, New Jersey, and Connecticut. Erica E. Peresman, AB'80, see 1978, David B. Jaffe. Howard L. Suls, AB'80, left the Air Force and is a family-practice physician in Manchester, NH. Daughter Jenna arrived November 4 "to keep 3-year-old brother Jordan company." Suls wants to keep in touch with "the Apartment 201 gang."
81
Samir Ahmed, AB'81, spent "nine happy years" in Pakistan, China, and Hong Kong with the Bank of Credit and Commerce International, until "the bank went bust." Back in his home country of Pakistan since 1992, having switched from commercial to investment banking, Ahmed is head of sales and trading at ING Barings Pakistan. Joan M. Hardy, AB'81, a health educator and physical therapist, has a Brookline, MA-based practice called Smokefree Smoking Cessation Service and publishes Smoke Signals, a free newsletter for professionals who assist smokers in quitting smoking through health-care, human-resources, or employee-assistance programs. Phillip E. Jackson, PhD'81, was promoted to senior vice-president of operations at JAMI Charity Brands Services, a cause-marketing firm whose clients include the national offices of such nonprofits as the American Heart Association and Habitat for Humanity International. In a separate endeavor, Jackson has enlisted the Claudia Menza Literary Agency of NYC to represent his literary efforts, including a screenplay. The agency, he notes, "represents Harold Cruse (professor emeritus at the University of Michigan), August Coppola, Eldridge Cleaver, and Wynton Marsalis--a rather eclectic group." Jackson's fiction has been translated and published overseas, most recently in Italy and Australia.

James M. Kardelis, AB'81, "is a pretty busy guy right now," he writes. "After adventures in New Orleans and on the floor of the Chicago Board of Trade, I finally completed an M.B.A. at DePaul University and hope to be a C.P.A." As well as making a bid (unsuccessfully) for township collector in the April 1 elections in Palos Township, IL, Kardelis worked as an accountant, taught college, and ran a real-estate redevelopment operation with his wife, Cathy, on the South Side. Kardelis writes, "I am free for lunch downtown anytime, so give me a call at 708/430-7521." Lisa Kregel, AB'81, works for the Wisconsin Department of Health and Family Services, where with funding from the Robert Wood Johnson Foundation she has been developing a program to provide acute and long-term care in the homes of the frail and physically disabled.

Anne M. Nordhaus-Bike, AB'81, wrote a chapter about Racine Street in the 1996 book, Streets of the Near West Side (ACTA Publications). After ten years of criminal-defense practice, Elizabeth Vila Rogan, AB'81, has "taken a hiatus to be a mom." She and her husband, Ed, moved in April 1996 from Atlanta to Glastonbury, CT, along with their daughter, Carolyn; Rogan's mother; and "half a dozen cats." Lindsey Johnson Suddarth, AB'81, moved to Medon, VT, and was married to John Suddarth on November 16. She reports that at the wedding, "We had a good U of C showing (5) and lots of fun." Suddarth's business, Women Incorporated, has entered its third year after a successful second.
82
Russell L. Bennett, AB'82, says hello from "sunny San Diego," adding: "Can't say I miss the Windy City. I miss springtime in the Quad with discs a-flying, but you can keep the winter. Any folks in SoCal feel free to drop me a buzz. Working on some Web stuff, but too early to give away. (P.S. Folks not in SoCal also feel free to drop me a line.)" Bennett is at russmedia@aol.com. William W. Goldstein, AB'82, edits the Web site of the New York Times Book Review, which has a URL address of http://www.nytimes.com. Paul W. Gronke, AB'82, earned a Ph.D. in political science from the University of Michigan in 1993. He and his wife, Karin Purdy, have a 7-year-old son, Benjamin; a 3-year-old daughter, Katherine; a 10-year-old Great Pyrenees; and "a terrorist Manx cat," Simon. Gronke and Purdy are faculty in residence on the east campus of Duke University, which awarded Gronke its highest teaching award, the Richard K. Lublin award, "with a nice monetary stipend!" Gronke also had a book accepted for publication at the University of Michigan Press.

Kenneth J. Knoespel, AM'75, PhD'82, who chaired the School of Literature, Communication, and Culture at Georgia Institute of Technology for seven years, was appointed associate dean of the institute's Ivan Allen College of Management, Policy, and International Affairs. Richard C. Krueger, AB'82, PhD'88, MD'90, and Elizabeth K. Hawkes, MD'87, have two kids: Madeleine Elizabeth, 4, and Maxwell August, 9 months. Krueger is a neonatologist at the U of C. Brent F. Widen, AB'82, a self-employed tax accountant, auditor, and consultant in San Antonio, TX, is president and sole shareholder of the South Flores Development Corp., which specializes in historic real-estate acquisition, renovation, and development.
83
The Women's Caucus for the Modern Languages awarded Linda Shell Bergmann, AM'73, PhD'83, its 1996 Florence Howe award for her paper, "Widows, Hacks, and Biographers: The Voice of Professionalism in Elizabeth Agassiz's Louis Agassiz: His Life and Correspondence." Bergmann's paper also will be published in the journal a/b: Auto/Biography Studies. Bergmann is director of the Writing Across the Curriculum program at the University of Missouri-Rolla. Donna Camloh Bond, AB'83, AM'84, and Jeffrey M. Bond, AM'81, PhD'92, announce the December 2 birth of daughter Mary Teresa, who joins Isak, Leo, Ivanna, Joseph, Luke, and "doggie Lulu." Jeff teaches classics at Mountain Lakes High School in New Jersey, and Donna teaches school-age children at home. Pierrette M. Poinsett, MD'83, says of her son, Joshua Mandela, who was born January 24, "Frankly I am learning more from him than from my pediatric training!" Poinsett, a single parent, is "developing [her] own mommy track," and will return to the public sector as a medical consultant and family advocate. Gary A. Rogers, MBA'83, joined Security Dynamics Technology as senior vice-president of worldwide sales and field operations. Therese L. Surprenant, X'83, see 1986, Robert T. Sitko.
84
Chicago-based attorneys Celiza P. ("Lisa") Braganca, AB'84, JD'92, MBA'92, and David A. O'Toole, AB'84, JD'92, announce the April 11 birth of their first child, Samuel Andrew. Braganca specializes in litigation at Jenner & Block, while O'Toole is a litigator with Miller, Shakman, Hamilton, Kurtzon & Schlifke. David R. Buddle, X'84, a senior editor at the Hadley School for the Blind in Winnetka, IL, grieves the loss of Fred, his companion of eight years. Buddle plans to relocate soon, returning to upstate New York. E-mail him at cadrb01@ibm.net. Alan S. Drimmer, AB'84, AM'86, PhD'91, having accepted a position with McKinsey & Company, moved back to Chicago along with his wife, Caren Yusen, and their son, Maxwell. Keith A. Kostuch, AB'84, joined the Amsterdam office of the Boston Consulting Group in February 1995 and was elected a vice-president in May 1996. He writes, "Living and working in Europe has been a great experience with almost no drawbacks. We live in Laren, a very beautiful suburb of Amsterdam. But the really important news is that my wife, Erna Bongers Kostuch, JD'89, and I ended 1996 with a new addition to the family." Thomas Xavier was born on November 7. Kostuch writes, "He is healthy and happy but not one for sleeping at night." Campbell J. McGrath, AB'84, see 1994, Polly A. Roberts. Mark A. Mravic, AB'84, and Melissa H. Ulloa, AB'85, announce the January 31 birth of their son, Branko Alexander. Mravic is an editor at Sports Illustrated in NYC, and Ulloa is on leave from her job as an editor at Businesswire. The family lives in Hoboken, NJ.
85
Mark M. Blasinsky, MBA'85, was promoted to managing director of the markets group at PNC Bank, where he manages commercial, mortgage-backed securities. In early December, Mary Rojek Kleinman, AB'85, married Sidney Kleinman in Maui. The couple lives in Chicago. Soichiro Kurachi, MBA'85, is vice-chair and CEO of Japan Corn Starch. Kaarel T. Laev, AB'85, now administrator of the pulmonary and infectious diseases division at Columbia-Presbyterian Medical Center in NYC, wishes he'd "taken more nonprofit-sector M&A courses at the B-school." Donald L. Meccia, AB'85, is director of marketing and business development for the Cincinnati Stock Exchange, where he can be reached at 312/786-7983 or by E-mail at meccia@cboe.com. As union president of the Graduate Employees' Organization at the University of Michigan, Michelle Ward Mueller, AB'85, represents some 1,500 graduate student instructors and staff assistants. Kevin M. Neuman, AB'85, MBA'89, and Gretchen Miller Neuman, AB'88, announce the August 6 birth of daughter Sophia Elise. She joins sister Celia Clare, who was born January 23, 1995. In September, Steven J. Strobel, MBA'85, was appointed vice-president and controller of Owens Corning in Toledo, OH. Melissa H. Ulloa, AB'85, see 1984, Mark A. Mravic.
86
Dane S. Claussen, MBA'86, who holds an M.S. in mass communications from Kansas State University, is a teaching assistant and Ph.D. candidate at the University of Georgia. Richard T. Cox, Jr., SM'86, and Stefanie Ormsby Cox, AM'86, adopted "a sibling group" of three children, ages 9, 12, and 14. They also have two foster children, ages 9 and 11. In December 1993, Richard started a "small, successful, home-based business," Midwest Environmental Consulting, where he and a partner provide expertise on subjects including lead, indoor air quality, and health & safety. E-mail them at DalboMN@juno.com. Monica M. Creighton, AB'86, and her husband, Darrell Graham, announce the July 9, 1996, birth of their second child, John Creighton Graham. "Big sister Maere is particularly thrilled with her baby brother Jack," writes Creighton. Since November, Graham has been editor of Industrial Marketing Practitioner, a monthly newsletter published by Prentis W. Hall, MBA'86. Christopher W. Newcomb, AB'86, has been practicing environmental law for two years in the Chicago office of Karaganis & White and is general counsel for Prairie Solutions, a software-development and database-management company. Robert T. Sitko, AB'86, MBA'90, a portfolio manager with the Frost National Bank in San Antonio, TX, chairs the trust group's equity-selection committee. His wife, Therese L. Surprenant, X'83, received her J.D. with honors from the University of Texas at Austin law school in May 1996 and passed the Texas bar in November. She is an attorney with Whetley & Onion, a firm specializing in commercial litigation. Byron W. Smith, MBA'86, was appointed sales vice-president for the Atlanta-based GTE Wireless.
87
Alan J. Baren, MBA'87, former vice-president of technology at Bankers Trust Co., and former Internet/groupware strategist at Coopers & Lybrand, now runs a startup Internet company called Train.Net (http://www.train.net). The network links companies with technology professionals, offering online course registration and "e-commerce" capabilities. Adam S. Berkin, AM'87, left teaching for a job in educational publishing. Now the education editor at Time for Kids, a weekly classroom newsmagazine produced by Time magazine for fourth- through sixth-graders, Berkin writes that he has "a great job that combines my interests in teaching and writing." Steve L. Eudy, MBA'87, directs operations for Semitool, which makes tool equipment for the semiconductor industry. Elizabeth K. Hawkes, MD'87, see 1982, Richard C. Krueger. During the school's "Barrister's Ball" earlier this year, students at the Indiana University-Indianapolis School of Law honored Michael R. Heise, JD'87, with the Black Cane outstanding-professor award.

Erik S. Lieber, AB'87, MFA'95, is married and living in NYC. After two years in Taiwan and one year as a Rotary graduate scholar in Thailand, Teresa M. Noverr-Chin, AB'87, now works in global trade and finance at Chase Manhattan Bank in NYC. She would like to meet other alumni, particularly NYC-based ones, interested in international trade in the Pacific Rim.
88
Farzad H. Alvi, AB'88, who works in corporate finance for Lippo Securities, writes: "Fearing a conventional life, I have relocated to Jakarta, Indonesia....The most enjoyable aspects of being here are learning a new language, meeting wacky people, and scuba diving. I live happily with my plants, Ernie and Bert." All three can be reached via E-mail at farzad@uninet.net.id. Michael J. Drewek, AB'88, and Cynthia Clark were married on October 5 in Nashville, TN, where U of C friends helped celebrate the event. The couple spent their honeymoon "in the castles of Portugal." Drewek will complete his neurosurgery residency at Vanderbilt University in 1999. Francis J. Gavin, AB'88, is a history lecturer and Ph.D. candidate at the University of Pennsylvania. Alexander R. Gottschalk, AB'88, PhD'94, MD'96, an internal-medicine intern at Kaiser Permanente Medical Center in Santa Clara, CA, begins a residency in radiation oncology this July at the University of California in San Francisco. Doran A. Kim, AB'88, who is in California completing a residency in internal medicine, attended the November wedding of Sophia and Howard Lee, AB'88. Kim also keeps in touch with Patrick A. Todd, AB'88, who lives in Redondo Beach, CA, with his wife, Brenda, and their son, Patrick Tyler. Kim says that pursuing a Hollywood career has not prevented Todd from "still hanging out in Manhattan Beach" along with Kim and "occasional transients," including Eric A. Kuwana, AB'88; Gerald W. Spahn, AB'88; Tom K. Kang, AB'89; and F. Scott Schmeisser, AB'90. "Drop a line if you are on the West Coast," says Kim, whose E-mail address is kimda@csmc.edu.

Giorgio V. P. Kulp, AB'88, see 1991, Edoardo M. Kulp. Gretchen Miller Neuman, AB'88, see 1985, Kevin M. Neuman. Ralph A. Scherer, AB'88, and Christine I. Stuckslager were married on July 24, 1996, on the island of Kaui, HI. Stuckslager teaches at Notre Dame Academy in Los Angeles, and Scherer is a studio grip whose assignments have included Jerry Maguire, Independence Day, How to Make an American Quilt, and "the big one" with "the big guy": Steven Spielberg's The Lost World: Jurassic Park. Arend G. Westra, AB'88, who joined the Marines in May 1988, recently reported for duty at the Marine Corps Air Station in El Toro, CA. Robert M. Whitnell, PhD'88, an assistant professor of chemistry at Guilford College in Greensboro, NC, is codirecting a project to build a computation and visualization center at the school. Supported by a grant from the National Science Foundation, the project will strengthen student and faculty research in astronomy, chemistry, geology, and physics.
89
Gerard J. Anderson, MBA'89, was promoted to vice-president and director of finance and administration at Brown-Forman Beverages Worldwide in Louisville, KY. Frank H. Creamer, MBA'89, and Steven S. Ramsey, MBA'89, both were promoted to associate-partner positions at Andersen Consulting. Paul D. Haar, AB'89, and Laura Neemann Haar, AB'89, announce the June 13, 1996, birth of their daughter, Jennifer Elizabeth. Paul, who received a Ph.D. in physics from Stanford in January, takes care of Jenny during the day when not teaching undergraduates at San Francisco State. Laura, an analytical chemist, works at an environmental lab in Redwood City, CA. Steven Hersovici, AB'89, AM'91, see 1990, Tracy V. Bare. Tom K. Kang, AB'89, see 1988, Doran A. Kim. Erna Bongers Kostuch, JD'89, see 1984, Keith A. Kostuch. Bryan A. Liang, PhD'89, an assistant professor of law at Pepperdine University--"the place where Ken Starr is, maybe is, isn't right now, going to be dean"--has published several articles on legal issues in medicine in the past year. His work has appeared in the Antitrust Law Bulletin, the Journal of Legal Medicine, and the Notre Dame Law Review. Liang, a fellow of the American College of Legal Medicine, also serves on the legal advisory council for the National Legal Center for the Public Interest, and recently attended the council's invitation-only black-tie dinner for Chief Justice William Rehnquist in NYC.

Brent M. Magid, MBA'89, of Marion, IA, is director of corporate and strategic development for the media-and-entertainment research and consulting company Frank M. Magid Associates, and was recently elected a director of Public Radio International. Andrew W. McCune, JD'89, of Chicago is a partner and member of the corporate group at the law firm Altheimer & Gray. Kent H. Nakagawa, SB'89, is a research and design engineer at Photronics in Milpitas, CA. Philip M. Smith, AB'89, lives near Cleveland, where he works for the mysdyscs record label and freelances as an editor, most recently for American Magus, a book on film-maker/artist Harry Smith. His "early-90s post-rock band," Lhasa Cement Plant, last year released its second CD, Chakra Full of Blood. The band also performed at the Terrastock music festival in Providence, RI, in April.
---
Within Class News:
---
Go to:
---
Return to June 1997 Table of Contents