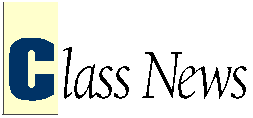 ---
Profit's Prophet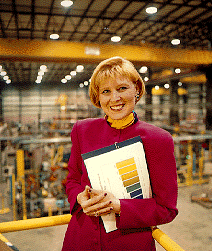 Diane Swonk, MBA'89, calls herself an "economic translator." At the First Chicago NBD Corporation, Swonk "translates" her economic expertise into a message the bank and its customers can use to prepare for the future.
With bachelor's and master's degrees in economics from the University of Michigan, Swonk passed up an opportunity in 1985 to pursue a Ph.D. there, opting instead to accept a position with First Chicago. The 34-year-old has been at the Chicago bank ever since, earning her M.B.A. from the GSB along the way. "I'm the only one I know who's had the same phone number her entire career," she says. "But I have a much better office now--and a better view!"
Swonk, now first vice-president and deputy chief economist for First Chicago NBD, designed the bank's Midwest regional economic model and writes many of the bank's public reports charting economic trends and forecasting long-term change. Over the years, she's made some startling--and accurate--predictions.
One of the best forecasts she ever made was also one of her first forecasts, says Swonk, "and that was the Midwest turnaround." In the mid-1980s, the economy was said to be "bicoastal," and the Midwest was widely seen as the Rust Belt. "The Midwest was not the place to be," Swonk recalls, "and frankly, senior managers in this bank were not sure this was where they wanted to be, for a very understandable reason: It had been draining them." So when Swonk began predicting an economic turnabout, she met with "enormous resistance." She laughs. "Twenty-three years old, blond, and saying, 'This world is going to change, and it's going to be to your advantage, and everything you know, just toss it out the window, because it's going to get better--'? They thought I was nuts!"
But Swonk's unflagging conviction eventually persuaded the skeptics at First Chicago that the Midwest would rise from its economic ashes. In 1995, when First Chicago merged with NBD Bancorp, says Swonk, the merger was "a culmination of all the work we had done, trying to turn this bank's sights back on its own backyard, back on the Midwest."
Growing up in Detroit, Swonk had been economy-watching for years before her career's official start. "Coming of age in the early 1980s was a crash course in global economics," she recalls. The daughter of a General Motors executive, she witnessed firsthand the "heart-wrenching" spectacle of "an industry that had been an American treasure, turned upside down by global competition." These days, Swonk delivers around 100 speeches a year, many echoing a theme she learned young: "It was a lot easier being capitalist when we didn't have competition, now, wasn't it?"
Along with her influence, Swonk's audience has steadily expanded. She regularly advises the Federal Reserve Bank of Chicago and, on occasion, the Federal Reserve Board in Washington. "To be able to have some level of influence when you feel so passionately about something, and feel that you do have an understanding to bring to the table," she says, "is just terribly rewarding." Swonk is also a popular media resource on economic issues. Often quoted in national newspapers and business magazines, she's a semi-regular on WTTW's Chicago Tonight and has appeared on national public television's Wall Street Week. The economic expert has even received offers to host her own TV program--offers she's declined because, when it comes to the economy, Swonk would rather answer the questions than ask them.--Catherine Mizgerd
---
Within Class News:
---
Go to:
---
Return to June 1997 Table of Contents