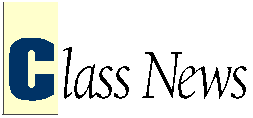 1990s
---
What's the news? We are always eager to receive your news at the Magazine, care of the Class News Editor, University of Chicago Magazine, 1313 E. 60th St., Chicago, IL 60637, or by E-mail: uchicago-magazine@uchicago.edu.

To write us with your news directly, click here for our e-mail form: uchicago-magazine@uchicago.edu.

No engagements, please. Items may be edited for space. As news is published in the order in which it arrives, it may not appear immediately.

Please specify the year under which you would like your news to appear. Otherwise, we will list: (1) all former undergraduates (including those who later received graduate degrees) by the year of their undergraduate degree, and (2) all former students who received only graduate degrees by the year of their final degree.
---
90
Tracy V. Bare, AB'90, JD'92, and Steven Herscovici, AB'89, AM'91, PhD'96, announce the February 19 birth of their daughter, Abigail Elinor. Herscovici is an economist with Analysis Group Economics in Cambridge, MA. Bare is staying home with Abigail until the fall, when she will enroll at Lesley College to pursue a master's degree in early childhood education. Ernest Barreto, AB'90, completed a physics Ph.D. in chaos theory at the University of Maryland-College Park in December. Barreto is now a postdoctoral fellow and lecturer in Maryland's physics department and Institute for Plasma Research. Janet H. Cho, AB'90, enjoyed a visit from Nancy Lee Reiser, AB'90; her husband, Kurt Reiser; and their son, Benjamin ("Cougar"), then 100 days old--"Class of 2014," Cho writes. The Reisers traveled from their home in Aurora, IL, to Cho's in Fort Lauderdale, FL, where John P. McGinn, AB'90, MBA'93, joined the group for fondue. Jose M. Garza, AB'90, MBA'92, see 1992, Kristina S. Tzaneff. Keith M. Kilgore, AB'90, lives in Taipei, Taiwan. After several moves in the past few years, Anton I. Nielsen, AB'90; Christine Kelly Nielsen, AB'90, AM'90; and their son, Nick, 2, have "decided to settle down for a while" in Quincy, MA. Anton left the Air Force to accept a position with Coopers & Lybrand, while "Chris is busy running after Nick all day and renovating our house," writes Anton, adding, "Built in 1900, the house is not very old by East Coast standards." The Nielsens would like to hear from "U of Cers" in their area; E-mail them at anielsen@colybrand.com. In anticipation of receiving a Ph.D. in history from the U of C this month, Brian W. Ogilvie, AB'90, AM'92, accepted a tenure-track position as assistant professor of Renaissance history at the University of Massachusetts-Amherst for the fall. F. Scott Schmeisser, AB'90, see 1988, Doran A. Kim. Wendy S. Wolbach, SM'86, PhD'90, was granted tenure in the chemistry department at Illinois Wesleyan University.
91
Amy O'Meara Chambers, AB'91, joined one of the Michigan offices of the law firm Howard & Howard, where she focuses on commercial litigation. James W. Ducayet, AB'91, and Joan Patterson Ducayet, AB'91, announce the April 17, 1996, birth of their son, James Michael. The family lives in Evanston, IL. Jim is an attorney with Sidley and Austin, and Joanie coaches the forensics team at Woodlands Academy in Lake Forest, IL. Martin J. (Gorvine) Gidron, AB'91, and Michelle Gidron announce the birth of their son, Jonathan Arne. Married in 1994, the couple lives in Tel Aviv, where Martin is an associate editor for International Diamond Publications, a company that publishes periodicals about the diamond and precious-stones industries. The Boston-based Gregory M. Gunn, AB'91, met his wife, Lisette Nieves, while the two Rhodes scholars were boarding an Oxford-bound airplane. Formerly a program officer for Americorps, Nieves is now a freelance consultant and training specialist for community-service organizations. The couple was married in April.

After living in Hong Kong for several years, Alexandra Julian, AM'89, MBA'91, recently returned to her home country of Canada, where she was promoted to manager of Revlon's business development for the Western hemisphere; she will concentrate on developing markets in Latin America and South America. Julian is also working on her first novel. Edoardo M. Kulp, AB'91, an assistant business manager for Oral-B Laboratories, lives in San Francisco, "where life is good." Also vice-president of sales and marketing for SiteMedia, an Internet startup company, Kulp works "a lot," but does "get out a little." For two weeks in October, he bicycled through Umbria, and this year, he hopes to "hit the Loire Valley." He invites classmates to E-mail him at edoardo_kulp@gillette.com. Edoardo adds that his brother, Giorgio V. P. Kulp, AB'88, and his wife, Debbie, had an "adorable" son, David, on January 17. Giorgio, a second-year resident in pediatrics at the National Children's Hospital in Washington, DC, sings in an a cappella group whose local performances included the national anthem at a Redskins game last season.

Russell D. Mast, AB'91, see 1993, Robert J. Sama. Guillermo P. Pardinas, MBA'91, a manager at Abbott Laboratories, was promoted and relocated from Puerto Rico to Thailand. Jessica M. Peirce, AB'91, defended her dissertation, "Posttraumatic Stress Disorder and Sexual Assault in Female Methadone-Maintenance Clients," and graduated with a Ph.D. in biological psychology from the University of Oklahoma Health Sciences Center. Peirce begins a clinical psychology internship in the fall, and meanwhile she is "well and happy and living the good life with my partner and a dog and cat in a beautiful house in Oklahoma," she writes, adding, "I seem to have become the yuppie I swore I'd never be!" Matthew D. Rettenmund, AB'91, see 1996, Nicholas J. Patterson. Patricia Rush, MBA'91, was named codirector of Chicago's Rush Institute for Healthy Aging. Mark E. Solomon, AB'91, who worked for four years as an internal auditor in the mortgage business in California, is now administrative director and festival coordinator for the San Diego Lesbian and Gay Pride event, held each July. Solomon also volunteers in the community. He plans to begin graduate school in the fall, but meanwhile would like to locate old U of C friends. His E-mail address is sdpride@msn.com. Duncan M. White, MBA'91, was promoted to associate partner at Andersen Consulting.
92
Jeffrey M. Bond, AM'81, PhD'92, see 1983, Donna Camloh Bond. Robert P. ("Spoon-ey") Greenspoon, AB'92, see 1993, Robert J. Sama. Mark D. Harrison, AM'87, PhD'92, an economist, won tenure last year at Australian National University. During a sabbatical in fall 1995, Harrison visited the U of C's George Stigler Center for the Study of the Economy and the State. Lin-Song Hsieh, SB'92, was promoted to lance corporal at a Marine battalion in Kaneohe Bay, HI. Cynthia L. Johnson, AB'92, has moved from Nebras-ka's Pine Ridge In-dian Reservation to Washington, DC, where she is the Native American program officer for Americorps. Aasma A. Khan, AB'92, spent this past year, her final year of law school, as a visiting student at Columbia University. She graduated from Chicago-Kent College of Law last month and is joining a law firm in New York, where she would like to get in touch with U of C friends. Michael B. Maltenfort, SM'92, see 1935, Helen Rosenberg Weigle. Nina M. McCune, AB'92, see 1993, Robert J. Sama.

Eric S. Perlstein, AB'92, is writing a book for Farrar, Strauss & Giroux. It is tentatively titled Before the Storm: The 1964 Barry Goldwater Campaign and American Culture. Perlstein invites anyone "with recollections of the 1964 presidential campaign" to contact him at perlstein@aol.com. Michael S. Post, SB'92, and Tammy Smith were married on September 3, 1995. Their daughter, Shoshanah Chaya, was born June 8, 1996. Mary A. Tolan, MBA'92, was promoted to managing partner of Andersen Consulting's North and South American retail-industries practice. Kristina S. Tzaneff, AB'92, left Barents Group in Bulgaria for Salomon Brothers in London, where she works in the areas of debt and fixed income for emerging markets. While in London, she and Angelo R. Moskov, MBA'95, "bumped into Jose M. Garza, AB'90, MBA'92, while riding the tube, and though we didn't recognize each other at first," writes Tzaneff, she and Garza "later realized we were both U of C grads, and were now both working for Salomon Brothers in London--small world."
93
Christopher Anderson, AB'93, see 1994, Cynthia Sinha Anderson. Thurston Bailey, AB'93, a second-year law student at the University of Michigan, is "working hard and enjoying law school as much as" possible. Gregory V. Goldmakher, AB'93, married Tera Bowsher on August 31, 1996, in Dallas, TX, and continues in the M.D./Ph.D. program at the University of Texas Southwestern Medical Center, where Tera will enter medical school in the fall. Fredrick T. Greco, AM'93, who holds a J.D. from the University of Michigan, is an associate in the Cleveland office of the law firm Baker & Hostetler. Lew J. Harasymiw, AB'93, graduated from Boston College law school in May 1996, passed the Massachusetts bar, and was admitted to practice law in "the oldest court of continuous sitting in the Western hemisphere." As in-house counsel at Education Catalysts, a computer consulting firm that markets software to the international offices of U.S. universities, Harasymiw directs the company's immigration software, which "migrates" typewritten Immigration and Naturalization Service forms to laser-printed ones. He notes: "I have started to learn a number of programming languages to assist in software design, and may pursue a master's of information services degree." Gregory R. Herman, MBA'93, was promoted to associate partner at Andersen Consulting. Chandani S. Latey, AB'93, a lawyer and first lieutenant in the U.S. Army JAG Corps, is stationed in Seoul until May 1998. She writes that Martin J. Zurada, AB'94, a second-year law student at Cornell University, will work in Cincinnati for the coming summer; and Dimple Sahni, AB'95, is an investment banker with Goldman Sachs in NYC.

Malinda A. Mazur, AB'93, shares news of Carter A. Swerdlow, AB'93, who is "now in his third year as an M.D./Ph.D. student at the University of Chicago, concentrating in organismal biology and anatomy." Rick S. Nathan, MBA'93, joined Coopers & Lybrand as director of financial advisory services for the intellectual-property division. Brad D. Reid, MBA'93, and his wife, Kim, announce the June 9, 1996, birth of their son, Alexander Douglas. Robert J. Sama, AB'93, reports the November reunion of the rock band the Napkins at Phyllis' Musical Den in Chicago. Russell D. Mast, AB'91; Jacob Galley, AB'93; John A. ("Fieldey") Greenfield, AB'93; and Sama performed "old favorites" such as "I'm a Doorknob" and "Seven Pint Five," for a group of fans that included intellectual-property attorney Robert P. ("Spooney") Greenspoon, AB'92; Nina M. McCune, AB'92; David K. Knutson, AB'93; Dennis S. Merritt, AB'94; and David A. Shoham, AB'95. Napkins vocalist Ihsan Dogramaci, AB'94, "could not be found," and flutist L. Elizabeth Hagen, AB'93, was ill with the flu that weekend. Andrew Simons, AM'93, works for the Sound Archives of the British Museum.
94
Cynthia Sinha Anderson, AB'94, and Christopher Anderson, AB'93, were wed December 29 in a traditional Hindu ceremony in New Delhi, India. Chris manages a Fresh Fields supermarket in Montclair, NJ, and Cynthia, after completing a post-baccalaureate premedical program at Bryn Mawr College in May 1996, has been applying to medical schools. She writes, "I work in Philadelphia doing research on ways to improve health care for poor children." Ihsan Dogramaci, AB'94, see 1993, Robert J. Sama. Thomas J. Gregory, AM'94, MBA'94, and Judith Anne Schell of Downington, PA, were married on November 30. Gregory, a vice-president for global risk management, covers Latin American markets for Bankers Trust in New York. Morgan L. Hammerbeck, AB'94, in his third year in institutional equity sales for the Russian investment bank, Brunswick, moved to NYC from Moscow earlier this year and travels regularly to both San Francisco and Boston. He can be reached at hammer@interport.net. Omar McRoberts, AB'94, is completing his third year as a Ph.D. candidate in sociology at Harvard, where he specializes in urban sociology and the sociology of religion. Last year, McRoberts had four of his poems published in the anthology Soulfires (Viking Penguin).

Dennis S. Merritt, AB'94, see 1993, Robert J. Sama. Polly A. Roberts, AB'94, greets the class of 1994: "How are you? I am fine but I am in creative-writing program muck...trying to transfer to Florida International University from University of Houston to study poetry with Campbell J. McGrath, AB'84." She adds, "Texas is not, I think, a place to be. The car accidents are many, but I have seen no rodeos." William R. Sauey, MBA'94, chair of the Nordic Group of Companies, announces that the firm has moved from Riverside, CA, to a new plant in Redlands, nearly doubling the plant's output capacity. The plant produces injection- and blow-molded plastic cases. Sheffali D. Singh, AB'94, works for GE Capital in Westport, CT. Yvette Kaiser Smith, MFA'94, an artist who lives and works in Chicago, had her sculpture work on display in the recent Penetralia exhibition at the Hyde Park Art Center. Mario D. Springer, AB'94, graduated from law school at the University of Virginia in May and will be working for White & Case in New York. Junior Lieutenant Robert J. Williams, AB'94, an intelligence officer with the U.S. Navy, served on a six-month deployment aboard the U.S.S. Enterprise, supporting both Operation Southern Watch in Iraq and Operation Decisive Endeavor in Bosnia. Martin J. Zurada, AB'94, see Chandani S. Latey, AB'93.
95
The Hyde Park Art Center displayed works by Anthony E. Elms, MFA'95, in its recent exhibit of self-portraits, How to Describe a Suspect. Jason E. Frankel, AB'95, writes that Elizabeth A. Kozmin, AB'96, and Michael T. Lindeman, AB'96, were married on June 22, 1996, in Mineral Point, WI. J. Michael Hamilton, AB'95, and Erin Spence Hamilton, AB'96, were wed on August 31 in Flora, IN. Erika A. Melman, AB'95, who has worked in advertising this past year and lives with friends in Chicago's Wrigleyville neighborhood, will attend the University's Harris Graduate School of Public Policy Studies in the fall. Angelo R. Moskov, MBA'95, see 1992, Kristina S. Tzaneff. The couple lives in NYC. Dimple Sahni, AB'95, see Chandani S. Latey, AB'93. David A. Shoham, AB'95, see 1993, Robert J. Sama.

Elizabeth Parady Strickland, MBA'95, was promoted to assistant treasurer of the Brown-Forman Corporation in Louisville, KY. Douglas B. Y'Barbo, JD'95, who completed an M.S. at MIT before law school, joined the Houston office of the international law firm Fulbright & Jaworski, where he focuses on intellectual property and technology. When Chunae Zoh, AB'95, graduated from a basic armed-forces officers' course in March 1996, his name appeared on the Commandant's List. And for winning his unit's highest score in tank gunnery, Zoh (now a tank platoon leader stationed at Fort Lewis, WA) was awarded the Army achievement medal.
96
Erin Spence Hamilton, AB'96, see 1995, J. Michael Hamilton. Elizabeth A. Kozmin, AB'96, see 1995, Jason E. Frankel. Michael T. Lindeman, AB'96, see 1995, Jason E. Frankel. James R. Morrison, MBA'96, a lieutenant in the U.S. Navy, received a Navy/Marine Corps commendation medal for outstanding performance while serving at the Navy recruiting area in Great Lakes, IL. Chase M. Norlin, X'96, works in Internet marketing at Sony Corporation in San Jose, CA. E-mail him at chase_norlin@mail.sel.sony.com.

Nicholas J. Patterson, AB'96, is the Boston-based editor-in-chief of On the Make, a literary quarterly begun at the U of C in 1996 by members of the Chicago Literary Review. The publication's first issue included writings by U of C research associate Andrew M. Greeley, AM'61, PhD'62; Matthew D. Rettenmund, AB'91; and Richard Stern, the Helen A. Regenstein professor of English at the U of C. Captain Simon G. Soskin, AB'91, of the First Battalion Grenadier Guards in London, has had "a busy year," with a tour in Sarajevo, Bosnia; a staff training course; and now, "a new job in northern Ireland." He reflects, "I find myself thanking the U of C every day for my Common Core education, as every bit of it is needed in my attempts to understand how such a beautiful country can continue to tear itself apart." Soskin plans to visit the U.S. next year and "hunt down some long-lost college mates."
---
Within Class News:
---
Go to:
---
Return to June 1997 Table of Contents