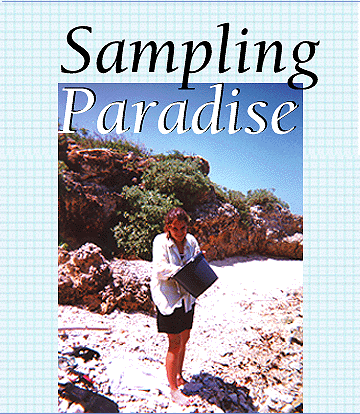 When students in Geo Sci 220 flew to Jamaica for spring break, they came to work on more than just their suntans.
By Tim Obermiller
A for-credit class that culminates in a ten-day field trip to Jamaica may sound like an undergraduate fantasy come true. But in the minds of the budding geologists who signed up this past winter for Modern and Ancient Carbonate Environments (Geo Sci 220), the appeal was not the island's legendary sand, surf, and sun. They came for the rocks.

"It was kind of hard to get anyone to take you seriously when you told them you were going to Jamaica over spring break for a class," says College student Shalini Gupta. "They were like, `Whatever! What kind of class is Jamaica?'"

In fact, the popular destination for winter-weary tourists is also a spectacular spot for geologists. In Jamaica, "we have 70 million years of tropical history on a single island that we can reach by jumping in a van and driving around for relatively short periods of time," says David Jablonski, who was among five U of C professors accompanying 21 Chicago undergraduate and graduate students on the ten-day field trip this March.

Although the geophysical-sciences department has a long-standing tradition of offering field courses over spring break, this is only the second time it's sent students to Jamaica--simply because "it's very expensive to go there," says Jablonski. Each student paid a small fee; the department, the Committee on Evolutionary Biology, and the College picked up the remaining costs. "One reason we were able to take as many students as we did," Jablonski adds, "is that the College helped us out."

Leading up to the March trip, students and faculty met for weekly classes consisting of seminars taught largely by the students themselves on the island's geology and natural history. "We did this not only to prepare everybody for the trip," says geophysical-sciences professor Susan Kidwell, "but also as a signal that-even though it's going to be incredibly fun when we get there-this was a real course, it had real requirements." In addition, students were warned that "during the trip itself you would have fully scheduled days when you're looking at rocks."

The course was especially demanding on undergraduates, says Kidwell. To prepare for their seminars, students were referred not to "secondary or popular books," but to professional scientific journals. The reading was "sometimes at the pretty deep end of the pool" for undergraduates, Kidwell admits, "but each student was assigned a resource faculty member whom they could talk to-to make sure they really understood what was involved in the readings."

The course's faculty--a "dream team" of internationally acclaimed scientists-included Jablonski, an evolutionary paleobiologist and paleoecologist; Kidwell, who studies ancient ecological communities and how they become fossilized; Fred Ziegler, the trip's leader and a specialist in the reconstruction of ancient geographies and climates; Michael LaBarbera, a marine biologist and paleobiologist who has worked extensively in Jamaica; and David Rowley, who specializes in structural geology-how continental drift shapes the surface of the earth.

While these professors acquainted students with the research background necessary to appreciate the island's geology, teaching assistants Mairi Best and Roberto Cipriani, SM'96-graduate students who are both certified scuba divers-conducted practice snorkeling sessions in the Bartlett Gymnasium pool. Once in Jamaica, the Chicago teaching team brought in some local talent: Steven Donovan and Simon Mitchell, geologists with the University of the West Indies in Kingston.

"Steve Donovan was our real ringleader," says Jablonski. An expert on Jamaican geology, Donovan was also friendly with the owners of the various quarries that the group visited, and "he was really good at giving extemporaneous mini-lectures when we got to each place," says Jablonski. "Although he looks just like a regular bloke"--down to his khaki Bermudas and dark socks--"he's actually a major player" in the field of Caribbean geology.

[Follow link below to continue story.]

Continue reading "SAMPLING PARADISE"



---
Go to:
---
Return to June 1997 Table of Contents