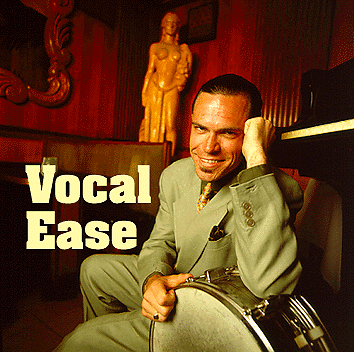 Kurt Elling--who left the Divinity School to follow his voice--mixes faith, talent, and ambition on his way to the top.
By Jeff Makos
Photograph by Matthew Gilson
It's all about pushing the boundaries," says Kurt Elling, jazz singer extraordinaire and a former Divinity School student. "It's all a matter of growth."

Elling, X'92, is describing how he feels about his new album, The Messenger. It's his second for the venerable Blue Note jazz label, and his first since his 1995 Grammy-nominated debut, Close Your Eyes.

"I've matured as a writer, I know more about music, and also I've learned what not to write-what spaces to leave in," the not-yet-30 singer and lyricist declares. His baritone voice is strong, his cadences those of a street-tough hipster.

"Pushing the boundaries" is a perfect description of Elling's personal, artistic, and spiritual vision. Take a track from his new album. "The Beauty of All Things" features lyrics inspired by the writings of Thomas Merton. Like Merton, who was a Trappist monk as well as a poet, Elling believes that "without a life of the spirit, our whole existence becomes insubstantial and illusory."

Over dinner with a group of U of C students at Brent House, the Episcopal student center on campus, Elling speaks passionately about the need for art that can enrich human life. "The new album is called The Messenger and everyone keeps asking me if I'm the messenger. Jazz is the messenger-just like all sorts of other media can deliver messages."

Wearing black pants and a black jacket over a T-shirt, Elling paces the floor as the students eat. With his trademark ponytail and goatee, Elling comes across like a beatnik priest as he launches into an off-the-cuff sermon against the complacency many Americans display toward art in general and jazz in specific.

"Television is the new church," he intones. "Walk through your neighborhoods, you'll see each house with the tube on. Is it the best way we can get information? I don't know, but I don't think people are being uplifted by what they watch. In my work, I know I have to entertain, but I don't forget to give people something else to think about."

At which point, Elling presses the play button on a portable disc player and listens with the students to "Those Clouds Are Heavy, You Dig?" from his first album: a classic example of his "vocalese," or lyrics written to previously recorded music. Over a melody from the Dave Brubeck Quartet's definitive recording of "Balcony Rock," the track features Elling's spoken-word adaptation of the story "How the Thimble Came to be God," by the German mystical poet Rainer Maria Rilke:

Just then a wise old woman cloud happened along
And she asked the little cloud, "What's wrong?"
And the little cloud replied, "God's gone."
But the older cloud knew right away
So she said to the little one, "Here's your thimble, I found it today."


Born in Chicago in 1967, Elling started singing in church, where his father was the organist, but didn't discover jazz until he was a student at Gustavus Adolphus College in St. Peter, Minnesota. There he majored in history, minored in religion, and encountered the music of Dave Brubeck, Dexter Gordon, Herbie Hancock, and Ella Fitzgerald.

Already a member of the Gustavus choir, he was soon singing in the college jazz orchestra. Graduating from Gustavus in 1989, Elling enrolled at the U of C's Divinity School, studying the philosophy of religion. He soon realized that he didn't want to be a professor but rather a "well-read philosophical poet." While at the Div School, he moonlighted at local jazz clubs like the Green Mill, jamming with saxophonists Von Freeman and Ed Petersen.

Only one requirement short of a master's degree, Elling left school in January 1992, spending the next two years working day jobs from bartender to mover. He performed when he could, combining traditional jazz singing with wordless, improvisational "scat" singing. Then Elling received some heartfelt advice from Petersen. "I love scat singing, but I had been experimenting with free-form lyrics, improvising words to the music," Elling recalls. "Ed finally told me that my scatting was cool, but that my real strength was when I'm making up my own lyrics while I'm singing."

This style, which Elling has christened "ranting," helped him make his musical mark in Chicago, especially when he began performing regularly with the musicians who have become his closest collaborators, pianist Laurence Hobgood and drummer Paul Wertico of the Pat Metheny Group. The three form the backbone of The Messenger, a freewheeling collection ranging from a funky "April in Paris" to a duet with Cassandra Wilson-another of jazz's young, experimental vocalists-of "Time of the Season," a pop hit by the Sixties group the Zombies.

In the two years since the release of Close Your Eyes, Elling has played dates from New York's Carnegie Hall to L.A.'s Viper Room. He's been profiled on CBS Sunday Morning and landed top spots on Down Beat magazine's annual readers poll.

But he hasn't made it in the city that would mean he'd made it everywhere: New York. So this spring, Elling--newly married to dancer Jennifer Carney--is spending two months in Manhattan. He'll play a large number of gigs in the area to get himself better known--"taking my music to the people," he says, only half-joking. He's performing everywhere from the famed Birdland and Village Gate jazz clubs to the more experimental Knitting Factory, and at strategically selected bookstores and coffeehouses.

"We really believe in the music we're making. Some New York jazz critics won't like it," he says with a shrug that hints at the confidence-along with the cockiness-that has both gotten him in trouble with some critics and gotten him where he is, "but that's to be exected. Some people have a real rigid view of what jazz is supposed to be."

In search of more receptive audiences, he's looking forward to playing his schedule's more offbeat venues. "You know, in a lot of ways it's easier to play a coffeehouse than it is to play Birdland or play in Chicago.

"Here, lots of people have seen us, so the challenge is to do a performance that was as good or at least as interesting as the last one. In Birdland, we know we have to play a great set. But in some smaller places, we can be even more experimental, and it's only in the small places where we get people coming up after the show to say, `You know, I really don't know or don't like jazz, but I really liked what you guys were doing.' That," says Kurt Elling with the slight smile of a true-believing jazz evangelist, "is really satisfying."

The author of this piece, Jeff Makos, AB'81, AM'82, is a staff writer in the University News Office. He wrote about guitar guru George Gruhn, AB'67, in the August/96 Magazine.



---
Go to:
---
Return to June 1997 Table of Contents