SAMPLING PARADISE
Continued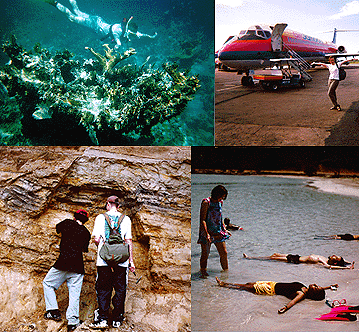 Just hours after their arrival in Jamaica, students collected live samples and surveyed rock formations. At bottom right, students indulge in some R & R after collecting seafloor samples for laboratory study that evening. (Photo credits, clockwise: Fred Ziegler, Pauline Mundkowski, Michael LaBarbera, Glen Howard Hyman

A

fter the trip, Jablonski jotted down some recollections, starting with the group's arrival in Jamaica: "Steve and Si met us at the airport--a most welcome sight, with Steve's cheerful face bobbing above the chaos of the crowds. Loaded with luggage and a big cooler stuffed with sampling gear, we piled into our minibuses and the U.W.I. Land Rover for the drive along the north coast to the Discovery Bay Marine Laboratory, our base of operations for the trip. Disco Bay was fantastic--it's secure, could easily handle our whole group, is within a few hundred yards of the reef crest, has labs for our use so that we could work on the samples we collected during our trips, and provides great food, and lots of it...."

The next day's scientific mission--to study both seafloor samples and the rock outcrops that represent ancient versions of the same marine habitats--led the group just a stone's throw from the Disco Bay lab to "our first encounter with rocks of Pleistocene age, deposited 125,000 years ago, during the last interglacial phase of the Ice Ages," Jablonski notes. By examining the rocks and conducting a survey of embedded fossils--mostly clams, snails and algae remarkably similar to those living just a few feet away--the Chicago group concluded that this segment of the Pleistocene formation "must have been laid down in a lagoon behind an ancient reef."

"We then took a close-up look at the living lagoon," Jablonski continues, "with our first snorkeling excursion. We faculty were delighted at how even the less-experienced snorkelers took to the water. There was so much to see, from incredibly ugly sea cucumbers, to the colorful, darting fish, to the spiny but benign green urchins, that no one seemed to remember to be nervous." Later, Fred Ziegler led a group to Disco Bay's reef crest and out through a gap used by local fishermen. It was, says Jablonski, "a splendid first encounter with one of the most diverse ecosystems on earth, although this stretch of the reef is hurting from the combined effects of hurricanes and overfishing."Later in the week, the group visited an even more idyllic bay at Pear Tree Bottom. Jablonski recalls, "We did a sampling survey of the sediments and shells accumulating there, from the beach all the way out to 30-foot depth on the other side of the reef front."

Pear Tree, he notes, was "a much healthier reef than Disco Bay, apparently because it was more protected from hurricanes." The evening was spent in labs, "working up seafloor samples, scooped up by students along a series of onshore-to-offshore transects." The samples gave students an idea of how marine environments get preserved in the fossil record.

Traveling inland, the group combined science with sightseeing at locations off the beaten tourist path. In a limestone cave with a river running through it, the group shared a picnic lunch and collected 50-million-year-old fossilized sea urchins. Later, Jablonski writes, they "spent a full day driving through the interior to get to the center of the island, where we drew our own conclusions about the bizarre 70-million-year-old clams (called rudists) that have been claimed to build the equivalent of today's coral reefs." The group also visited Mr. Lee's Quarry, where ancient (40 million years old) deep-sea deposits called turbidites had been uplifted into the mountains of the island.

On another of their inland excursions, this time to visit a huge open-pit bauxite mine, the group took a break to watch a pick-up game of cricket while downing ice cream provided by a vendor who appeared out of nowhere on a motorcycle. Returning to Discovery Bay, the group spent their last evening in Jamaica enjoying a farewell barbecue on the dock, peering at the Hale-Bopp comet, and watching elegantly spotted moray eels--and a graceful ray--as they patrolled the waters of the bay by night.

After indulging in a final "free-form" snorkeling excursion the following morning, "we drove back to airport," Jablonski concludes, "composing a pretty good pair of songs about our week in Jamaica: `Oh, what a beautiful Pear Tree/Oh, what a beautiful bay...' and (to the tune of the Beatles' "Yellow Submarine") `In the pit of Mr. Lee/Are some turbidites you have to see.'"

Doggerel aside, the trip was a chance to engage seriously in questions that occupy professional geologists. "Once we looked at everything" at a given site, "we'd sit down and start discussing and debating what we'd seen," says College student Paulina Mundkowski.

At first "I was a little shy about participating," admits Mundkowski, "but as the trip went on I got a lot more confident about offering my opinions. I felt like the graduate students and the professors regarded me as a peer and not just a little, you know, College student. For me that was really the most rewarding aspect of the trip."

That blossoming sophistication was reflected in the class's final assignment. Says Kidwell, "Rather than write up a diary of the field trip, which is a common thing that people do--they say, `Turn in your field notebook and let us see what sort of notes you took'--we decided to do something that was a bit more creative, more fun." Students had to "design a research project that they would do if they had the chance to go back to Jamaica," says Kidwell, picking questions based on "controversies or ambiguities" that cropped up during the group's field-trip investigations.

"It was a lot more fun for the faculty to read the final papers, too," says Kidwell, "because every single one is different, rather than, `Okay here's another field notebook. Oh yeah, day one, day two. Been there, done that.'"Although Jablonski admits that this year's field trip was "something special," next year's destination should hold commensurate appeal, at least for the serious geologist. "We're going to the Big Bend area of west Texas," Fred Ziegler reveals: a fine destination if your idea of paradise includes wide open spaces, the occasional dinosaur skeleton-and plenty of rocks.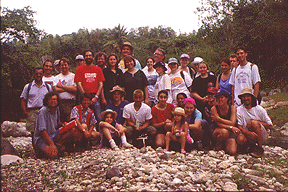 Budding geophysical scientists and their faculty mentors pause for a group shot. (Photo by Roberto Cipriani.)
---
Go to:
---
Return to June 1997 Table of Contents