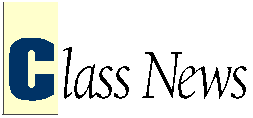 1950s
---
What's the news? We are always eager to receive your news at the Magazine, care of the Class News Editor, University of Chicago Magazine, 1313 E. 60th St., Chicago, IL 60637, or by E-mail: uchicago-magazine@uchicago.edu.

To write us with your news directly, click here for our e-mail form: uchicago-magazine@uchicago.edu.

No engagements, please. Items may be edited for space. As news is published in the order in which it arrives, it may not appear immediately.

Please specify the year under which you would like your news to appear. Otherwise, we will list: (1) all former undergraduates (including those who later received graduate degrees) by the year of their undergraduate degree, and (2) all former students who received only graduate degrees by the year of their final degree.
---
50
Lawrence H. Berlin, AM'50, chairs the board of American University's Institute for Learning in Retirement in Washington, DC, and sits on the board of the D.C. chapter of the United Nations Association. From 1988 to 1990, Berlin was both a visiting lecturer in political science at the University of Pennsylvania and a consultant to the Smithsonian Institution. Charles E. Fritz, AM'50, who began his career in disaster research at the U of C's National Opinion Research Center (1950-54), was honored in 1994 by the Drury College (MO) alumni association with a distinguished alumni award for career achievement. In 1995 the International Sociological Society's International Research Committee on Disasters (of which Fritz was appointed chair in 1996) also recognized his research and his support of social-science disaster studies, "especially through his creative leadership at the National Academy of Sciences." In his honor, the committee established the Charles E. Fritz award for career contributions to disaster research.

George P. Guthrie, AB'50, DB'54, PhD'62, a professor emeritus of philosophy at the University of Toledo (1961-88), taught there for one quarter each year until this spring, when he concluded his teaching career. Earlier this year, one of his former students endowed a scholarship in his name at the university. Lionel J. Lerner, AB'50, AM'52, retired last year after 37 years as a California state employee. His tenure included 16 years at the Department of Water Resources and 21 years at the California Energy Commission.
51
Charles A. Bouc, AB'51, of Manitowoc, WI, who has been an engineering professor, a farmer, and a house builder, is developing a new career as a teacher of gifted piano students; one student recently performed Rachmaninoff's Second Piano Concerto with the Manitowoc Symphony. Bouc says the "ideas and inspirations" he received while a student in the College have helped him to be more "creative, imaginative, and youthful as the years progress."
52
George L. River, AB'52, director of the Freeman Cancer Center in Joplin, MO, notes: "There have been a few changes in the world since I entered the College in 1948, and its teachers prepared me for change, for which I am forever grateful." One of River's teachers was Enrico Fermi. Morris K. Webb, PhD'52, a professor emeritus of history at Portland State University, recalls that while at the U of C on the GI Bill (after serving as an infantryman in the Pacific theater), he was night manager of the "C" Shop.
53
Margaret Mortimer Myerson, AB'53, AM'59, is president of the Women's City Club of New York. Burnett H. Radosh, AB'53, and Katherine Koenig Radosh, AB'58, are coxswain-qualified staff officers with the U.S. Coast Guard Auxiliary. Burnett, also crew-qualified, participates in water patrols.
54
Denis H. Franklin, AB'54, is a physician in California. F. Jay Pepper, X'54, a general and forensic psychiatrist, recently finished yearlong terms as president of both the Alexandria, VA, Medical Society and the Council of Northern Virginia Medical Societies. While a graduate student at the University of Wisconsin, Pepper's wife, Redella ("Del") Swigart Pepper, researched her master's thesis at the U of C's Swift Library. She was later a social worker in Chicago, and is now vice-mayor of Alexandria.
55
Peter O. Clauss, AB'55, is a partner in the law firm Pepper, Hamilton & Scheetz.
56
Lawrence Herman, PhD'56, has retired as a professor emeritus at New York Medical College. Loring M. Thompson, AM'52, PhD'56, a 1993 founding member of the Interfaith Council of Greater Sun Lakes in Arizona, has served as its secretary for the past three years.
57
Leon B. Gortler, SB'57, AB'57, SM'57, retired last year after 34 years in the chemistry department at CUNY's Brooklyn College. Jaro Mayda, JD'57, author of Environment and Resources: From Conservation to Ecomanagement, has spoken at NATO workshops in the U.S., Turkey, and Russia, reporting on policy research and development in the field of global environmental change.
58
Earlier this year, the journal Residential Treatment for Children and Youth published a paper by Robert B. Bloom, SB'58, titled "Traps for the Unwary Practitioner in a Managed Behavioral Health Care System," covering risk management for social-service administrators. Also this year, Bloom celebrated the birth of his fifth grandchild, Naomi, and enjoyed his eighth Carribean cruise. He looks forward to "many more of both." Sanford D. Katz, JD'58, a law professor at Boston College, is a visiting fellow at Oxford University's All Souls College for the 1997 Michaelmas and Hilary terms. Katherine Koenig Radosh, AB'58, see 1953, Burnett H. Radosh.
59
Wilfred H. Nelson, SB'59, SM'59, is completing his fifth year as chair of the chemistry department at the University of Rhode Island. Bernice Depew Regaldo, AM'59, was honored in November for founding Eastern Oklahoma State College.
---
Within Class News:
---
Go to:
---
Return to June 1997 Table of Contents