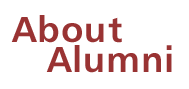 C. Vitae
Food Warrior: Making the World Safe for Eaters
For more than 30 years Michael F. Jacobson has tried to help Americans take a closer look at what's on their plates.
The nutrition label on your candy bar doesn't have a byline but it might as well: without Michael F. Jacobson, AB'65, it wouldn't be there. That label isn't his only accomplishment. The executive director of the Center for Science in the Public Interest (CSPI), he is the author of numerous reports and more than a dozen books, including Restaurant Confidential (Workman, 2002), a look at the nutritional value-or lack thereof-of some of the most popular foods served in U.S. restaurants.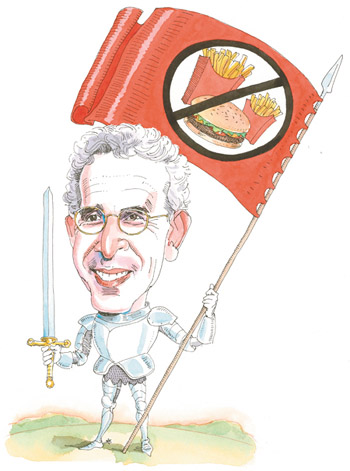 Illustration by Joseph Ciardiello
Jacobson didn't intend to become a consumer advocate and food-safety guru. After earning his Ph.D. in microbiology from MIT in 1969, he planned to take a year off before a postdoctoral fellowship. "I thought it would be interesting to see if I could use my scientific background to influence social policies directly," he explains. So he went to work at Ralph Nader's Center for the Study of Responsive Law, where one of Nader's deputies had recently finished a book about the Food and Drug Administration (FDA). The center's next undertaking was to look at an FDA-regulated industry: food additives.
Jacobson's research on that project led to his first book, Eater's Digest: The Consumer's Factbook of Food Additives (Doubleday, 1972). Previous books on the topic often assumed all additives were dangerous. "I didn't come with a preconception," Jacobson notes, "and took a more 'prove it to me' position-where I looked at the data and the data told me that most food additives were safe, many were poorly tested, and a few," like sulfites, for example, "looked like they were problems."
Jacobson continued to get the word out through CSPI, which he founded with two other scientists in 1971. The center originally focused on disseminating information about toxic chemicals, air pollution, and food and nutrition. After Jacobson's cofounders left in 1977, the center focused exclusively on nutrition, then branched out to include alcohol policies, antibiotic resistance, agricultural biotechnology, and integrity in science-looking at which corporations fund scientists' research and whether that funding influences findings.
The center's fight to inform consumers has gotten results. In the 1980s CSPI led efforts to place nutrition labels on food packaging, put warning labels on alcoholic beverages, and pass federal bans on the most dangerous uses of sulfite preservatives. The center has also published reports on baby foods, soft drinks, and nitrites. Since 1999 Jacobson and CSPI have taken part in a congressional lobbying effort that has persuaded the federal government to make "modest increases" in its nutrition-education budget-from $2 million to $27 million.
But not everybody is a fan. The center has been accused of sensationalism or paternalism by everyone from nutritionists to newspaper columnists. Sensationalism for blacklisting products using the fat substitute Olestra. Paternalism for encouraging taxes on fatty foods, cars, and televisions-all factors that Jacobson and the center say can lead to obesity. He takes the criticism in stride: "The people who say we are alarmist are invariably companies, trade associations, or organizations and professors funded by industry. The restaurant industry is embarrassed by what we disclose about their foods, so they want to kill the messenger rather than improve their foods. It's part of life that when you criticize an industry they're going to criticize back."
Indeed, one group's attempt to deflect attention led to Jacobson's new book. A few years after the publication of Fast Food Guide: What's Good, What's Bad & How to Tell the Difference (Workman, 1986), a fast-food company executive readily admitted to Jacobson that his products contained large amounts of fat and calories. But the executive was quick to point out that table-service restaurants were no better. For the next nine years Jacobson and coauthor Jayne Hurley, senior nutritionist at the center, researched the most frequently ordered foods at the nation's most popular types of restaurants, from Chinese to steak houses. For each genre, researchers purchased approximately 15 different dishes from six to nine restaurants. The meals were dissected into individual ingredients, ground up, and sent to a laboratory for nutritional analysis.
The results were not good. Topping the list of nutritional losers were the popular steak house offerings of cheese fries with ranch dressing, at 3,010 calories and 217 grams of fat (of which 91 were saturated), and beef and cheese nachos with sour cream and guacamole at 1,360 calories and 89 grams of fat (of which 28 were saturated).
But not all was gloom and doom. Szechuan chicken came in at 930 calories and 19 grams of fat (just 2 of them saturated) and chicken/lamb/pork souvlaki with rice came in at 290 calories and 10 grams of fat (again, 2 of them saturated).
Jacobson hopes his latest book will arm diners with information to make healthier choices. He also wants to encourage restaurants to improve the quality of their food.
"They could make some big changes, but they could also make useful little changes, like cutting the salt content," he says. "Nobody would know the difference if they cut the salt by 25 percent. They can use more whole grains, low-fat or fat-free mayonnaise instead of full-fat mayonnaise, cut down the portion sizes, and use leaner meat. All those changes would be barely detectable-but very useful to the public."
Jacobson is now planning the center's next campaign, a look at links between the American diet and the environment. "Diets that are heavy in meat and dairy products are big loads on the environment," Jacobson explains, "because of all the animal manure that's often in very concentrated factory farms. If we upgraded our diets, we'd improve not only our health but the health of the environment too."
This campaign, like all CSPI projects, will start with research. Once the information gathering is done-Jacobson expects this will take several months-the center will begin public education and policy advocacy, the more challenging aspect of its work.
That advocacy, Jacobson emphasizes, does not include urging a ban on high-fat or fast foods. "We urge that people try to emphasize in their diets vegetables, fruits, whole grains, low-fat or fat-free animal foods like fish or skim milk or poultry," he says, sounding a bit like a home ec teacher. "But if you have a little junk once in a while, it's OK." In fact, Jacobson admits that sometimes he indulges in the fats of life, like butter on toast, and that he drinks an occasional glass of wine or beer.
But everyone has a guilty pleasure, one thing that would be really hard to give up. When asked his own, Jacobson thinks for a while, then confesses: frozen yogurt.
- Qiana Johnson