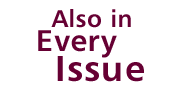 Editor's Notes
Drumroll, please.
The venue was HotHouse, the jazz, world music, and performing arts space around the corner from the Chicago Hilton and Towers, where the American Sociological Association was holding its annual meetings. The late-summer night was young, and the evening's star was a drummer-being honored for 25 years at his day job as an editor with the University of Chicago Press.
In that quarter century Douglas Mitchell, AB'65, has, by Press director Paula Duffy's count, shepherded 750 titles into print. His range is as phenomenal as the numbers: classics, biography, law, political science, literature, philosophy, history, sociology, gay studies, and about "200 other titles that defy categorization."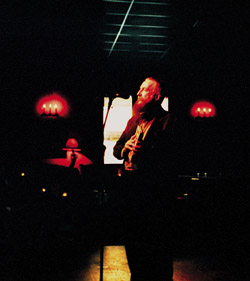 Press editor Doug Mitchell: 750 titles and counting.
Mitchell himself defies categorization, but that didn't keep 125 or so of his grateful authors from trying. They joked about his signature beard ("You only have to take one look at Doug, and you know he was born in the wrong century"). They remarked on his work ethic and the resulting paper trail (an assistant editor once passed on the baton to a successor with the advice "Doug needs to be stopped"). They described his dedication to his authors (a teacher turned editor, "Doug just continued to be a teacher by choosing this career"). And they described his influence on a discipline ("Forget about Marx, Durkheim, Weber, or their epigone; Doug Mitchell has influenced the direction of late-20th-century American sociology more than almost anyone else").
To show their gratitude for years of lunches, dinners, and encouragement, Mitchell's authors, at the suggestion of Northwestern sociology professor Gary A. Fine, collaborated on a gift to fill a rare hole in their editor's experience, chipping in to present Doug and wife Chris with two guidebooks-and their first trip to Paris.
When it was his turn on stage, Mitchell began with mock sternness. "Many of you are late with your manuscripts," he announced to rueful laughter. "We have locked the doors, and we have computers in the back room. You're not leaving until you're done." Then he got serious, thanking everyone for the gifts and for the event, a chance to witness the community he has helped to create: "I've never seen you all together before."
Party over, it was on to the next hot spot-and a chance to sample what the HotHouse emcee, Chicago sociology chair and Mitchell author Andrew Abbott, AM'75, PhD'82, billed as "the real Mitchell experience. It's Sunday night, and every Sunday night, Doug's at Jimmy's, playing the drums."
Another year, another look
A note to birdwatchers: yes, the phoenix has been retired from the Magazine's cover (although it continues to roost in "Chicago Journal").
With this issue, the start of the Magazine's 95th volume year, we introduce a new look. We celebrated our 90th year in similar fashion, with the same architect, Allen Carroll. Allen's other job is chief cartographer for the National Geographic Society, which may explain why he maps out our pages so seamlessly. Helping the editors translate Allen's sense of direction is graphic designer Joy Miller, and our redesigned Web site is the work of Ryan Nagdeman. Let us know what you think.
- Mary Ruth Yoe