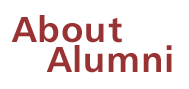 Catch Up With …
Bruce Cacho-Negrete, AB'92
On September 13 Liars Club, a movie written, directed, and produced by and starring U of C alumni, premiered in Chicago. Johnny Clark, AB'94, (right) plays Billy, a U of C grad having trouble in the dating scene. Coming to his aid are friends Kevin, Jimmy, and Brad (played by Jason Shaw, AB'95, left), also U of C grads.
Reviewed in both the Chicago Tribune and the Chicago Sun-Times, Liars Club is the directorial debut of Bruce Cacho-Negrete, AB'92. Kate Malone, AB'98, AM'99, was the film's assistant producer. The Magazine talked with Cacho-Negrete about the movie-making experience.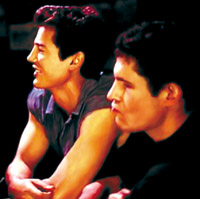 Why did you make this movie?
Both Johnny, a venture capitalist, and I, a management consultant, had successful careers, but they weren't particularly fulfilling, whereas Jason was in a career with a finite timeline-male supermodel. So the three of us decided to take a chance at doing something that we truly loved. Johnny and Jason were both aspiring actors, whereas I had been a writer prior to my consulting days, so it seemed like a natural progression. In all honesty, however, I don't think I would have ever left my job if it hadn't been for Johnny's initiative. He wrote the first draft of a script and convinced me to take a cut at editing it. It was only then that I remembered how much I missed creative writing.
What is the next step for the movie?
The goal is to get the film distributed in select markets across the country. I'm happy to say that we did remarkably well during our opening weekend [in Chicago], amassing the second-highest per-site average in the country.
Do you have any future projects planned?
I've written three other scripts, two of which I'd like to direct, one of which my manager is trying to sell to studios. At the moment, we've got partial funding for one of the scripts I'd like to direct, and we'll hopefully begin shooting in the spring. Meanwhile, Johnny and Jason have had success acting in national commercials and other indies. Clearly, our goal is to collaborate on another project sometime soon. Now that Liars Club has finally been released, we're finding some time to brainstorm.
- Qiana Johnson