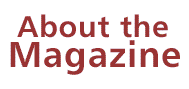 Announcing the University of Chicago Magazine Alumni Poetry Contest
$600 First Prize
$300 Second Prize
$100 Third Prize
Judge: Mark Strand, the Andrew MacLeish distinguished service professor in the Committee on Social Thought and Pulitzer Prize-winning poet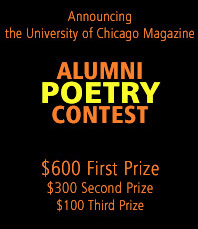 Contest Guidelines
1. Submissions are limited to two original, not previously published poems in English, each poem no more than 20 lines in length.
2. Submissions must be typewritten or e-mailed, with the author's name and address on a separate cover sheet.
3. All submissions must be postmarked by December 14, 2002.
The winning poems will appear in the April 2003 University of Chicago Magazine.
Send entries to:
Alumni Poetry Contest
University of Chicago Magazine
5801 South Ellis Avenue
Chicago, Illinois 60637
Or via e-mail to:
uchicago-magazine@uchicago.edu