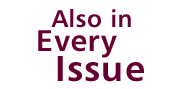 Letters
"…so one-sided it falls off my bookshelf."

Judicial agenda
I found "The Business of Reflection" (August/02) to be an interesting and well-written article about Supreme Court Justice John Paul Stevens, but I was disappointed in the banner caption proclaiming that Justice Stevens is a jurist "without an agenda."
Since "judicial activism" has become a dirty word outside the legal academy's ivory towers, liberals and many in the media now seek, ironically, to capture the words "activist" and "extremist" to demonize their opponents, while maintaining that their heroes need not justify the basis for their own views because they are allegedly moderates, nonideologues with "no agenda." Many Warren/Burger court precedents are of more recent origin, and have less basis in the Constitution, than Plessy v. Ferguson when it was overturned in 1954; they deserve the same amount of deference as that decision received in Brown v. Board of Education.
Laws do change, but it is intellectually dishonest to imply, as Mr. Siskel does, that justices who may seek change toward clear consistent standards of constitutional jurisprudence, who believe that laws should be interpreted based on their plain text rather than murky and contradictory "legislative history," or who see states as partners in our federal system of government and not as mere prefectures of the central government, have an "agenda" while Justice Stevens, who believes the opposite, does not.
I urge readers to hold accountable all who would foreclose discourse on important legal issues by hiding behind a shield of professed nonideology or "moderation."
Mark O. Stern, JD'96
Wheaton, Illinois
---