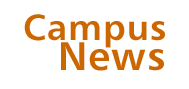 Chicago Journal

A techie called Doctor Fun
A forthcoming book from Chicago examines physics, chemistry, paleontology, biology, literature, and American culture. But it's hardly an academic treatise. Doctor Fun: Greatest Hits, 1993–2003 (Plan Nine Publishing)—a collection of single-paneled, animal-charactered, idiom-twisting cartoons in the tradition of Gary Larson's The Far Side— comes from David Farley, U of C Libraries technology-support manager by day, Web cartoonist by night.
The cartoon's title harks back to Farley's mid-1980s college days, begun at Case Western and finished at Millersville University, when he began doodling with pen and paper. A Millersville political-science professor had called himself Doctor Fun during ad-hoc, out-of-class lectures. "It had the same initials as my name, and I just kept coming back to it," says Farley, 39, whose reddish-brown hair and boyish looks recall Philip J. Fry, the lead character in Matt Groening's Futurama.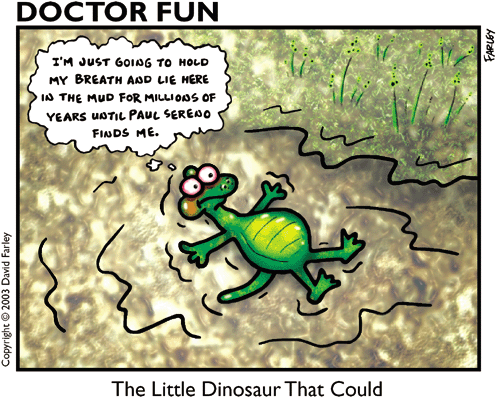 Today—a decade after Doctor Fun became the first Web cartoon—the site gets about 45,000 hits a day, plus untracked hits from mirror sites and links from bloggers and other fans. To create each cartoon Farley spends about two hours at a large worktable in his Hyde Park apartment, using a stylus to draw directly onto his Sony Vaio computer screen, which bends backward to lie flat. Until 2001 he drew on a flat plastic drawing pad while watching his marks appear on the screen before him, an impressive trick of hand-eye coordination. Earlier he drew the cartoons on paper and scanned them. He's used Adobe PhotoShop to color the drawings since 1995.
Farley usually finishes one Doctor Fun a night, working a few weeks in advance. He scribbles down ideas from books he reads (currently a pop-science book on ants) or comments he hears. At times the University makes subtle appearances in Doctor Fun, like when a campus photo of the Regenstein provides a cartoon's background. Other Chicago references are more forthright, poking fun at Paul Sereno or the first self-sustaining nuclear chain reaction.
Farley began working at the Reg in 1990, during the Internet's infancy. "The library wasn't networked, and there were only three people supporting computers," Farley says from his corner office near the A-level stacks. The wooden desks, metal bookshelves, and blue-green carpet overflow with cardboard computer and software boxes, old computers and keyboards, wayward cables, and a few empty Rolling Rock bottles.
It was fellow Reg techie Keith Waclena who told Farley about a new computer network called the World Wide Web. In 1993 Farley published his first Doctor Fun cartoons on a server run by Waclena—"probably the University's only server at the time." Thus Doctor Fun became the first Web cartoon (but not the first on the Internet, a distinction Farley is quick to credit to Hans Bjordahl's Where the Buffalo Roam).
After about three months Waclena's computer had some problems, and he took the server down. "It was one of only about ten things on the Internet at the time," Farley says, so when Doctor Fun disappeared, "people noticed." One fan offered Farley real estate at what is now ibiblio.org, a cyber library run by the Center for the Public Domain and the University of North Carolina–Chapel Hill. It's still Doctor Fun's home.
Although he has admirers in academe and the high-tech world—Sereno asked Farley for a copy of the cartoon mentioning him, and Farley once designed a Doctor Fun cake for Bill Gates—Farley knows he could probably promote the cartoon beyond its current fan base. At some Web-cartoon conventions, he admits, few people know about Doctor Fun. Hence the book, expected out this summer. Farley also is considering a venture with CafePress.com, which creates and sells custom merchandise online, and advertising on other Web cartoonists' sites. Perhaps Chicago is witnessing the makings of the next Larson or Groening, hidden in a corner near the A-level stacks.
—A.B.
(Doctor Fun is at www.ibiblio.org/Dave/drfun.html—Ed.)