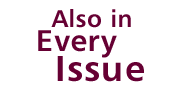 Editor's Notes
Door prize
Found art? Maybe, maybe not. But spotting this door deposited in the big blue dumpster that seems permanently parked beside Botany Pond made my morning walk one day in March.
When one door closes...another opens?
As I continued my circuit around the quads, several scenarios came to mind: perhaps the person who vacated an office slated for renovation had outgrown the poster taped to the door. Or perhaps the move had been one of those all too familiar last-minute marathons—books, papers, files, and lab equipment hurled into cartons as the movers waited, leaving no time for the occupant to close the door behind her, let alone tear off a once-prized poster.
Whatever the cause, the effect was the same: two symbols of opportunity and new beginnings, left out to be recycled. Or so we hope.
OK, so snow still littered the quads, and the butterfly-bedecked door was perched atop a pile of trash, but harbingers of spring, even ironic ones, are always welcome in Chicago, especially this year.
Ivy item
Another bit of serendipity came the Magazine's way recently. We've been invited to join the Ivy League Magazine Network, a group that includes the alumni magazines of Brown, Cornell, Dartmouth, Harvard, the University of Pennsylvania, Princeton, Yale, and (another non-Ivy) Stanford. And we've accepted.
Together the nine magazines will have a circulation of 880,000 well-educated, loyal readers—an attractive group for advertisers.
The University of Chicago Magazine is happy to be joining the group for several reasons. The first reason—no surprise—is the bottom line: we expect the Magazine's share of the Ivy advertising revenues to help underwrite the costs of producing and mailing the 112,000 copies that go into the mail each issue. The second reason is the company we'll be keeping: eight publications that regularly win awards for their reporting, writing, and design.
Advertisements garnered through the network should begin appearing in our pages over the next few issues. In other ways we should look and read pretty much the same.
— Mary Ruth Yoe