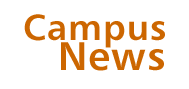 Chicago Journal
The greatest show on campus
One hundred and eleven years ago, during the summer of 1893, the mile-long corridor between Jackson and Washington parks seethed with hucksters, hustlers, freak shows, and fairgoers. Spilling west from the White City—the grand Greco-Roman structures built along Chicago's southern lakeshore for the World's Columbian Exposition—the Midway Plaisance was an anarchic avenue of ethnic displays and animal acts, designed to thrill, chill, and titillate the 27 million people who attended the fair between May 1 and October 31 that year.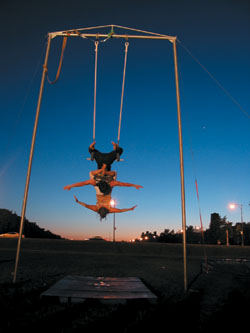 Photo by Amber Lee Mason
The Midway twirls with trapeze artists.
Today the once raucous space is a quiet, green thoroughfare, but its history is not forgotten. On May 15 The World's Fair Regained, the third annual Le Vorris & Vox circus—a venture conceived, organized, and executed by students after an independent study on circus history fizzled—sought to revive the Midway's democratic chaos.
While previous V&V circus conceits, such as a postapocalyptic aesthetic or battling alien races, were more esoteric, this year's concept grew from the venue: a football-field sized patch of grass at 59th Street and Dorchester Avenue, home to a looming equestrian statue and a generous, stage-like base of stairs. "The Midway is a great space," explains Gregg, "but it demands a bigger scale than what we had done before." Encouraged to create a larger spectacle, Le Vorris & Vox teamed with city, neighborhood, and University groups. JELLY, the campus juggling organization, provided many of the performers, and students involved in Capoeira, University of Hip-Hop, UC Dancers, and University Theater participated, along with a gaggle of "hidden experts" called forth by a series of recruiting e-mails.
To raise funds for training and equipment, circus leaders appealed to the Arts Planning Council and the Student Government Finance Committee, garnering more than $9,000—triple the budget of the previous circuses combined. The Office of Community Affairs helped negotiate with the Chicago Park District to lower the location's rental costs. In exchange the circus ran a workshop for 200 Chicago-area kids—teaching clowning, juggling, tumbling, balancing, and other skills—and publicized the free show beyond the University, posting notices and passing out flyers.
The networking paid off. Before show's start on a brisk, sunny Saturday afternoon about 350 students, friends, and families chatted, set up blankets, browsed vendors' booths, and bought popcorn in red-and-white striped paper bags. A giddy spattering of kids wrestled in puddles left by the previous night's rain (which had canceled the Friday evening performance) and tumbled over hay bales as two clowns waggled about warming up the crowd.
The opening number, set to a marching beat, brought forth a stream of capering players dolled up in old-timey undergarments, replete with suspenders and lacy bustles. In knickers and face paint, ringmaster Gregg made a Willy Wonka entrance, hobbling forward and falling only to recover with a somersault, leap, and flourish, drawing hoots from cast and crowd. Using sweeping gestures and grandiloquent phrasing, Gregg expounded on the Columbian Exposition's wonders, explaining that today's circus, set on the exposition's last night, would explore what might have happened after the fairgoers went home.
Framed by this narrative, the acts featured Midway showfolk who, instead of cleaning up and clearing out, spent the evening amusing themselves. Interrupted occasionally by slapstick cops in greasepaint mustaches trying to empty out the area, clowns, dancers, unicyclists, a tightrope walker, and stilters made merry on the Midway. Participants were pleased to show off—as one performer put it, "You shouldn't hide that you can juggle knives from your friends."
The knife juggling drew some of the biggest "oh"s and "ah"s, along with delicate trapeze work and an impressive round of tumbles and trampoline flips. Accompanying the nearly two-hour performance, U of C glam-rock band P1xel set up jokes and created tension with an original score. At show's end, the tunes, which composer Gabe McElwain, AB'03, termed "music to go insane to," led the cavorting cast into the audience, on its feet, clapping and jumping.
Historical accounts note that on the last night of the Columbian Exposition the crowds became "exceptionally boisterous" and looting was narrowly averted. Although more than a century later the rabble's mirth was somewhat tamer, Le Vorris & Vox's eccentric and energetic performance nevertheless brought big-top brio back to the Midway.—A.L.M.