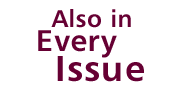 Editor's notes
Ivy is to kudzu as tradition is to…
…the shock of the new.
If you haven't spent much time in the southeastern United States, you may not know what kudzu is. On the other hand, if you own property south of the Mason-Dixon Line, you may know all too well the staying power of the vine, originally imported from Japan as landscaping for that country's pavilion at the 1876 Philadelphia Centennial Exhibition. Around the turn of the 20th century kudzu gained kudos as a good forage plant for cattle and pigs, especially in times of drought, and as a way to slow soil erosion.
[ more ]
From the President
Unprecedented philanthropy
President Don Michael Randel on why the second half of the University's $2 billion capital campaign is as important as the first.
The mid-May inauguration of the University's Paris Center included, among many celebratory events, a press conference attended by a range of French media. As you might expect, one of the questions the reporters posed had to do with money. How, they asked, had the University financed this very nice facility near the French national library and in the heart of an exciting new academic neighborhood in Paris—what some predict will be the Latin Quarter of the 21st century. The answer was simple: private philanthropy.
[ more ]
Chicagophile
Cartoonist Jessica Abel, AB'91, tags along on an alumni tour of Grand Central Terminal.
[ more ]
Letters
Does the Greek letter chi stand for Chicago?
[ read all letters ]