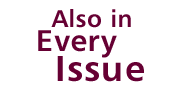 Letters
Does the Greek letter chi stand for Chicago?
Hyde Park in 1979
I read with amazement your report about admissions officers reassuring Wisconsin high-school students in 1979 that "Hyde Park isn't a dangerous neighborhood" ("From Our Pages," February/2004).
I graduated from the Pritzker School of Medicine in 1978. During my years there, my 5-foot-tall, 100-pound classmate was robbed at gunpoint as she walked home at 3 o'clock on a sunny summer afternoon (and escorted to her apartment, which was then burglarized). Another classmate arrived home to find his apartment door removed by its hinges. The door remained, but every item inside—clothes on their hangers, housewares, furniture, appliances—had vanished. I returned to my apartment on two occasions to discover the door chained from within, and a burglar rummaging around inside. All of these incidents were in the heart of Hyde Park, not in fringe neighborhoods.
If this wasn't dangerous, one might ask: Compared to what? Maybe not compared to the worst areas of New York, L.A., or D.C., but it sure as heck was more dangerous than Wisconsin—where I, my family, and my friends have now resided for 22 crime-free years.
If those admissions officers really did tell Wisconsin high-schoolers that Hyde Park was a safe place, then either all the criminals miraculously disappeared between 1978 and 1979 or the University hired smiling liars or delusional psychotics as recruiters. There may have been good reasons to choose the University for a college education in the late Seventies, but general safety was not one of them.
Diane Lind Fenster, MD'78
Green Bay, Wisconsin
---
The University of Chicago Magazine welcomes letters on its contents or on topics related to the University of Chicago. Letters for publication must be signed and may be edited for space and clarity. To ensure the widest possible range of views and voices, we ask readers to limit their correspondence to 300 words or less.

Please send letters to: Editor, University of Chicago Magazine, 5801 S. Ellis Avenue, Chicago, IL 60637. E-mail: uchicago-magazine@uchicago.edu.