The University of Chicago Magazine December 1995
---
Return to December 1995 Table of Contents
---
Computers Rebuild Climates of the Paleozoic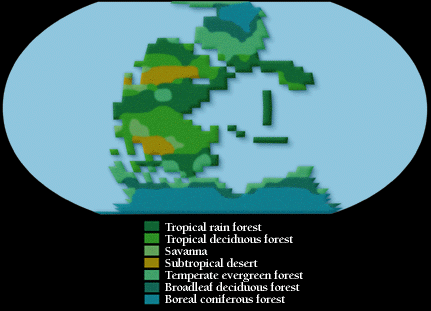 Blowing Hot and Cold.
Life on much of the supercontinent Pangea resembled central Asia today: Large inland areas, far from moderating oceans, suffered baking summers and bitter winters. At tropical and subtropical latitudes, summer monsoon rains bathed the continent's east coast. Those conjectures come from a computer model that uses coastlines and topography-plus a few laws of physics, like the equations for air movements and heat transport-to predict the climate 250 million years ago. The idealized, squared-off coastline of this map simplified the calculations done in 1993 by Chicago's Alfred Ziegler and John Kutzbach of the University of Wisconsin-Madison (illustration by Allen Carroll). Rainfall and temperature data determine the biome regions where evolution unfolded, from tundra to tropics. Wind patterns can predict ocean currents like the upwellings that fostered plankton, a clue to today's oil deposits. And comparisons to the actual climate and biome, deduced from fossil and geologic evidence, improve the computer model-refining predictions of future climate change, like global warming.
---
VIEW THE MAPS
RETURN TO OPENING OF "MAPPING A PLANET'S RESTLESS PAST"
---
Go to:Return to December 1995 Table of Contents