or Meiling Hazelton, a 1995 graduate of the College and a Rhodes scholar, the correlation between financial assistance and academic performance is crystal clear. A recipient of the Richard M. and Janet H. Morrow Scholarship, Hazelton says, "Without the aid I received from the University--which was the majority of my financial support--I would have had to take out loans and work at a job for more than ten hours a week. If money had constantly been a source of anxiety, I don't think I could have put all my energy and concentration into my work."

From its founding, Chicago has always sought to make its top-notch education accessible to qualified applicants. In the College, for example, students are admitted without regard to their economic circumstances. In 1995, 66 percent of Chicago's undergraduates and 77 percent of graduate students received financial aid directly from the University. As outside sources of financial support dwindle, the U of C is faced with hard choices about the level of aid it can provide. No Campaign priority was more urgent than maintaining access for the very best and brightest students, without regard to their financial situation--and donors came through, giving $50 million for scholarship and fellowship support.

Dr. Paul Jordan, SB'41, MD'44, and his wife Lois, X'44, were two of many Chicago alumni who contributed: Their Campaign donation established a scholarship in their names for needy College students planning to go to medical school. "When Lois and I entered the College, tuition was $300 a year," recalls Jordan, a professor of surgery at Baylor College of Medicine. "That seemed like a lot of money then, and neither of us could have gone to Chicago without scholarships."

Among the most generous scholarship supporter was the family of Dorothy and the late Gaylord Donnelley. First, the family created the Gaylord Donnelley Scholars. Honoring the memory of Donnelley, a trustee and lifelong supporter of Chicago, the program funds up to 12 undergraduate scholarships a year. In the Campaign's final month, the Donnelleys also offered a multimillion-dollar challenge to match on a one-to-two basis all new or established gifts for endowed undergraduate aid--so that, for example, a $100,000 gift will generate a $50,000 match added to that donor's fund.

Several donations were given with the goal of maintaining a talented and diverse student body through minority recruitment and scholarship support. Among the most innovative of those programs, the Lorenzo de Zavala Youth Legislative Session (LDZ), funded with a grant from Montgomery Ward, brings talented college-bound Hispanic students to campus to learn leadership skills through group problem-solving and public speaking. A gift from Citibank established a scholarship fund for LDZ alumni.

Also new is the Joseph [X'34] and Margaret Shapiro Scholarship for minority students. Its first recipient, Marlin Smith--a fourth-year political-science major and varsity athlete--says that the scholarship has provided a big boost, although he still depends on work-study, loans, and parental contributions to make ends meet. "It's definitely a big help," says Smith, who came to Chicago because "the professors here are very interested in their classes, and so many of them do research in the area they're teaching. They live it every day, and that helps create excitement in the classroom."

The needs of Chicago's advanced students weren't forgotten, thanks to the Campaign's drive to obtain additional funds for graduate fellowship and dissertation support. Their need is particularly compelling, given the number of graduate students who pursue careers in education, social work, and other fields where salaries are traditionally low. Many such students have also incurred significant debts in financing their undergraduate education.

Mary Jane Nigro, AM'89, exemplifies the type of graduate student who the University hopes will produce the next generation of research breakthroughs, scholarly insights, and creative innovations. After receiving her master's, she took time off to teach and write, then returned with the idea of building a career that offered research opportunities. As she began her doctoral work, she discovered a love for the Renaissance and for the study of historical and theological texts that inform and illuminate that period's authors. A Howard J. and Barbara M.J. Wood fellow, Nigro comments that "being a graduate student is very much like a job. I get to the library by nine o'clock and don't leave until five or six. That's very hard to do if you have to work to pay your bills."--T.A.O.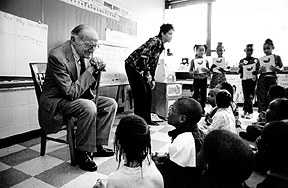 School-improvement benefactor Howard Landau.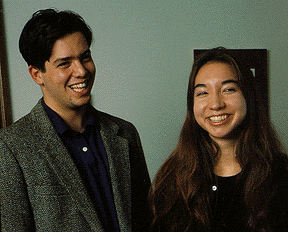 Rhodes scholars and financial-aid recipients Meiling Hazelton and Jonathan Beere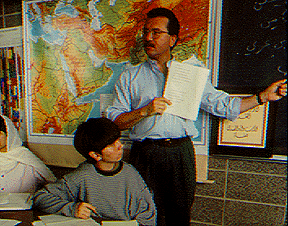 A Mellon grant supports Middle Eastern languages.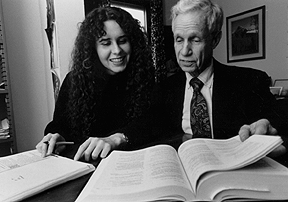 Mary Jane Nigro and Professor David Bevington.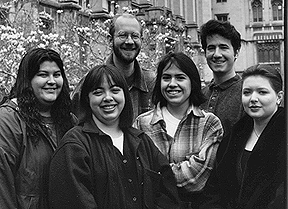 A recent crop of Donnelley scholars.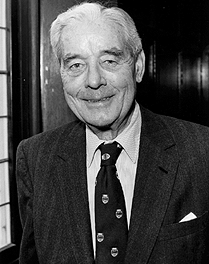 Gaylord Donnelley was remembered.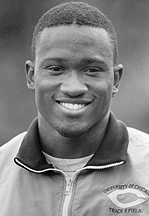 Shapiro scholar and College senior Marlin Smith.
---
Go to:
---
Return to October-December 1996 Table of Contents