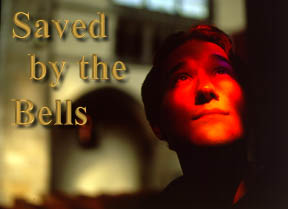 by Kimberly Sweet
Photagraphy by Dan Dry
One day in 1994, Sean Duffy, '99, was running his hands up and down the keyboard of his Yamaha upright, playing Franz Liszt's Hungarian Rhapsody no. 2 and Transcendental Etude no. 10. The next day the swollen joints of his fingers would barely let him touch the piano keys.
About to enter his senior year of high school in Philadelphia, Duffy had developed arthritis as a result of contracting Lyme disease earlier that summer. He'd been working at a local nursery, and some of the nursery's plants had come from Lyme, Connecticut, where the disease was first identified.
"I sat at the piano and was going like this," Duffy says, pretending to play and reenacting the ache he felt in his hands, "and I thought, 'Oh my god, I'm never going to be able to do this again.'"

A pianist since the age of 12, Duffy had been considering attending Oberlin or even Juilliard to study music and art. Instead, unable to play for more than a few minutes at a time, Duffy decided to explore interests in English and psychology at college. A scholarship drew him to the U of C. When he first stepped on campus, he hadn't played the piano for more than a year, but wanted to remain a musician. Then he found an instrument he could play: the University's Laura Spelman Rockefeller Memorial Carillon. With 72 bells that span six octaves and range in weight from 10 pounds to 18 1/2 tons, the carillon is operated via a playing console. Much like a piano's, the carillon's playing console has foot pedals and two rows of keys. But rather than a piano's delicate ivories, the carillon has large oak batons-and is played with the fists. Perfect for a pianist lacking in digital dexterity.
"I heard the carillon, and I was like, 'I have to play it,'" Duffy recalls. "'It's the loudest musical instrument, it's huge, and you don't need to use your fingers.'"
Almost three years later, Duffy, a psychology concentrator, now gives carillon concerts every Tuesday from 6 to 6:30 p.m. His selections range from Johann Pachelbel's Canon in D Major to "Air" from Suite III by 20th-century Belgian composer Henk Badings to the "Muppet Show Theme Song." He's begun to compose carillon pieces, and while his arthritis has eased enough that he can "noodle" on the piano for longer stretches, the carillon has become his instrument of choice.
One of about 180 carillons in North America, the U of C's carillon is the world's second largest, topped only by the Rockefeller carillon in Manhattan. Dedicated in 1932, the U of C's weighs more than 100 tons, about 78 tons of copper and 22 of tin. Rather than swinging, the bells are fixed to a frame, and clappers strike their inside lips. Visitors who wish to climb the 270 narrow steps to the top of the belltower can take a tour before scheduled performances, given by a different carillonneur from the community each weekday evening. University carillonneur Wylie Crawford, MAT'70, plays after Sunday services and during convocations and other major U of C ceremonies.
Crawford also gives lessons on Sundays, starting students-including Duffy-off on a practice keyboard hooked up to a xylophone in the chapel's basement. Duffy graduated to the actual instrument after more than a year of biweekly lessons.
"He was very enthusiastic, very capable, very talented," says Crawford. "He's been a great booster of the carillon as well. Being a carillonneur is not just the musicality. People don't know what a carillon is-you have to be a PR person, too."
To spread the word to his fellow students, Duffy initiated in fall 1996 a pre-finals study break in the belltower, complete with carillon music, milk, and cookies. More recently, he founded a recognized student organization for carillon enthusiasts named "Societas Campanariorum," or "The Society of Bellringers."
His deeper concern, though, is talking up the carillon's need for professional reconditioning, which ideally should take place every 50 years, but hasn't yet, as it's a rather expensive proposition. Pointing out clappers with convex surfaces worn flat, as well as rusting wires, some of which the carillonneurs have replaced with coat hangers, Duffy says, "It's such a shame that this huge musical instrument that is located inside this central and dominant feature of the University, would be held together by Elmer's Glue and tape."
Duffy, who also gives carillon tours and maintains Rockefeller Chapel's Web site, may get his biggest audience yet this summer, when he hopes to participate in a duet at the U of C's annual carillon festival. The series of ten Sunday evening concerts runs from June 21 to August 23 and features performers from Illinois, Wisconsin, Texas, and the Netherlands. But Duffy's main focus during the summer will be working with Bert Cohler, AB'61, the William Rainey Harper professor in the College, on a study of how disruptions affect schizophrenic patients' narrative memory and their ability to relate their life stories. Duffy is already looking into graduate programs in psychology, preferably at a school with a carillon, where he can keep trying to revive an art form on the wane. "
A lot of belltowers aren't being played because there's no one to play them," he says. "I really want to see people in the future playing the instrument.…It's brought me a lot of joy."
To hear the carillon and to learn more, visit the carillon Web page at: http://rockefeller.uchicago.edu/music/carillon/.