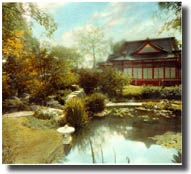 Frank Lloyd Wright and Japan: A Chicago Celebration, July 18–19. Wright's fascination with Japanese art and architecture began when he saw the Ho-o-den Pavilion, installed in Jackson Park for the 1893 World's Columbian Exposition. The Ho-o-den was later destroyed, but a Japanese garden—Osaka Garden—survives. Robie House and Osaka Garden will be open for tours both days. Saturday will feature demonstrations of Japanese arts such as flower arranging, origami, and calligraphy, with dinner, music, and a tea ceremony in the evening. Sunday events include a lecture series and the premiere of the film Frank Lloyd Wright and Japanese Art. This event is a collaboration between the Frank Lloyd Wright Home and Studio Foundation and the Chicago Park District. Robie House and Osaka Garden; 708/848-1976.
Summer Carillon Festival, June 21–August 23, Sundays at 6 p.m. This series of ten concerts features University carillonneur Wylie Crawford, MAT'70, and guest performers from Illinois, Wisconsin, Texas, and the Netherlands. Listen from the lawns or watch in the belltower. Rockefeller Memorial Chapel; 773/702-7059.
MFA 1998, July 16–August 9. This annual exhibition features paintings, sculptures, videos, and installations by students graduating from Midway Studios. Smart Museum; 773/702-0200.
Love's Labour's Lost, August 7–9 and August 13–15 at 8 p.m. University Theater performs Shakespeare's romantic comedy. Hutchinson Courtyard; 773/702-3414.