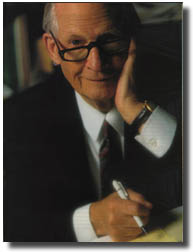 Those who can teach
In recognition of their extraordinary contributions to teaching and to the student experience of life on campus, D. Gale Johnson and Zena Sutherland, AB'37, AM'68, have been given the second annual Norman Maclean Faculty Awards. Johnson, the Eliakim Hastings Moore distinguished service professor in economics and the College ("Gale Force," December/97), continues to teach undergraduate economics. For more on Sutherland, professor emerita in the former Graduate Library School, see the Q & A.
Comprehensive cancer care
The National Cancer Institute has designated the U of C Cancer Research Center a "comprehensive cancer center," recognizing its excellence in basic, clinical, and prevention and control research. One of the few programs in the country with NCI-sponsored programs for Phase-I, Phase-II, and Phase-III clinical trials of anti-cancer drugs, the center is also the headquarters of Cancer and Leukemia Group B, a national cooperative group. More than 130 faculty, clinicians, and scientists from 15 University departments conduct cancer research.
By Guggenheim, he's got it Tom Gunning, a professor of art history and cinema and media studies, was recently awarded a Guggenheim fellowship to further his studies of early detective films. He will spend next year researching the genre in Europe and the U. S.
Honor societies
The roster of the American Academy of Arts and Sciences includes six new members from the U of C faculty: Stuart Altmann, professor emeritus in ecology and evolution; anthropologist Bernard Cohn; history and Near Eastern languages and civilizations professor Cornell Fleischer; mathematician William Fulton; GSB professor Kevin Murphy, PhD'86; and political scientist Susanne Rudolph. Meanwhile, microeconomist Sherwin Rosen, AM'62, PhD'66, was elected to the National Academy of Sciences.
A Review of one's own
Next year, third-year Law School students Britton Guerrina, AB'90, AM'90, and Teresa Goebel will be the first two women in the U of C's history to run the Law Review. Guerrina, who is considering a career in international or public-interest law, will be editor-in-chief, while Goebel, who plans to work in corporate law, will be executive editor.
Community action
Sonya Malunda, former first deputy commissioner with the City of Chicago's housing department, has joined the University in the new position of director of community affairs. Besides managing relations with the city, she will advise on real estate and community affairs in Hyde Park and the South Side and develop and oversee new community initiatives.
Fellows in finances
Three U of C economists received Alfred P. Sloan Foundation research fellowships for promising young scientists. GSB professor Yacine Aït-Sahalia researches securities, continuous-time models, and nonparametric econometrics. The economics department's Casey Mulligan, PhD'93, and Derek Neal study, respectively, the transmission of family work values and wealth, and education and the labor market.
Music maker
Marna Seltzer, former artistic administrator and director of touring for the Chamber Music Society of New York City's Lincoln Center, became director of the U of C's Concert Office in April. So far, she's changed the name of the Professional Concert Series to The University of Chicago Presents and added to the upcoming season the Regents Park Discovery Concert, which will feature artists new to Chicago.