One hails from Georgia, one from the suburbs of Chicago, and one from New Jersey. One is a University Theater stalwart, another was a reporter for the Maroon, and one is active in the Model United Nations. One made English language & literature her 21st and final choice of concentration ("My mother counted"), another started and ended her collegiate career as an English lang. & lit. concentrator, and one will graduate with a concentration in political science. All three—Qiana Johnson from Atlanta; Suzannah Gonzales from Glendale Heights, Illinois; and Elaine Chang from Morris Plains, New Jersey—have spent their final year at Chicago working for the Magazine.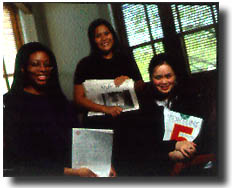 Qiana has seniority. She started as our student assistant soon after O-Week, and during her College years, she has switched job responsibilities as often as she's switched majors, writing and fact-checking class notes, obituaries, books by alumni, campus events, and news briefs, as well as indexing past issues, keeping up with the Magazine's paperwork, and doing lots of photo research.
Sue is next on the seniority scale. She started working for us last summer, as the Magazine's first College-sponsored intern. Like Qiana, Sue has done it all, including reporting and writing alumni profiles and campus news reports for "Chicago Journal" and our College Report insert. She also spent a part of last summer counting up the U of C alumni who live in five mid-sized American cities—but that's another story, for another issue.
Elaine spent last summer working as an intern at a New York City publishing firm, then joined us as an intern in October. Besides compiling and fact-checking class notes, obituaries, and books-by-alumni entries, she has written for the College Report and "Investigations."
As they leave, we're left hoping their time at the Magazine has been as much fun for them as it has been for us. When the three don their academic garb and receive their diplomas in June, the Magazine will be there, feeling quite proud to have had even a small role in their Chicago education.
And now for the answer to that omnipresent and pressing parental question: What will the new grads be doing after June 13th? Sue will be taking on a yearlong internship with Washington Post columnist Bob Levey, AB'66, while Elaine will be starting work as a business analyst with Ernst & Young in Manhattan. Meanwhile, Qiana—who describes herself as "the only person I know who doesn't have a job," adding, "my cat and I are going to starve"—plans to find a job in Chicago and then apply to medical school. None will be writing for magazines, but we like to think they'll be reading whatever magazines come their way with much more practiced eyes.
Happy in Lafayette, Calif.," the couple who wrote to Ann Landers this February about meeting at the U of C, has yet to come forward (April/98), but this issue's "Letters" section has other "meeting cute" at Chicago tales.—M.R.Y.
Correction: Pierre Boulez was incorrectly identified in the April/98 "Citations" (page 11). The principal guest conductor with the Chicago Symphony Orchestra, he had been director of the Institut de Recherche et Coordination Acoustique Musique, a government-sponsored research center in Paris.