New campus volunteer efforts show promise of broadening undergraduate perspectives and improving town-gown relations

by Charlotte Snow Photography by Matthew Gilson
Michelle Obama remembers growing up on Chicago's South Side and not being aware that she lived just 10 minutes away from one of the world's most renowned academic institutions. When it came time to apply for college, the University of Chicago was not on her list. She left the city to pursue her bachelor's degree at Princeton and her law degree at Harvard.
Now 34, Obama has since moved back to the South Side. In the fall of 1996, she became an associate dean for student services at Chicago and the first professional director of the University Community Service Center. As the UCSC's director, Obama has accepted the charge of developing a vibrant, sustainable community-service presence on campus, one that will not only expose College students to different points of view but also strengthen relations between the University and residents in Hyde Park, other surrounding neighborhoods, and throughout the city. She is determined to make sure that today's South Siders, in particular, are more aware than she was of the top university sitting in their own backyard.
"I have a personal commitment here," says Obama, who lives in East Hyde Park with her husband, state senator and Law School senior lecturer Barack Obama. "This is my neighborhood, and the University is a resource. We're missing opportunities to attract qualified applicants from our own neighborhood. I'm here to get something going."
As Obama readily acknowledges, the U of C often has been criticized, both fairly and unfairly, for not taking a more active role in the revitalization of its surrounding neighborhoods, and College students have typically treated volunteer activities as peripheral to their academic pursuits. But the appointment of Obama, her efforts at the UCSC, and the momentum of student volunteer groups suggest that members of the University community are placing a higher priority on serving their greater community. Students are discovering the value of voluntarism-as the school's apolitical voice in community affairs and as part of a well-rounded liberal-arts education.
"The University recognizes the need to be a good neighbor," says Obama. "There is support for that mission. For what's the point of the University being in this community if we don't find some way to connect with it?"
Obama has been busy cultivating such connections-between the University and community groups, between students and local residents, and among students themselves-since the newly reorganized UCSC opened its Reynolds Club headquarters in January 1997. Before Obama's appointment, the UCSC had existed since 1992 as a student-run organization. The creation of Obama's position and the decision to fund UCSC programs and support staff with an $80,000 annual budget followed the spring 1996 recommendations of the Faculty-Student Committee on Volunteerism.
"We concluded that it was important for there to be reciprocal relationships between the University and neighboring communities and that the University should support as rigorous a program as possible," says committee chair Harold Richman, AM'61, PhD'69, the director of the Chapin Hall Center for Children and the Hermon Dunlap Smith professor in the School of Social Service Administration.
Cautioning that "in no way does the UCSC claim to be the foundation of community service on this campus," Obama notes that "students have been active in the community since the 1950s and '60s, but they have never been organized in a formal way." The changes, she says, help bring the U of C more in line with peer institutions like Harvard, Brown, and Yale, which all have long traditions of well-funded community-service programs.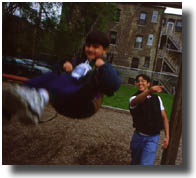 The University's investment in the UCSC can also be attributed to general changes in the national attitude toward voluntarism, says Obama. She points to President Clinton's creation of the AmeriCorps domestic service program; retired General Colin Powell's calls for more support of volunteer activities from corporate America; and the emergence of community-service mandates in some of the nation's top high schools, including the U of C's own Laboratory Schools. "Prospective students are looking for places where they can continue these activities and be supported," Obama concludes.
Her own career reflects these changing mores. Her early jobs had been predictable enough: an associate post in a large corporate-law firm in Chicago, followed by a stint in politics as assistant commissioner in the city's department of planning and development. But nothing clicked, she says, until she was asked to head the Chicago branch of the Washington, D.C.-based Public Allies, which has been recognized as a model program by the Clinton administration for its efforts to place young adults in public-sector internships. At 27, Obama accepted the responsibility of establishing the group's Chicago presence and directing its $600,000 local budget, eventually increasing that by $200,000 and bringing some 100 young people together with nearly as many Chicago-area nonprofit groups during her three-year tenure.
At Chicago Public Allies, Obama says her mission was to build a cohort of young adults interested in social change. She brings a similar philosophy of continuity and action to her job at the U of C: "We push the students to plan and budget and be more accountable and professional. We're not here to just support the do-gooder mentality. The work isn't about the students; it's about the community they claim to be serving, and it's about keeping promises. Many of these communities have been devastated by the best of intentions."
By January of this year, the UCSC had linked more than 400 students to community-service projects around the city, and the number of recognized student organizations dedicated to community service had risen to 18 from 12 a year ago. And for the first time, the university is providing direct, ongoing financial support to student volunteer groups through the newly established Community Service Fund.
The fund maintains a yearly budget of $30,000 in student-activities fees set aside by the student government. Of that, $20,000 is paid out annually and the remaining $10,000 quarterly, according to the discretion of a 13-member committee comprised of eight College and graduate students, one student-government representative, and four Chicago-area community-group leaders. To receive support, student organizations must demonstrate an ongoing relationship with a community group, such as a nonprofit agency or school. While the quarterly allocations are available to any RSO that plans to sponsor a community-service project, the annual allocations go only to RSOs whose primary purpose is community service.
The UCSC also organizes a quarterly Service Day, attracting dozens of students for what Obama calls "a short-term, quick hit." At the beginning of spring quarter, for example, about 20 students helped to make repairs at the Apna Ghar shelter for South Asian women in Uptown, while another 20 led activities for children at the Association House of Chicago, which provides adult-literacy and foster-care programs for predominantly Latino families in Bucktown. Earlier, on Martin Luther King Day, students painted a nursery in a Woodlawn day-care center, led recreational activities for children at the Association House, and remodeled and repaired a transitional-living facility for adult men on the South Side.
"What programs like these provide is opportunities for the school to develop diverse contacts in the communities they serve," says Joel Martinez, the Saturday program coordinator at Association House. "Children in those areas could then aspire to go to the University and help diversify its student body."
For those interested in a deeper level of community involvement, the UCSC runs a public-sector summer internship program called Summer Links. This year more than 100 College and graduate students applied for the 30 spots in the program, which is modeled after Chicago Public Allies. Those selected are now spending 10 weeks working for area nonprofit agencies such as the Chicago Housing Authority, the Chicago Botanic Garden, and the Jane Addams Hull House Association. Obama credits much of the program's popularity to its $4,000 stipend, provided with support from the College, the University's Office of Community Affairs, and the federal work-study program.
"We want students to see that community service is real work, not just the good stuff that you do on the side," she says. "We lose student participation in community service because the school's curriculum is tough and many have to work to earn money. The stipend takes away the financial constraints and makes community service a more competitive option."
Other UCSC initiatives include: a regularly updated database of volunteer opportunities at more than 300 Chicago-area organizations; an Orientation Week program that directs 1,000 incoming students to about 45 sites for a day of volunteer work; student-volunteer and community-group workshops on training and development issues led by UCSC staff and other U of C experts; and resident-led tours of such urban enclaves as Pilsen, Woodlawn, Kenwood, Uptown, and Little Village.
In the future, Obama envisions moving the UCSC's operations into a house near campus where students and community members could run into each other and spark new ideas. A meeting room could host both University and community events. "We want to be the hub for that kind of interaction," she says. "We want to welcome the community onto this campus and make our resources available. UCSC would be full of discussion and debate and would be truly diverse."
At the same time that the University has begun to formalize its approach to community service, a core of dedicated student volunteer leaders have gained momentum in their own efforts to promote campus voluntarism.
"With the new center and the Summer Links program, it really seems like more and more students are finding avenues to do meaningful work," observes fourth-year sociology concentrator Jeremy Robins, who founded an arts-education group. "They're enriching their college experience, and, perhaps for the first time, envisioning such work as a viable career choice."
The students emphasize the need for the University to continue boosting its financial support of student volunteer groups, to provide more assistance with transportation concerns, to offer more Orientation Week programs on the history of area neighborhoods and their residents' needs, and to provide more direct action aimed at improving local economic conditions. They also complain that they must compete for students' energy and time with jobs and intense academics. Yet despite these ongoing concerns, most student leaders say they are optimistic that the administration's stepped-up attention to campus voluntarism is helping to turn students' attention to how they can apply their classroom studies.
"In general, College students are enthusiastic about becoming involved in community service," says fourth-year biochemistry and economics concentrator Jennifer Wu, president of the U of C's chapter of the national service fraternity Alpha Phi Omega. "You only have to look to the activities of those service groups currently in existence and those constantly being formed, as well as the establishment of the UCSC, for the proof."
The experiences of the student volunteer leaders suggest that much of Obama's vision is already being realized. Students like fourth-year psychology concentrator Wendy Lichtenthal have forged connections beyond the Midway. Lichtenthal formed the HIV/AIDS Awareness Program in the fall of 1995 after being trained as a volunteer for an HIV/AIDS support organization on the North Side and discovering there were no similar groups on campus. Today, her group has about 30 active members who organize an HIV/AIDS awareness week on campus, conduct anonymous HIV testing for the campus community every quarter, and lead educational seminars in local schools. The group has also developed partnerships with community organizations, including the Howard Brown Health Center on the North Side, Open Hand Chicago on the South Side, and the Chicago Women's AIDS Project on the North Side.
Then there's Jeremy Robins, who formed U of C Strive in the fall of 1996 to share University resources with a Chicago-area nonprofit agency called Strive, which offers arts-education programs to disadvantaged children in the Kenwood and Grand Boulevard neighborhoods. Not to mention Jennifer Wu, whose Alpha Phi Omega chapter has, since its formation last spring, sent 60-plus members of the multipurpose group out to canvass low-income neighborhoods with fire-safety information for the American Red Cross, to groom animals at a North Side shelter, to paint apartments and hallways in local housing projects, and to distribute food for the Greater Chicago Food Depository. And fourth-year biology concentrator Jeff Yuan has recruited about 30 students to aid Cook County social workers serving children in foster care through the U of C chapter of the Court Appointed Special Advocate program, which he chartered in the fall of 1996.
"The University's mission is not just to educate young people in the field that they'll work in for the rest of their lives, but also to educate them in other fields, to make them more complete people," says Yuan. "Community service is another form of education that helps make students more complete people."
In addition to these newly formed student groups, other existing student volunteer organizations have continued to move their missions forward. Headed into its fifth year, Student Teachers expanded its program and sent some 30 College students into three local schools each week during the past academic year to tutor fourth- through eighth-graders. Previously, the group had been serving only one school.
Another educational group, called Science and Math Achiever Teams, or SMArT, has aimed since December 1995 to get local fourth-, fifth-, and sixth-graders interested in science through what director Emily Drennan, a third-year public-policy concentrator, calls "messy and interesting" projects that show "science is not just a textbook, but a real-life adventure." She says she has learned, too, from the experience: "I have gained leadership and organizational skills that have been invaluable to me as a student. I have also gotten out of Hyde Park and met some really interesting people with stories to tell that I wouldn't hear here."
Still other student groups continue to build on past years' efforts to support local housing and economic development initiatives. For example, on a Saturday morning in May, Students for Cooperation, which represents student housing cooperatives, joined with the campus Habitat for Humanity chapter and Woodlawn Development Associates, a nonprofit community development organization, to help rehab a mixed-income residential building a few blocks from campus on Kimbark Avenue. Undergrads also address issues of hunger through the campus chapter of Oxfam, and homelessness through the Giving Tree.
For second-year Catherine Potter, the codirector of Student Teachers, the benefits of such activities for both the University and students themselves are clear: "Our University provides an even richer educational experience for its students if abundant connections to the community exist. Learning entails not only independent study, but also engagement with the people you live and interact with. Community volunteer work keeps me connected to people."