Slouching in weary adolescent angst, my two daughters groaned in unison: "We don't know you, Mom." Undeterred, I slipped the camera from its case. I didn't focus on my denim-clad offspring as they wandered through the ruins of a Gothic cathedral. That wouldn't have bothered them-a week into vacation, they were used to feeling like tourists. No, what dismayed them was that I was taking a photo of someone else's daughter, a young woman who had either just received, or was about to receive, an undergraduate science degree from Scotland's oldest university.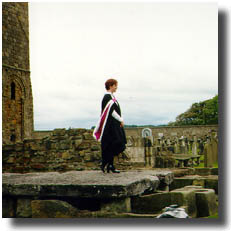 We'd come to the small town of St. Andrews on the Fife coast to see the famous Old Course and, perhaps a bit less predictably, to hunt for "frosties"-bits of wave-smoothed glass-on the shore below the castle. We'd shop for a sweater or two, take a photo at the remains of the cathedral (sacked by Protestants in 1559), and peek into the university grounds. We hadn't consulted the papers before leaving Edinburgh that morning and didn't realize that the day we'd chosen for our visit was the first of three days of graduation ceremonies at the University of St. Andrews.
Still, just as a golfer might find it especially exciting to visit the Royal and Ancient Golf Club during a major tournament, I took an alumni magazine editor's pleasure in chancing upon a university in the midst of an academic ritual. Thus, when the young woman in her high heels, black robe, and scarlet-and-white hood paused to pose for the family camera, I reached for my camera too.
As we walked through St. Andrews that afternoon, we saw many more proud groupings around a black-robed grad. Venturing briefly into a university quadrangle ("Don't, Mom!" one daughter implored. "It's not our graduation day!"), we glimpsed the white crown of an empty marquee, in a lull between parties. The grass in the quadrangle was green, and the sky temporarily between rains.
There no doubt have been many such celebratory days in the life of a university founded in 1411, but as we stepped back into the street, we stopped to read a discreet wall plaque directing our attention to the initials embedded in the sidewalk below. "PH" marked the spot where Patrick Hamilton, a university student convicted of religious heresy, had been burned at the stake in 1528.
It was the kind of detail my younger daughter would record in her journal that night. And it was the kind of detail that reminds one, if one needs reminding, of what universities are about. The June 1998 graduates of the University of St. Andrews, like those at the University of Chicago, wore gowns linking them to the ancient traditions of academe: scholarship and independent thought. Those are habits of mind far less easy to don than flowing robes, but they offer a far more invincible armor.
Back at home, Assistant Editor Cathy Mizgerd, AB'91, who wrote June's cover story on poet Campbell McGrath, AB'84, has left the Magazine to earn a master's degree at Northwestern University's Medill School of Journalism. Although we miss Cathy's wit and enthusiasm, we take comfort in the reflection that we haven't lost a staffer, we've gained a freelance writer.
Correction: In the June/98 issue, an editing error garbled a letter from Charles H. Fairbanks, Jr., AM'70, PhD'75, commenting on changes in the College curriculum. His last sentence should have read: "The reduced emphasis on the Common Core reduces the distinctiveness of the University, which is its main claim as against Harvard, Yale, Stanford, etc."-M.R.Y.