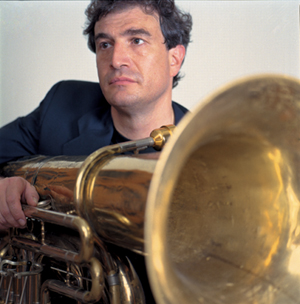 Low pitch, high demand

By David McKay Wilson
Photographs by Adam Nadel, AB'90
With an unlikely instrument, a Chicago alumnus leads one of New York's most visible jazz bands.
David Ostwald, AB'77, fell in love with the big brass tuba in sixth grade, when he lived in suburban Philadelphia. He was so enthralled with its sound that when his parents asked what he wanted for his bar mitzvah, he requested one. They said they'd honor his wish, provided he prove his dedication.
So Ostwald found a teacher—the tubaist with the Philadelphia Orchestra, who steeped him in the classics. After two years his parents, Lore Ostwald, AM'47, and Martin Ostwald, AM'48, gave him his belated gift—the same instrument he still plays 33 years later. "My tuba has been a magic carpet," he says one evening at Manhattan's Birdland Jazz Club, where David Ostwald's Louis Armstrong Centennial Band has performed Tuesday nights since May 2000. "It's taken me to places I might never have gone, and I've met literally hundreds of people I wouldn't otherwise have met."
Over the years he's performed with Wynton Marsalis, Woody Allen, and Leon Redbone. He's played on jazz cruises to the Caribbean, Alaska, and Mexico. He's roamed the aisles of Yankee Stadium, showcasing jazz standards between innings. He's a fixture at Manhattan's Lincoln Center for the Performing Arts, playing with its jazz orchestra and leading the Gully Low Jazz Band for hundreds of Lindy Hoppers at the center's outdoor summer dance festival. He performs in Lincoln Center's "Meet the Artist" program, which teaches children about jazz's New Orleans roots. And he's made a name for himself in Europe, where the Gully Low Jazz Band plays each summer at Scotland's Nairn International Jazz Festival.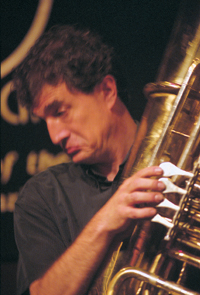 At 48 Ostwald—who lives on Manhattan's Upper West Side with his wife Kersten, who teaches deaf children; their two daughters, 8 and 15; and their 13-year-old son—juggles his music with his day job as a partner in a Manhattan law firm, Schechter & Brucker, which specializes in residential real estate. "Open ears are important to both professions," he points out. "When you play in a jazz band, you really have to listen." Likewise, in law, "you have to listen well to both your client and adversary."
His Tuesday night Birdland engagement is his most regular jazz performance. Each week Ostwald assembles a changing group of musicians to play 1920s and 1930s classic jazz, by composers such as Louis Armstrong, W. C. Handy, Duke Ellington, and George Gershwin. "They were the greatest songwriters, and these standards have endured," Ostwald explains. "The melodies written then seem most consistent with the human spirit, and they are understandable on some level by every human being."
Ostwald's Birdland band doesn't rehearse but instead improvises within the classic structure. The music is played acoustically, as it was in the 1920s, and the instrumentation is authentic, with the tubaist joining the drummer and banjo player in the rhythm section.
The weekly show, which starts at 5:30 p.m., draws a mix of foreign tourists and jazz buffs to the dimly lit 44th Street club, where the walls are lined with photographs of jazz greats. The early evening crowd often includes gray-haired sidemen from 1940s Big Bands, invited up to the bandstand to sit in for a tune. Notables such as George Avakian, who recorded the first jazz album in 1939 and later became a well-known jazz producer, also stop in regularly to hear Ostwald's band. "David is as good as any tuba player around," says Avakian, who's produced one of Ostwald's albums and—although not a paid manager—used his jazz-world influence to secure gigs such as the Birdland. "The music he plays is the foundation of jazz. It started with New Orleans musicians playing the music, and they played it the way David plays it."
One Tuesday evening this fall, Ostwald sits on a high stool, his 22-pound bar mitzvah present propped on his knee, his eyes closed in concentration, swinging with a quintet that includes two players who lead their own New York jazz groups. "David really knows the classic repertoire," says multi-instrumentalist Vince Giordano, who has played banjo in Ostwald's band since the early 1980s. "We come to Birdland to pay homage to the gods."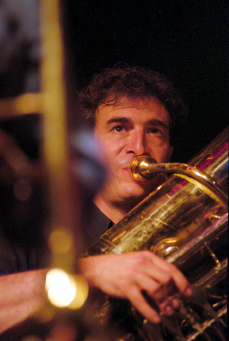 Jazz first caught Ostwald's ear at age 6, when his mother would play A Child's Introduction to Jazz for him over and over. His interest lay latent until 1970, when he went to the record store to buy a classical album but instead plunked down 99 cents to purchase his first jazz album. It featured Louis Armstrong, the effervescent jazz trumpeter who transformed the nascent art form with his knack for improvisation and his understanding of rhythm and harmonics. "It was a revelation to me," says Ostwald, who now serves on the boards of the Louis Armstrong Educational Foundation and the Louis Armstrong House and Archives. "It was just like the meaning of life was embodied in every one of those notes—and the space between the notes."
Although he developed an ear for jazz in high school, Ostwald didn't yet play it, continuing to study classical tuba and perform orchestral works into college. Then some friends in the University of Chicago Orchestra invited him to help form a jazz group. Intimidated at first because he was unsure if he could play by ear, he soon discovered that his classical training had provided a solid basis for explorations in improvisation. The band, the Cook County Doo-Dah Boys, played its first gig at Ida Noyes Hall in 1976.
After graduating with a concentration in philosophy Ostwald decided to try his luck in New York, where he started another band, the Blazer Bobcats. A year later he had a steady gig at an East Side bar, doing concert management by day. During his first semester at New York Law School in 1979 he quit playing, but he resumed performing three months later and hasn't stopped since.
He continues to play Armstrong's music, including some of the same tunes that captured his imagination that afternoon when he bought his first jazz album. "It gives me great joy to see you've had an emotional impact on an audience," he says. "And I just love playing with other people, playing the music I love, and creating music on the spot."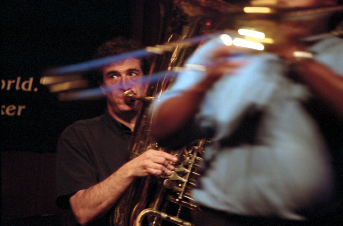 David Ostwald's Louis Armstrong Centennial Band performs at New York's Birdland Jazz Club every Tuesday.
---
David McKay Wilson is a freelance writer in New York. He's written for the Stanford University, Colby College, and Duke University alumni magazines.