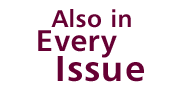 EDITOR'S NOTES
Extra! Extra! Read all about it!
A day on the campus set of Proof proves that they also serve who sit and wait…and wait…and wait…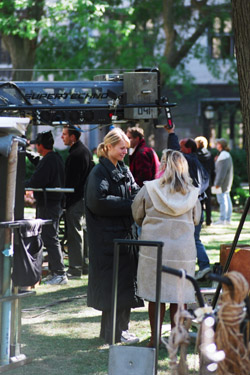 Photo by Lloyd DeGrane

Gwyneth Paltrow between takes in Harper Quad.
On about page 75 of The Hitchhiker's Guide to the Galaxy, an analogy flashed by like a rocketing meteorite. The title of the sci-fi satire summed up how I was spending an early October day: stargazing, along for the ride during the campus filming of Proof, an adaptation of the 2001 Pulitzer Prize– and Tony Award–winning play by David Auburn, AB'91.
And like the hapless hitchhiker Arthur Philip Dent, I had time to wonder just how I'd gotten here—here being my seventh hour as an extra, hoping to be prominent among the mourners in the final cut of a cinematic memorial service. After all, at the onset of the five-day invasion—led by British director John Madden, who was flanked by Anthony Hopkins (as Robert Llewellyn, a U of C mathematics professor who crosses the line from genius to madness), Gwyneth Paltrow (his grieving, possibly brilliant daughter Catherine), and the village it takes to make a film—I, like most Hyde Parkers, had played it blasé.
Then came the last-minute casting call. "Unpaid, volunteer extras" were needed for four hours. Hopefuls should show up the next morning "dressed appropriately" for a memorial service. "From that pool, casting agents will select approximately 150 people to be included in the scene—therefore, showing up does not guarantee you a spot as an extra."
No pay, no guarantee—not very enticing. But there was more: "Unlike the previous casting call, producers are particularly interested in utilizing individuals age 30 and older. Younger participants are certainly welcome, but priority will be given to those individuals who look older." For once, being a woman of a certain age was a plus.
Besides, I had a 17-year-old daughter to impress. Because her friend Alex's back porch overlooked the back porch used for several Proof scenes, Hanna had already seen Madden, Hopkins, and Paltrow in action. Here was my chance to catch up.
It also turned out to be a chance to catch up on my reading.
I signed in at 9 a.m., taking a seat at one of a battery of folding tables set up at the east end of the Main Quad. By 9:10 the casting director had okayed my wrinkled skin and black-and-cream outfit. By 9:40 there was nothing left to read or edit. A quick call to the office produced the day's clips and, as insurance, The Hitchhiker's Guide.
At 10:50 a T-shirted guy greeted us through a bullhorn. We'd move to Rockefeller Chapel and start to film in ten minutes. At noon we settled into pews, straining to hear Madden outline our role: Listen as Robert's colleague gives a eulogy; laugh at his joke. Look startled, then embarrassed as Catherine makes an unexpected, shocking speech, and follow her with our eyes as she flees the chapel, her father's grad student (Jake Gyllenhaal) in pursuit. We'd be done, Madden said, by 2 or 3 p.m.
The survivors finished at 9 p.m. Along the way, others decamped to attend lectures or pick up children. "At any other school," a casting crew member complained, "people would be kicking down doors to be an extra. But here they all say they have to go to class."
Was it worth it? Sitting on hard pews, laughing for the eighth time at the same slight, donnish joke, or waiting between takes, I wondered. But watching from a few feet away as, face contorted with emotion, Madden mouthed Catherine's outburst along with Paltrow, the magic of making movies kicked in.
Come next summer, I'll be looking for the back of my head, making its first appearance in a major motion picture. And if my head hits the cutting-room floor, the experience was still worthwhile.
Want proof? I saw Paltrow kiss Chris Martin of the band Coldplay. Ask my 17-year-old how cool that is.—M.R.Y.