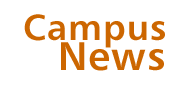 Chicago Journal

Mixing race, religion, and policy
At the opening dinner to the Race Center's inaugural conference, Jesse Jackson arrives late but doesn't hold back.
The Ida Noyes crowd—50 community leaders and scholars from around the country, most of them black—mingles before dinner, scheduled for 7 p.m., awaiting the evening's keynote speaker. The Rev. Jesse L. Jackson, X'67, is notoriously late, so at 7:30 assistant political-science professor Melissa Harris-Lacewell, lead organizer of "Faith of a Race: African American Religion and Contemporary U.S. Public Policy"—the June 26–28 miniconference that brings Jackson to campus—ushers the guests into the dark-wood library lounge. They dine on a salmon and beef buffet as they discuss photographer Dawoud Bey's recent Smart Museum exhibit, the success of local high school Kenwood Academy, whose interim principal, Arthur Slater, sits nearby, and whether Chicago has a Southern feel.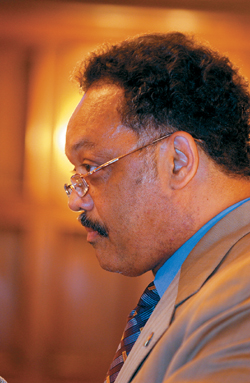 Photo by Dan Dry
The next two days will cover weightier topics, as the policy-focused miniconference—the first for the Center for the Study of Race, Politics, and Culture—brings together activists and intellectuals. Considering policies that affect African Americans, "one has to look at the church, the bedrock of blacks in society," says law professor Tracey Meares, JD'91, director of the Center for Studies in Criminal Justice. For instance, police working with black churches to curb violence, a program she's helped to implement in Chicago, is "a very different way of thinking about policy," says Meares, a co-organizer of the conference along with associate theology professor Dwight Hopkins and assistant sociology professor Omar McRoberts.
Around 8 p.m. Jackson enters. "How's everyone today?" he calls out. Smiling heads turn toward him as he works the room, hugging the guests, who all seem to know him. Making his way to the buffet, he grabs a roll, biting into it as he continues his hellos. Then Jackson, 62, takes his seat beside provost Richard Saller.
After Harris-Lacewell and Race Center director Cathy Cohen give remarks about the conference, the Race Center, and the week's Supreme Court decision on affirmative action—"just enough to be happy about and just enough to be sad about," Harris-Lacewell opines—William Samuels, AM'72, DMN'81, a South Side minister and longtime Rainbow/Push member, introduces Jackson, who gets a standing ovation before reaching the podium.
At first his voice is soft and low, almost muffled. "When I was a student here," says Jackson, who took classes at the then University-affiliated Chicago Theological Seminary between 1965 and 1967 but deferred his studies to work for the Civil Rights movement, earning a master's degree from the seminary in 2000, "in many ways I felt betrayed. Today I feel terribly disconnected. We're just a few blocks away"—his Rainbow/Push Coalition, at 930 East 50th Street—"yet we never meet, we never talk."
After attending classes all week in the 1960s, he says, he would write a sermon for Sunday church, using the language of academe. He'd address the churchgoers, and they'd say, "Nice speech." "But when I translated my speech into English they'd say, 'Son, you touched me.'" So began his efforts to "take the language of the University and apply it to where we live. Not to say the [language] of the University was wrong," he notes, "it just wasn't connected." He also massaged language during
Saturday morning meetings, when he'd organize residents to boycott or march against shops that wouldn't serve blacks.
Jackson, who hosted CNN's Both Sides With Jesse Jackson from 1992 to 2000, continues those Saturday meetings today, mixing academics, religion, and current events. Three weeks ago, he says, he discussed the recent Federal Communications Commission decision loosening media-ownership rules. "In the beginning was the word," he says, as a few dinner guests answer, "Mm-hmm." Clearly against the ruling, he continues, "If the FCC cuts off your word, it cuts off your world."
Then Jackson, voice raised to preacher pitch, incites the audience to repeat after him: "We live," he says. ("We live," they repeat.) "In our faith." ("In our faith.") "We live under..." ("We live under...") "The law." ("The law.") Blacks had faith during slavery and the Jim Crow era, he continues, but the laws weren't just. "All right," answers one woman. "Tell it," says a man. "Come on" and "Well, well, well" ring out from the tables. Jackson continues: "In each instance it was a change of law driven by our faith to change our condition."
During his talk Jackson only briefly mentions the Court's affirmative-action decision. Constitutional amendments, he says, are needed to guarantee "equal, high-quality public education for all; equal, high-quality public health care for all; and an equal right to vote for all"—not only for those with clean criminal records. Again he preaches and the audience repeats: "We live...in our faith. We live under...the law." In the question-and-answer session he elaborates on the decision. "The reason you can't celebrate too much," he says, "is that it was over the objection of the president and the attorney general [John Ashcroft, JD'67]."
After another standing ovation Jackson departs. Duly inspired, the scholars and activists are ready to address African American religion and public policy.
—A.B.