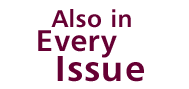 Letters
Affirmative action reminds me of a cheap magic act…
---
All the news that's fit we link
Someone has done a fine job or making your UCHICAGO.EDU much more interesting and worthwhile. I especially like the summaries re new scientific advances, and the news bulletins about significant placements of University leaders.

Thank you. Please keep them up.
---
Quantity of qualified responses
Reading Sharla A. Stewart's article about political science's "Revolution from Within" (June/03) should raise some important questions. Do quantitative theorists really want to block the publication of qualitative area studies? Do game theorists and statisticians really control the major political-science journals? As a game theorist who works in political science, I can testify that the answer to both questions is No.
[ more ]
---
Taking the U of C plunge
Congratulations on the wonderful Amanda Snow Conant essay ("Lake Effect") in your June/03 issue. The idea and the act itself (a dip in Lake Michigan once a month) are bravely disciplined, highly spirited, and philosophically daring—exactly like the life of the mind at the University. The writing about it is smart and sassy, the ideas thoughtful and engaging, and the Dan Dry photograph breath-taking (I was born at Passavant Hospital, taught history on the Near North Side, and now reside on the shore of Lake Ontario: that skyscape is intimately familiar). Please pass on my congratulations to the author.
Arden Bucholz, AM'65, PhD'72
Waterport, New York
---
Correcting the legal record
May I just amend the reference to Ernst Freund in the excellent article on the Law School ("Just Cause," June/03)? According to family records, Ernst Freund was born in New York, not in Germany, and his field was, I believe, jurisprudence not political science.
Evi Ellis Wohlgemuth, AM'52
London
---
No cause for celebration
David Currie's glorification of the U of C Law School ("Just Cause," June/03) would lead one to infer that all is well in the legal profession in general, and especially at the U of C. Such is understandable, given his position and purpose, but it's highly inaccurate to describe the profession in glowing terms. In short, this self-serving profession has society in an ever-tightening death grip from which escape seems most unlikely.
[ more ]