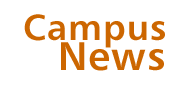 Chicago Journal

The streets where Nobelists live
Not since A Beautiful Mind won the 2001 Academy Award for best picture has genius been so popular. That is, until the Alumni Weekend 2003 Homes of the Nobel Laureates debut tour took an SRO trolley-load of Chicago alumni into the world of the super smart. Led by Hyde Park Historical Society docent Bert Benade, X'48, the tour showcased 32 homes of the University's 74 Nobel Prize winners. To prepare for the inaugural tour, Benade paged through an entire set of University directories in the Regenstein archives. "Some of these Nobel laureates were only at the University of Chicago for a short time," he explained, "so there isn't always an official record of where they lived."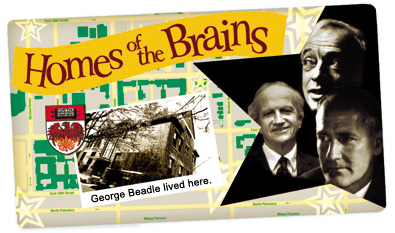 Illustration by Joy Olivia Miller
As the green-and-yellow trolley snaked its way along Hyde Park's confounding one-way streets, the most familiar addresses belonged to former President George Beadle and former chemistry professor James Franck. Beadle (1958, plant physiology) lived in the President's House at 5855 S. University Ave., a three-story, taupe-brick structure with a slanting roof. "The Beadles's cat once got out on that steep roof," Benade said, "and George Beadle climbed out after it. His wife called the campus police. Both he and the cat made it back safely." One block north on University and 58th Street is the Tudor-style Quadrangle Club, where, in the 1940s, Franck (1925, physics) rented room No. 6 on the third floor.
The highest concentration of Nobel winners—at least six—lived in two high-rises known as the "Nobel Nests." Friedrich Hayek (1974, economics), Charles Huggins (1966, medicine), and Leon Lederman (1988, physics) had homes in "The Cloisters" at 5801–11 Dorchester Ave., while Saul Bellow, X'39, (1976, literature), Subrahmanyan Chandrasekhar (1983, physics), and James Cronin (1980, physics) lived one building south at the Dorchester Apartments (5825 Dorchester). Two blocks from the train, two blocks from campus—location, location, location.
Although they didn't roost in the Nobel Nests, Benade and his family rubbed shoulders more than once with laureates. In his childhood home, a three-story apartment complex at 5517–19 University Ave., lived Eugene Wigner (1963, physics) and later Tjalling Koopmans (1975, economics). "Eugene Wigner was our across-the-hall neighbor," Benade said. "He had no hand dexterity and couldn't use any tools whatsoever but had more patents than anyone else."
Indeed, Benade may be a magnet for laureate aura; his current residence, 5415 S. Hyde Park Blvd., a three-story, red-brick condominium adorned with stone lattice trim, was also once home to Yuan Lee (1986, chemistry). Benade's favorite Nobel abode, however, is at 5637 Woodlawn Ave. The plain, reddish-brown brick home with an enclosed front porch, now overrun with trees and shrubbery, once belonged to Arthur Compton (1927, physics). Compton and Benade's father, J. M. Benade, were classmates at Princeton and later worked together on the Manhattan Project at Chicago.
Among those Nobelists who still hang their hats in Hyde Park are three economists with a penchant for architectural solidity: Gary Becker, AM'53, PhD'55, (1992) on 58th Street near the Lab Schools, a substantial three-story brick building masked by trees; Robert Fogel (1993) at 53rd and University Ave., an elegant greystone replete with pillars and second-floor balcony; and James Heckman (2000) at 48th Street and S. Greenwood Ave., a stately brick home with double chimneys and a stone-arched entrance.
Three homes too far afield—both in terms of Chicago connection and physical location—for Benade's tour once belonged to Bertrand Russell (1950, literature), a visiting philosophy professor in 1938–39; Richard Smalley, ScD'95 (1966, chemistry), a research associate in the James Franck Institute (1973–76); and Murray Gell-Mann (1969, physics), a physics professor (1953–55). Intrepid Nobel hounds can find these homes, respectively, at the site of the old Plaisance Hotel on the southwest corner of 60th Street and Stony Island, 6019 S. Ingleside, and 727 E. 60th St.
For the dozen disappointed fans turned away because of space constraints, Benade hopes to repeat the circuit during Alumni Weekend 2004. Maybe next year's Nobel tourists will hit the celebrity jackpot—and spot a real live laureate mowing the lawn.
—Soo Ji Min, AM'03