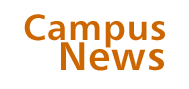 Chicago Journal
A Senate story
Illinois Democrats and Republicans alike can cast a vote for a candidate with close U of C ties in the March 16 primary. Vying for the Senate seat are James D. Oberweis, MBA'80, and Barack Obama, a senior lecturer in the Law School. Oberweis, a 57-year-old Republican from Aurora, owns both a dairy and a brokerage firm. Obama, a 42-year-old Democrat from Chicago, is a civil-rights attorney and Illinois state senator. On most issues Oberweis and Obama take opposite sides: gun control (Oberweis against, Obama for), abortion rights (Oberweis against, Obama for), the Iraq War (Oberweis for, Obama against), and the Bush administration's tax cuts (Oberweis for, Obama against).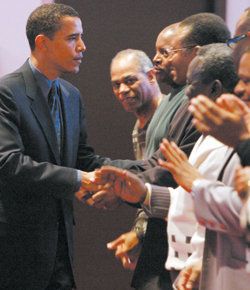 Photo by David Katz
Obama campaigns at an Evanston church.
Oberweis was born and raised in suburban Kane County—home to his family's 78-year-old business, Oberweis Dairy—where he still lives today. After earning a political-science degree at the University of Illinois he taught junior-high math and science, then became a stockbroker. In 1978 he and his wife, Elaine, MBA'89, who divorced in 2003, opened a securities firm; ten years later Oberweis Asset Management, Inc., had 400 employees. But there were bumps along the way. In 1988 Oberweis made a "terrible acquisition," he told the Chicago Sun-Times: one of his new company's workers turned out to be an embezzler, and he lost his entire business.
He rebuilt and 16 years later is again a millionaire. Run by Oberweis; his son, James W. Oberweis, MBA'03; and Martin Yokosawa, MBA'94, Oberweis Asset Management boasts its own line of mutual funds. Roman Weil, the GSB's V. Duane Roth professor of accounting, praises the comeback. "He behaved professionally and honorably and resolved the financial issues with every one of his clients," says Weil, who taught Oberweis in the executive program—and was his client. The Wall Street Journal, Oberweis notes, "said our Oberweis Micro-Cap fund was the No. 1 fund in the country last year, up almost 108 percent."
Back on the farm, meanwhile, Oberweis, who has five children, continues to manage the dairy, which has expanded from 50 employees to more than 1,000, with trucks and stores dotting Illinois, Indiana, and Missouri. For his Senate run he's mixing creamery and campaign, inviting registered Republicans to visit the dairy's retail ice cream shops for meet-and-greet sessions (and free sweets). Another strategy—a contest offering a lifetime supply of ice cream (entrants must complete a survey ranking political issues)—has drawn criticism. But, Oberweis contends, his campaign is about more than doing business. As he told Dekalb County's MidWeek News: "I believe that [the] economic system we have in this country and the political freedom we have in this country are extremely important. And I'd like to do what I can to be sure that those types of freedoms are available for my grandchildren and their grandchildren. I think this is something I can do, and something I can do well."
In contrast to rural businessman Oberweis, Obama is an urban community organizer who spent his youth in Honolulu. Between Columbia University and Harvard Law School, where he was the law review's first African American president, Obama directed a nonprofit community-development program on Chicago's far South Side. In 1992 he ran Illinois Project Vote, an effort to register new voters supporting Bill Clinton and Carol Moseley Braun, JD'72. Since 1996 he's represented the 13th District, including low-income, middle-class, and wealthy lakefront neighborhoods. He also serves as counsel at the Chicago law firm Miner, Barnhill & Galland, PC, specializing in civil-rights, voting-rights, employment-law, nonprofit, and urban-redevelopment cases.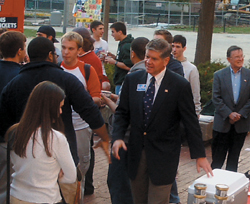 Courtesy Oberweis for U.S. Senate 2004, Inc
Oberweis at the University of Illinois in Urbana.
"I'm running for the U.S. Senate because I want to provide a strong voice for those without one today," Obama says. "I want to stand up for people and communities who aren't part of the debate. I want to fight for more jobs for our people and communities. I want to fight for access to health care for every American and for prescription drug coverage so no senior who needs it must do without. I want to fight for better, stronger public schools across our nation because there's no better path to opportunity and success."
In his autobiography, Dreams from My Father: A Story of Race and Inheritance (Crown, 1995), he recounts his struggles with racial identity in childhood, college, and his professional life as the son of a white American woman, who raised him with her parents, and a black Kenyan man. Racism is one of several issues on which Obama—who has two children with wife Michelle, the U of C Hospitals' executive director of community affairs—teaches at the Law School. Obama is "respected not only for his knowledge of the law," Dean Saul Levmore says, "but also for his ability to think about the law's capacity to change society and to communicate that effectively to our students."
In a crowded race—eight Republicans and seven Democrats in early February—Oberweis and Obama are at the top. A mid-January Chicago Tribune poll showed Oberweis leading the Republican candidates, though three-fifths of GOP voters were still undecided; Obama was in a three-way tie for first among the Democrats, with 38 percent undecided. One of them may become the next in a long line of U.S. senators linked to the University, including former economics professor Paul H. Douglas, Moseley Braun, John Ashcroft, JD'67, and Jon Corzine, MBA'73.—Peter Schuler