Full Speed Ahead
By James di Properzio
Photography by Dan Dry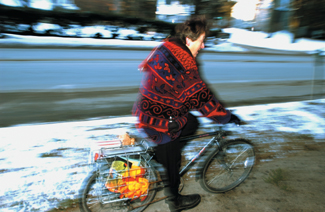 Unconventional and undeterred, biologist Lynn Margulis, AB'57, has seen some of her once-revolutionary ideas on evolution win mainstream acceptance. As for the rest, she's still pressing on.
On a cold November morning in Amherst, Massachusetts, Lynn Margulis, 65 years old and without a helmet, is riding her secondhand Miyata 10-speed—its two side baskets full of books, mail, and lunch—down the sidewalk to her laboratory at the University of Massachusetts, where she holds the title Distinguished University Professor in the Department of Geosciences. At 6 a.m. it is barely light, shops are closed, and the town is quiet. But Margulis, a short, graying dynamo, confides, "I do my best work when no one is around."
Her best work isn't bad: elected to the National Academy of Sciences in 1983 and awarded the National Medal of Science in 1999, Margulis has her ninth book behind her (the paperback edition of Acquiring Genomes: A Theory of the Origins of Species was published in July 2003), more than 200 scientific articles, and dozens of popular essays to her name. This week Margulis, AB'57, also has a to-do list that includes carrying out lab work with termite protists; publishing research on symbiotic bacteria; shopping for an American publisher for her novel about love and scientists, Luminous Fish; finishing a book on pioneering landscape architect and ecologist Ian L. McHarg; and creating lecture videos.
On today's agenda at the Morrill Science Center is the premiere of her new teaching video, Green Animals. After Margulis cues up the tape and fields questions from the 30-some advanced undergraduates, graduate students, and professors, Green Animals begins its up-close and technical footage of sea slugs (naked-eye views of whole slugs give way to highly-magnified microscopic frames). These are no ordinary images and no ordinary slugs—they are living proof of her most famous theory.
I grew up on the South Side of Chicago," Margulis says of braving the morning's bitter chill on her bicycle. "I'm not afraid of anything." Indeed, Margulis boldly makes claims that fly in the face of accepted scientific thought. As the self-appointed spokesperson for the 250,000 extant species of microorganisms, she has made foundational contributions to modern biology. Once thought outrageously heterodox, her theory of symbiosis as an evolutionary mechanism—the "endosymbiotic hypothesis," which posits that the ancestors of mitochondria in animal cells and the plastids in algae and plants were once free-living organisms—is now considered fundamental to understanding evolution.
Margulis also made an important contribution to taxonomy with the 1982 publication of Five Kingdoms. With coauthor Karlene V. Schwartz, then a UMass–Boston biology instructor, she literally rewrote the book on classification, discarding the old plant/animal system that tried to cram hundreds of millions of microscopic beings into the two kingdoms of organisms visible to the naked eye. Through her work on microbes' interactions with sedimentary rocks and atmospheric chemistry—and vice versa—she has provided support for James Lovelock's Gaia hypothesis, the theory that Earth's biota, working in concert with its environment, acts as a single, self-regulating living system maintaining conditions that are suitable for life. Her latest research, presented in Acquiring Genomes (Basic Books, 2002), cowritten with son Dorion Sagan, concerns what she calls symbiogenesis—a kind of horizontal evolution in which new species occur through symbiosis, as temporary partnerships between organisms grow into more permanent relationships.
"Scientists are mostly instrumentalists, but she's an innovator—often ahead, not always right, but right enough of the time," says Peter H. Raven, director of the Missouri Botanical Gardens and author of a number of standard biology texts. Margulis's championing of the symbiotic theory of cell evolution, Raven says, "marks her as someone who has made an extraordinary contribution, a revolution in thinking about the cell—and it is nothing less than a revolution."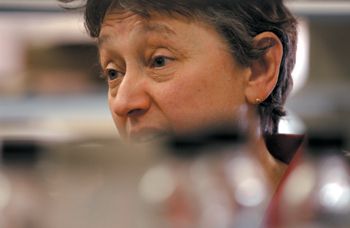 Like her science, Margulis's personal life is anything but conventional. The mother of four and the grandmother of seven mountain climbs, in-line roller-skates, cross-country skis, and bicycles regularly. In the summer she skinny-dips in a secluded pond on the outskirts of town every evening after work, marveling at the dam-building beavers that share the water with her. Married and divorced twice, she has had a personal and research partnership with her "compañero," University of Barcelona microbiologist Ricardo Guerrero, for more than 20 years.
Born in Chicago in 1938, Lynn Alexander, along with her three siblings, attended the University's Laboratory Schools; she applied to the College at age 14. Self-described as bossy, rude, hyperactive, and self-centered, she was eager to get away from home, where her parents, an attorney and a housewife, were socialites and drinkers. "They did everything I can't stand," Margulis exclaims.
She enrolled in the College at 16 and that same year, while heading up the Eckhart Hall stairs, she met a 19-year-old physics grad student on his way down. "Everyone knew who he was," Margulis recalls of Carl Sagan, AB'54, SB'55, SM'56, PhD'60, who would become a professor of astronomy at Cornell University, the host of the TV show Cosmos, and a well-known popularizer of science. Sagan was tall, handsome, and articulate, and it was love in an instant. Three years later, on June 16, 1957, the week after she received her bachelor's degree, they were married. The couple had two sons—Dorion, a writer, born in 1959, and Jeremy, a music-software developer and composer, born in 1960.
While fascinated by Sagan's interest in astronomy, it was not his influence that started her on a science career. She had come to the University hoping to be a writer. As she details in the autobiographical Symbiotic Planet (Basic Books, 1998), Margulis locates her initial impetus toward science in a single course: Natural Science 2, required as part of the Common Core. Nat. Sci. 2 entailed reading primary sources, and Gregor Mendel's classic experiments on breeding garden peas drove Margulis to learn as much as she could about heredity and genetics.
It wasn't until she was 19 and in graduate school, studying genetics at the University of Wisconsin–Madison under Walter Plaut, that Margulis first saw amoebae—through the phase-contrast microscopes in Plaut's laboratory. "I really liked amoebae," she laughs. "I still do." She got to see them at close range, siphoning out dead ones with the dirty water, then adding salt solution and food. Margulis recalls this task fondly: "I owe my passion for working on Saturday nights to the utter necessity of amoebae feeding and bowl cleaning every day."
While working in Plaut's lab and earning a master's degree in zoology-genetics, she was intrigued by the curiously independent nature of mitochondria and became a proponent of endosymbiosis—a theory first introduced in the 1920s—that would come to have a profound influence on all of her later research. Endosymbiosis occurs when one organism takes up permanent residence in another, creating a single functional organism.
An example of endosymbiosis can be seen in Margulis's Green Animals video as the sea slugs pierce algae and keep the algae's chloroplast, or energy-making cells, alive in their translucent gut. There the plastids photosynthesize and supply the slugs' nutriment, while the slugs in turn provide an ideal environment for the plastids. Examining the slug's genome reveals a gene for a protein useless to animals. Somehow the gene, otherwise found only in algae, has been passed from the algal to the slug's cells.
On a larger scale, endosymbiosis suggests that both the mitochondria of animal cells and the chloroplasts of plant cells, both of which have independent genomes totally unlike the genomes of their host cells, were originally free-living bacteria engulfed by other cells but not digested. The bacteria stayed on, giving their hosts the chemical energy they needed to be healthier and more vigorous, and in turn received what they required from the host (and, in the case of chloroplasts, the sun).
Margulis's major theoretical and interpretive work since then has radiated from the concept of integral symbiosis: a reunderstanding of the kingdoms of life and their relationships. Symbiosis is not limited to the level of chloroplasts and sea slugs: the entire ecosystem of the planet in physical contact with the air is one great symbiosis as seen from space. As life produces oxygen and other reactive gases, it fosters its own environment. For Margulis, much of evolution is thus a symbiotic endeavor in which interaction and merger lead to persistence.
Her fascination with symbiosis, however, did not bring her immediate success. Her 1967 paper "Origin of Mitosing Cells" was ignored or rejected by more than 20 publishers—although it later generated 800 reprint requests, won the Boston University faculty publication award, and formed the basis for her first book, Origin of Eukaryotic Cells: Evidence and Research Implications for a Theory of the Origin and Evolution of Microbial, Plant and Animal Cells on the Precambrian Earth (Yale University Press, 1970).
After Sagan was offered a postdoc at the University of California, Berkeley, the family moved to Oakland, and Margulis continued her doctorate. Unable to spend a required semester at a marine laboratory because of the demands of childcare, she ended up focusing on genetics with a zoology thesis director, Max Alfert. Alfert was a formidable mentor: "He graduated almost no one," Margulis says. When Sagan joined Harvard's astronomy department in 1963, she left Berkeley with her dissertation almost completed. Difficulties in convening her committee kept her from filing for her degree until 1965, after she had published her thesis, "Unusual Pattern of Thymidine Incorporation in the Cytoplasm of Euglena," in the Journal of Protozoology.
Margulis lectured and worked in labs at Brandeis University before landing a part-time job in Boston University's biology department, where she went from adjunct to full professor in ten years. Although she'd agreed to give her marriage a final, three-month try in Boston, she found the needs of two small children and an equally demanding husband overwhelming, and in 1964 she and Sagan divorced. (Although they saw each other infrequently, they remained colleagues and friends until Sagan's 1996 death.)
In Boston she met her second husband, Thomas N. Margulis, an X-ray crystallographer teaching at Brandeis. Her third son, Zachary, now a lawyer in New York City, was born in 1967, and her daughter, Jennifer, a writer, was born in 1969. But again, marriage proved a struggle. "I quit my job as a wife twice," she says of her second divorce, which came 13 years after Jennifer's birth. "It's not humanly possible to be a good wife, a good mother, and a first-class scientist. No one can do it—something has to go."
Indeed, ever since Chicago's fixed curriculum introduced her to biology, she has suffered the tension of balancing science and personal life. Two years ago the Spanish publisher Tusquets brought out her novel exploring this tension, Luminous Fish, a group of stories following the interconnected lives of several scientists across the globe as their dedication to research tears at their love lives and families. The book, translated by Vicente Campos, has sold well, but she is still seeking a publisher for the English original.