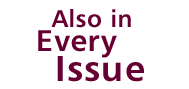 LETTERS
…the Magazine's constant air of self-congratulation…
TONE OF CONTENTION
While utterly without worth as history or policy prescription, Professor Bruce Cumings's conciliatory views on North Korea as expressed in Soo Ji Min's December/03 article, "Zone of Contention," do serve one valuable purpose: They remind us how many highly intelligent and supposedly well-meaning people, from Vice President Henry Wallace on, deliberately blinded themselves and others to the horrific threat posed by the genocidal killer Josef Stalin and his blustering, thieving, nuclear-armed successors in the Soviet leadership.
[ more ]
---
A DIFFERENT TONE
I, as a Korean War veteran and an alumnus of the University of Chicago, read Soo Ji Min's article, "Zone of Contention," with great interest.
Professor Cumings's assessment of the Korean War and his understanding of Korean situations are most profound. Professor Cumings is a scholar with scientific objectivity and a gentleman with compassion and love of Korean people. I am proud to have a scholar like him teach at my alma mater.
Wi Jo Kang, AM'62, PhD'67
Colorado Springs, Colorado
---
REAL SCIENCE
Though I did not major in science at the University of Chicago, I read with interest Sharla Stewart's recent article ("Immersion Theory," December/03) on a new method of biology instruction practiced in the College. The intellectual high point of my own Chicago studies—and the most fun I ever had at school—consisted of a nearly three-year-long reading group, initiated by Leon R. Kass, SB'58, MD'64, on the topic of ancient Greek mathematics.
[ more ]
---
OPINION SHORTAGE
At times, when after a martini I feel too content with life as it is, I pick up a copy of the University of Chicago Magazine. Its constant air of self-congratulation provides a never-failing antidote. In the December/03 issue there was a piece about David Broder, AB'47, AM'51, dean of Washington correspondents ("Chicago Journal"). In a survey of 200 opinion-page editors, he had been voted the "least ideological" columnist. "Ideological," as any reader who can spell "cat" knows, is the perverse euphemism for "having an opinion."
[ more ]
---
LOCATION, LOCATION, LOCATION
Thanks for the fine photo spread ("Body Building," December/03) on the new Ratner Athletics Center. One thing was missing though: where is it? Maps are very helpful for us aging alums who've not been back to campus for a few years.
[ more ]
---
ANOTHER ROUTE TO PRODUCTIVITY?
In the December/03 issue President Randel ("From the President") emphasized the importance of continued investments in higher education. In reality, the U.S. invests far too much in higher education, with 20 percent of all bachelor's degree holders between 25 years old and 65 years old holding non-college level jobs, as measured by the U.S. Department of Labor.
[ more ]
---
ADDING TO THE LOCAL SYLLABUS
Re: the syllabus described in "Course Work," December/03. Instead of treating the fairly recent past of Hyde Park and urban renewal as ancient history largely to be found in newspapers, it would seem to have been more rewarding to interview people who were there "at the creation" of both the need and the results.
[ more ]
---
SHORELAND FOREVER
Having lived in the Shoreland for four years as an undergrad, I believe it would be a sad shame to see it converted into a non-University building or even sold ("College Report," December/03). The Shoreland may have been other students' second, third, or fourth choice as a dorm, but it was my first.
[ more ]
---
NO GOLDEN GLOVE FOR US
After reading Bob Greenebaum's letter (December/03) pointing out the correct year in which Chicago withdrew from Big Ten football competition (after the 1939 season), I found a few other errors in the biographies of the Chicago Athletics Hall of Fame inductees (October/03).
[ more ]
---
GYMNASTS AND SCHOLARS
As a reaction to the letter from Robert Michaelson, SB'66 (December/03), I am writing to declare that at one time there were scholar-athletes and they were gymnasts under D. L. Hoffer. They were both because he saw to it that they were both. As his daughter I know the time, care, and concern he invested in all of them. He was no mediocre person or coach.
[ more ]
---
LIMESTONE COWBOY
Who ever decided that it was a good idea to start replacing the beautiful stone walkways on campus with concrete? I say, I say: to whom shall we credit this creeping mediocrity, this insidious, invidious abdication of aesthetic compass?
And—more importantly—who will now join with me in renouncing it for all time and demanding a new guiding principle for the walkways of our revered alma mater?
Jesse Scinto, AB'94
Chicago
---
ANOTHER SOUTH SIDER CHECKS IN
Re: "Curing the world, one epidemic at a time" (October/03). I was quite taken aback by the statement in this otherwise excellent article about Dr. Gary Slutkin that, according to Dr. Slutkin, "the dean [of the Pritzker School of Medicine] told me that I was the first applicant from the Chicago Public Schools in many years." To set the record straight, I graduated from Chicago's own Bryn Mawr Elementary School and South Shore High School and, by my rough calculation, applied to Pritzker (and was accepted) only two years before Dr Slutkin. We South Siders deserve more respect than that!
Michael H. Silverman, MD'73
Marblehead, Massachusetts
---
THE LOGICAL IMPERATIVE
I was impressed by Professor Abbott's address ("The Zen of Education," October/03). But he should not have so completely discounted the importance of acquiring foundational cognitive skills or the University's role in that acquisition. In BiSciII, we took a short subcourse in logical thinking, which has been of tremendous practical value to me in every aspect of my life from evaluating lawyers and witnesses to arguing with my wife.
[ more ]
---
COMPLEX HISTORY
Milton Polin's letter ("Disputed Facts, Figures," October/03) greatly oversimplifies the diplomatic history of the Middle East when he states that "in 1922 Great Britain unilaterally severed what is now Jordan from the original Mandate Palestine that was to become the 'Jewish national home.'" The British Mandate over Palestine did call for "the establishment of a Jewish national home" but equally for "safeguarding the civil and religious rights of all the inhabitants of Palestine, irrespective of race and religion."
John K. Taylor, AB'68
Fort Worth, Texas
---
NO SEX, PLEASE: WE'RE FILTERED
Just wanted to let you know that your January/04 UCHICAGO.EDU newsletter triggered my firm's anti-spam filter. I had to write to my help desk and have the newsletter released. I figured out the problem as soon as I received it: the word "sex" appeared three times in the first paragraph, including a link labeled "sexmarket."
[ more ]
---
DEPARTMENT OF CORRECTIONS
Two editorial gremlins were unleashed in the December/03 issue. The first attributed a MacArthur "genius" grant to history professor Bruce Cumings ("Zone of Contention"); in fact, Cumings is the past holder of another variety of MacArthur Foundation fellowship.
[ more ]
---
The University of Chicago Magazine welcomes letters on its contents or on topics related to the University of Chicago. Letters for publication must be signed and may be edited for space and clarity. To ensure the widest possible range of views and voices, we ask readers to limit their correspondence to 300 words or less.

Please send letters to: Editor, University of Chicago Magazine, 5801 S. Ellis Avenue, Chicago, IL 60637. E-mail: uchicago-magazine@uchicago.edu.