Chicago's Starting Team
WRITTEN BY LESTER MUNSON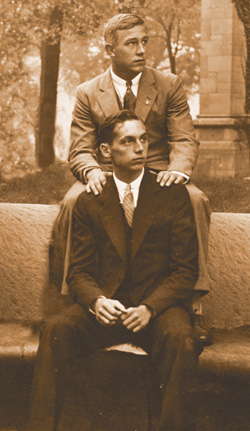 In the mid-1930s Maroon lettermen Jay Berwanger (top) and Bill Haarlow carried the ball in Big 10 sports.
The inaugural class of the Athletics Hall of Fame includes 25 men and women with outstanding contributions to intercollegiate sports at Chicago.
Some of the people at the luncheon table in the Quadrangle Club were familiar: a couple vice presidents, a dean, and a department head. But two were harder to recognize. They were older guys, and their table echoed with stories of championships, of beating Michigan, of being named All-Americans.
Others in the club began to realize who they were. As they left the dining room and headed for the stairs, many approached the two men, saying hello, shaking their hands, thrilled to be meeting the greatest football and basketball players who ever wore the Chicago C. A few asked Jay Berwanger, AB'36, and Bill Haarlow, X'36, for autographs.
The main topic at that spring 1998 lunch had been a different kind of recognition. As part of the planning for what is now the Gerald Ratner Athletics Center, the group talked of the University's rich history in intercollegiate sports—and conceived the Chicago Athletics Hall of Fame as a way to acknowledge student-athletes of surpassing excellence.
Berwanger and Haarlow were two of those exemplars, establishing University standards in Big 10 competition that would never be matched. Berwanger, the first winner of the Heisman trophy as college football's best player in 1935, was enshrined in the College Football Hall of Fame. Haarlow, a two-time All-American, once held the Big 10 basketball scoring record.
Although everyone agreed that a Hall of Fame was a terrific way for Chicago to reconnect with its athletic past, they knew it would be a challenge. A quick glance back showed a parade of Olympians, All-Americans, and coaches with epic records. How would you select among them? And how would you compare the exploits of Big 10 stars like Berwanger and Haarlow with the Division III athletes of recent years?
In 110 years of athletics, Chicago sports has moved from a national powerhouse to an extracurricular program offering individual fitness, intramural and club sports, and successful intercollegiate teams. It's been a noteworthy transition, marked by the death of big-time football in 1935 when Robert Maynard Hutchins withdrew the University from the Big 10, its small-scale revival in 1969, and the rapid growth of women's sports sparked by Title IX, enacted in 1972.
With such dramatic changes come some issues. Veterans of the powerhouse era tend to see the Division III students as lacking in athletic achievement, while the current crop tends to see the Big 10 athletes as lacking in scholarly achievement. If there were athlete-students then, there is no doubt that today the University is committed to the student-athlete. "We advocate strongly a tradition of amateur athletics undertaken by professional students," says John W. Boyer, AM'69, PhD'75, dean of the College, "not amateur students pursuing professional athletics."
What had been a big-time sports program is now a big program in a different way. In 2002–03 the College intramural schedule featured 340 teams in sports including basketball and Frisbee. Club sports attracted more than 800 student, faculty, and staff athletes to sports such as lacrosse, crew, and the martial arts. And more than 400 men and women competed in 275 contests at the Division III level. Four teams finished among the top 25 in postseason NCAA competition, and two others won conference championships. Individual honors included a national player of the year, nine All-Americans, 10 national qualifiers, and 67 all-conference performers.
So when the idea of a Hall of Fame became reality in October 2000, the first task—setting up a structure to combine the student-athletes of today and the athlete-students of the Big 10 era into a single group—went to Michael Klingensmith, AB'75, MBA'76, a University trustee and and former Chicago Maroon sportswriter. The guidelines committee, Klingensmith says, "managed to find a fine balance of views on how to deal with current athletes and the stars of the earlier era."
Hall of Fame candidates, the committee decided, would be evaluated within their own eras, their records measured against what others in similar competition were doing across the nation. The group also established a selection process featuring heavy involvement of alumni who played intercollegiate sports at Chicago. And the Hall of Fame bylaws allow recognition of Chicagoans "who have contributed to the development of intercollegiate athletics."
Guidelines in place, it was time to select the first class. "It was difficult in a number of ways," says selection committee chair John Phelps Davey, AB'61, JD'62, a former basketball star. "We wanted to have balance, we wanted to be fair to the different eras, and we wanted the selections to mean something."
Nominations poured in from alumni of all ages in all sports. Committee members labored to keep track of 160 nominations and supporting materials in heavy three-ring notebooks. Meetings often went into overtime, with the final one lasting six hours as the members struggled to select an inaugural class of 24 inductees (in the end, they cheated a bit, electing a pair of tennis-playing twins in tandem for a total of 25).
With Berwanger and Haarlow leading the list, the first Hall of Fame class bows deeply toward the earlier Maroon era. Of the 25 inductees, 11 athletes and four coaches performed in the 1920s and '30s. No athlete is from the 1950s or '60s, and just five competed after 1974. Only one male athlete after World War II and before 1991 made the group: Olympic fencer Leon Strauss, PhB'47.
Of the 20 men and five women, 14, including Berwanger, who died last year, were chosen posthumously. Eight played football—a remarkable number for a school with no football team from 1939 to 1969; four inductees were already enshrined in the College Football Hall of Fame. Seven played basketball, five baseball. Four excelled in multiple sports. Other sports represented are swimming, gymnastics, track, tennis, fencing, wrestling, softball, and volleyball.
The largest number of inductees are coaches, many stars in their sports at Chicago. They include the legendary Amos Alonzo Stagg; Fritz Crisler, PhB'22, who began his football coaching career at Chicago and moved to University of Michigan, reaching iconic status; Edward "Ted" Haydon, PhB'33, AM'54, whose University of Chicago Track Club became a national force; and basketball coach Joseph "Big Joe" Stampf, AB'41, who led a Maroon team to the small-college final four.
Of inductees who "contributed to the development of intercollegiate athletics," former athletic director Mary Jean Mulvaney tops the list. Mulvaney came to the quads in 1966, and her 24-year record had a series of firsts: first female athletic director of a coeducational program, first woman to serve on an NCAA general committee, and first anywhere to develop a women's athletic scholarship—named for an early women's athletic director at Chicago, Gertrude Dudley, also an inaugural inductee.
Mulvaney's greatest achievement may be the founding of the University Athletic Association (UAA). Composed of eight major research universities—Chicago, NYU, Johns Hopkins, Emory, Case Western, Carnegie Mellon, Rochester, and Washington University—the UAA has become the model for what college sports can be when academics and athletics are put into proper balance.
In Reclaiming the Game: College Sports and Educational Values (Princeton, 2003) former Princeton president William G. Bowen analyzes the difficulties inherent in such a balancing act. Citing the UAA as the one conference able to "mount what is a successful intercollegiate program without paying the academic price," he singles out Chicago for special praise: "The active involvement of the University of Chicago, with its emphasis on core academic values, has without question been a help in achieving and maintaining this policy." It was Mulvaney's leadership and tenacity, with powerful support from then University president Hanna H. Gray, that created the 1987 union whose synergy is now the envy of academicians and thoughtful coaches everywhere.
For Berwanger and Haarlow the reality of a Hall of Fame in a new athletic center must have been a sweet moment. As early as 1975 they were at working to improve the fieldhouse (the Maroon report on their efforts was edited by Mike Klingensmith). Thanks to their tenacity and the generosity of Gerald Ratner, PhB'35, JD'37, the new center houses the Chicago Athletic Hall of Fame, established under guidelines devised by Klingensmith—and offering Berwanger and Haarlow as featured attractions.
---
Lester E. Munson Jr. JD'67, is an associate editor at Sports Illustrated, where he specializes in legal affairs and investigations. He is also a longtime University of Chicago sports fan.