First-round picks

Quick stats on the inaugural class of the Chicago Athletics Hall of Fame, inducted October 10 as part of Homecoming 2003.
J. Kyle Anderson, PhB'28, SB'28, starred in baseball from 1926 to 1928. After playing for the Pittsburgh Pirates organization, he returned to campus as head baseball coach (1934–71). A member of the American Baseball Coaches Association Hall of Fame, he coached the U.S. team in the 1959 Pan American Games.

C. Noel Bairey Merz, AB'77, was voted the most valuable player for the Chicago swim team two years in a row. At the 1977 national championships, she finished in the top four in three different freestyle events.

Frank A. Baker II, AB'94, earned Division III All-American and Academic All-American football honors in 1993 when he ran for 1,606 yards, a University record. All-conference in the UAA for three years, he holds the record for most career yards (4,283).
Jay Berwanger, AB'36, was a triple threat on the football field. He averaged 4.2 yards per carry running the ball, 18.4 yards per pass completion, and 37.3 yards on his punts. In a poll of more than 100 Big 10 players, all but three voted Berwanger the conference's best halfback. His senior-year, 85-yard dash against Ohio State remains one of the great runs in college football. The No. 1 draft pick in the NFL's first draft, he was courted by George Halas and the Chicago Bears—but they were unwilling to meet his $25,000 asking price. Also a track star, Berwanger ran the 100 in 10.0 seconds, the 120-yard hurdles in 15.6 seconds and the 440 in 49.0 seconds. He pole vaulted 12 feet and threw the shot put 48 feet and the javelin 190 feet. Although he would have been a gold-medal favorite in the Olympic decathlon, he stayed in school to graduate on schedule.

Erwin "Bud" Beyer, AB'39, captained the gymnastics team from 1936 to 1938, winning four gold medals in national collegiate competitions. In the 1940s and '50s he coached Maroon gymnastics, and in 1948 he coached the U.S. women's Olympic team. He also developed Acrotheatre, a popular combination of gymnastics, ballet, and the circus that made the cover of Life.
Fritz Crisler, PhB'22, won nine letters in three sports, was All-Big 10 in football and basketball, and captained the Maroon baseball team. As Michigan's coach (1938–47) he compiled a 71-16-3 record, introduced the two-platoon system, and took the Wolverines to a national championship.

Gertrude Dudley was director of physical culture for women from 1898 to 1935, developing popular intramural programs in basketball, field hockey, baseball, and tennis.
Walter Eckersall, X'07, starred as a running back, kicker, and defensive player from 1904 to 1906. A member of the College Football Hall of Fame, he was named to Walter Camp's "All-Time All-America Team" as one of the greatest college football players during the sport's formative years.

Raymond H. Ellinwood, X'45, set a world indoor-track record at his first intercollegiate meet in 1936. A Big 10 conference champion, indoor and outdoor, in the 440- and 880-yard runs, he finished fifth in the quarter mile in the national championships.
Gretchen Gates Kelly, AB'86, is the all-time leading scorer (1,924 points) and rebounder (1,056) in Maroon women's basketball. All-conference for four years and an All-American, she holds 11 career, season, and game records.
William Haarlow, X'36, played on losing basketball teams for three years and faced double teams throughout the Big 10, but still managed to rank among the conference scoring leaders for three years. The All-American was a deadly shooter from the outside and a great one-on-one player, with moves and flash that were years ahead of their time.
Edward "Ted" Haydon, PhB'33, AM'54, captained the track team in 1933 and was a national qualifier in the javelin. Head track coach from 1950 to 1975, he formed the University of Chicago Track Club, which became a haven for world-class athletes. A member of the U.S. Track and Field Hall of Fame, Haydon coached numerous international teams, including the Pan American Games and the Olympics.
Roy K. Henshaw, X'33, pitched for the University from 1930 to 1932. The All-American went on to pitch in the big leagues for eight years (three with the Chicago Cubs) on National League teams that never finished below third place. His best year was 1933, when he won 13 and lost five with an ERA of 3.26—helping the Cubs into a World Series against the Detroit Tigers (the Cubs lost in six games). He played on Cubs teams with Gabby Hartnett, Stan Hack, Billy Herman, Chuck Klein, and Phil Cavaretta. Henshaw pitched more than 700 innings in his major league career and left with an ERA of 4.16.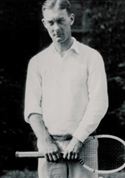 George M. Lott Jr., X'28, won Big 10 singles and doubles tennis championships for Chicago in 1929. A member of the International Tennis Hall of Fame, he played on Davis Cup teams and won doubles titles at Wimbledon, the French Open, the U.S. Open, and nearly 40 other international championships.
Mary Jean Mulvaney served Chicago's athletic program from 1966 until her 1990 retirement. Under her leadership, women's programs grew, gaining national attention. She orchestrated the formation of the University Athletic Association.
Chester W. Murphy, AB'39, and William E. Murphy, AB'39, twin brothers who won Big 10 doubles championships in 1938 and 1939, are entering the Hall of Fame as a tandem team.

Nelson H. Norgren, PhB'14, was the first Big 10 athlete to win 12 varsity letters in four sports (1911–14). Norgren—who was All-American in football, was all-conference in basketball and baseball, and participated in track—returned to campus in 1921, serving as head coach in basketball and baseball for more than 30 years.
Harlan "Pat" Page, SB'10, starred on Big 10 conference champion teams in three sports. An end on the football team, a guard on the basketball team, and a pitcher for the baseball team, he later coached baseball and basketball, taking the Maroons to Big 10 titles in both sports.
Laura Silvieus, AB'78, MBA'83, won 12 varsity letters in three sports (1973–77). Elected captain on ten of her 12 teams, she earned MVP honors in volleyball (1975, 1976) and basketball (1977). In softball she ranks among the University's top three for hitting, runs batted in, and stolen bases—hitting .493 with 30 RBIs in 20 games as the Maroons won a 1977 championship. Silvieus was the first recipient of the Gertrude Dudley Medal, now awarded annually to the top female student-athlete.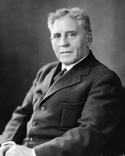 Amos Alonzo Stagg served as head football coach and director of the Department of Physical Culture from 1892 to 1932. His football teams were national powers, winning seven Big 10 conference championships and compiling a record of 242 wins, 112 losses, and 27 ties. Responsible for countless cutting-edge ideas—including the forward pass, numbered jerseys, and tackle dummies—that became football mainstays, Stagg was elected to the College Football Hall of Fame both as a player and a coach, and the NCAA has named its Division III championship game the Stagg Bowl.
Joseph H. "Big Joe" Stampf, AB'41, played basketball from 1938 to 1941, winning the Big 10 scoring title in 1941. With the best win record of any U of C coach—208 victories and a winning percentage of .638—he led the Maroons to 13 winning seasons in 18 years, taking teams to the NCAA College Division quarter-finals in 1961 and to the tournament's first round in 1974.
Walter P. Steffen, PhB'10, JD'12, a member of the College Football Hall of Fame, led the Maroons to two Big 10 titles as quarterback in 1907 and 1908. All-conference from 1906 through 1908 and a consensus All-American in 1908, he is considered one of the great quarterbacks in college football's early era.

Leon F. Strauss, PhB'47, fenced in the épée and foil, leading Chicago to second place in the nation in 1947. The All-American competed for the 1948 and 1952 U.S. Olympic teams.
Peter B. Wang, AB'92, earned All-American honors four straight years as a wrestler. Named Division III's outstanding wrestler in 1992, he won individual NCAA titles in 1991 and 1992 in the 177-pound weight class.