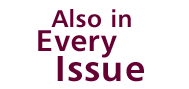 Letters
Surely someone remembers the inundation of June 2000...
Gay past and present
Today, more than ever, I am proud to be a gay University of Chicago alumna ("Moment of Decision," August/03). When I started college in 1995, the buzz surrounding George Chauncey's Gay New York was deafening. I did not yet understand how profoundly moving it would be to step onto a campus that wholeheartedly accepts the study of the identity I now embrace.
[ more ]
---
Praise for Preuss piece
Amy Braverman's excellent article on Daphne Preuss's research ("The Weeds of Change," August/03) is the type of piece I had been afraid your publication was neglecting. Articles about faculty research are what I enjoy most in the Magazine.
George W. Gross, AB'54, AM'64
Chicago
---
PG-13 publication
"Speaking of the Balkans" ("Investigations," August/03) describes linguist Victor Friedman's early researches in foreign curses and obscenities, and notes, with no further explanation, that "Many are unprintable." What exactly does this mean? Are they accompanied by elaborately choreographed dance moves that cannot be represented in print? Are they sung in a tonal system that has no recognized method for transcription? Are they in languages that have no writing system?
[ more ]
---
SAT not the only test
I enjoyed the August issue's "Glimpse" of Richard Atkinson, especially the glances at the lucky accident by which he took the entrance exam, thus gaining admission to the College, and his shake-up of the SAT. While it's true that "the SAT will be reinvented" in 2006 to focus on achievement rather than aptitude, a test emphasizing achievement ("the form that the Chicago group advocated many years ago") has helped students to plan for and gain entrance to college for many years.
[ more ]
---
When it rained, it poured
Re "By the Numbers" (August/03): Surely someone who remembers the inundation of June 2000 must still be around. The College session was just finishing, and the head of the recession reaching the center of the quad, when a few droplets began. Within minutes there was a drenching downpour. The Convocation aides broke open the ponchos and we all dashed to get them. And very nice they were, too.
Jordy Bell, AB'65
Croton-on Hudson, New York
Rechecking the poncho records shows that 2,000 were used in June 2000; another 500 or so of the original 25,000 have been distributed in drips and drops since 1998.—Ed.
---
More Nobelists in the nest
In addition to Bellow, Cronin, and Chandrasekhar, Milton Friedman, George Stigler, and Robert Mullikan also resided at 5825 Dorchester ("
Chicago Journal
," August/03).
Theodore P. Hurwitz
Bethesda, Maryland
---
Narrow-minded elitists
Re: "Promoting a Preemptivist" ("Letters," August/03): It is hardly surprising how consistently the U of C promotes its image as a place for intellectual exploration, on multiple levels and from many perspectives. Chicago's self-regard rests upon legitimate and admirable realities. However, I find it stunning how equally consistent is the U of C's underlying hypocrisy. As long as the cause is the predictably progressive, politically, socially, or otherwise, the University revels in its "role" in fostering the world-class scholars and thinkers who perpetuate this image.
[ more ]
---
Disputed facts, figures
M. A. Sullivan, who responded in the August/03 issue ("Go Figure" e-letter sidebar) to my letter regarding Robert Pape's work on suicide bombers ("More on suicide terrorism," June/03), ought to get his facts and figures straight. Sullivan claims that Barak offered Arafat 80 percent of 22 percent of 100 percent of the land that originally belonged to the Palestinians. Sorry. The land never belonged to the Palestinians.
[ more ]
---
Wood Works
I particularly enjoyed "Classified Knowledge" (June/03) and the photos of Romeyn Hough's "American Woods." It is great that this original work is available at the U of C, but I would like to bring to your readers' attention two items of information. First, it has been reprinted by Taschen, www.taschen.com, as The Wood Book. Second, the Yale University Library has made the original photos and text available online at inky.library.yale.edu/hough/index.html. Members of our local chapter of the American Association of Woodturners use this site frequently when we have questions about wood identification. Links to this and other sites are on our Web page, www.channelislandswoodturners.org.
David H. Frank, MD'71
Camarillo, California
---
Get chip off Chicago's shoulder
I am a graduate of the College, from a family of Chicago graduates. My sister, brother, and first cousin graduated from the College, and my brother-in-law from the College and the Business School. Having said that, I am constantly annoyed by the attitude at Chicago that it is necessary, or at least acceptable, to put down other top universities, especially Ivy League schools, and especially Harvard.
[ more ]
---
Department of corrections
"Mixing race, religion, and policy" ("Chicago Journal," August/03), should have noted that the nine-year-old Center for the Study of Race, Politics, and Culture was hosting its first miniconference.
[ more ]