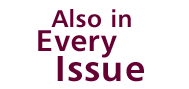 Editor's Notes
Because iconoclasts have refrigerators too
Or, how we got stuck on the idea of magnetic icons. Then there's the one that got away.
Having successfully filled a once-glaring lacuna in the cultural life of the University—the lack of a how-many-Chicago-students-does-it-take-to-change-a-lightbulb joke (see "And the winning punchline is…," February/02)—the University of Chicago Magazine staff recently felt drawn to tackle another equally pressing project: creating a set of University of Chicago–themed magnets, handy household icons for a community of iconoclasts.
[ more ]
From the President
How will the world meet its energy demands?
President Don M. Randel discusses the University's particular responsibility when it comes to nuclear energy.
Where were you on August 14, 2003? It was the day of the blackout, and although that date itself may not be graven in our memories like at least one other of the past two years, the day's events will be remembered as having shaped our national consciousness. Even those of us who were never without power on that day now think somewhat differently about some crucial features of everyday life that we had perhaps thought we could take for granted.
[ more ]
Letters
Surely someone remembers the inundation of June 2000...