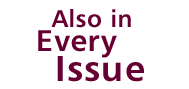 LETTERS
…the Magazine's constant air of self-congratulation…
NO SEX, PLEASE: WE'RE FILTERED
Just wanted to let you know that your January/04 UCHICAGO.EDU newsletter triggered my firm's anti-spam filter. I had to write to my help desk and have the newsletter released. I figured out the problem as soon as I received it: the word "sex" appeared three times in the first paragraph, including a link labeled "sexmarket."
More than anything else, I think it's comical that my U of C e-mail would get tagged with the same label as "foxxxy ladies of the evening," etc., but it was a little embarrassing—could you please try to avoid this in the future? Thanks.
Christine M. Cochran, AB'98
To receive the monthly UCHICAGO.EDU e-bulletin with links to University of Chicago news, write uchicago-magazine@uchicago.edu.—Ed.
---
The University of Chicago Magazine welcomes letters on its contents or on topics related to the University of Chicago. Letters for publication must be signed and may be edited for space and clarity. To ensure the widest possible range of views and voices, we ask readers to limit their correspondence to 300 words or less.

Please send letters to: Editor, University of Chicago Magazine, 5801 S. Ellis Avenue, Chicago, IL 60637. E-mail: uchicago-magazine@uchicago.edu.