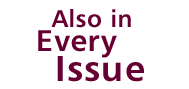 LETTERS
…the Magazine's constant air of self-congratulation…
LOCATION, LOCATION, LOCATION
Thanks for the fine photo spread ("Body Building," December/03) on the new Ratner Athletics Center. One thing was missing though: where is it? Maps are very helpful for us aging alums who've not been back to campus for a few years.
During my time in the crew club we thanked our lucky stars we could use the well-worn Bartlett Gym for "winter workouts." Henry Crown seemed like a spa. Ratner, from the photos, reminds me of the facilities from my second alma mater, Penn State.
Adena Schutzberg, AB'86
Somerville, Massachusetts
---
I look forward to "Chicagophile" every time the Magazine arrives. But in the December/03 issue the Alumni Association move description was quite startling—the last time I saw the building in the final panel it was on 56th Street. When did it move to 55th?
Leo Herzenberg, AB'56
Chicago
Whoops, and whoops. The Ratner Athletics Center is at 55th Street and Ellis Avenue. The Alumni House is at 56th Street and Woodlawn Avenue, a short walk from the Ratner Center.—Ed.
---
The University of Chicago Magazine welcomes letters on its contents or on topics related to the University of Chicago. Letters for publication must be signed and may be edited for space and clarity. To ensure the widest possible range of views and voices, we ask readers to limit their correspondence to 300 words or less.

Please send letters to: Editor, University of Chicago Magazine, 5801 S. Ellis Avenue, Chicago, IL 60637. E-mail: uchicago-magazine@uchicago.edu.