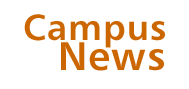 Chicago Journal
Benefits burden
Amid graduate-student protests over skyrocketing health-care costs, the University has decided to adopt a committee's recommendation that Chicago continue to contract with the Boston-based Chickering Group for its student insurance. The Provost's Office, meanwhile, is exploring ways to lessen the plan's financial burden on students.
In March the Student Health Insurance Review Committee (SHIRC), composed of 12 University administrators, physicians, and students, held a series of town-hall meetings on the 2004–05 proposal. Packed between tables and chairs in the Reynolds Club South Lounge at the first gathering, the crowd of about 50 listened as SHIRC Chair Sarah Van Orman, assistant professor of clinical medicine and pediatrics, painted a bleak picture.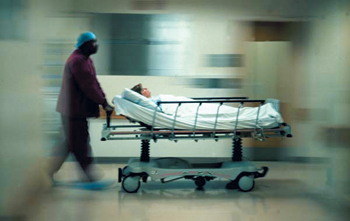 Photo by Dan Dry
State of emergency: Graduate students complain that health-care costs are too high.
The 4,500 graduate students and 500 dependents using campus insurance, Van Orman said, would see rates rise approximately 11 percent next year (this year's basic plan cost students $1,491, dependents $2,664)—and that was if the University stuck with Chickering, which offered the lowest premium of the bidding companies.
Chicago requires all students to carry medical insurance either by enrolling in the campus plan or completing a waiver certifying comparable coverage. They also must pay a $132 quarterly "student health and wellness fee" (increasing to $146 next year) for primary care at the Student Care and Student Counseling and Resource centers.
After SHIRC reviewed six vendor proposals for next year's campus plan, three finalists made presentations in January. Despite past student complaints about its customer service, Chickering received the committee's recommendation for a one-year contract by offering the best price, imposing a limit on any 2005–06 increase if the contract were extended, setting performance guarantees with financial penalties, and continuing pilot programs, such as one this year that added a gynecologist to the Student Care Center.
In February SHIRC forwarded its recommendation to Vice President and Dean of Students Stephen Klass. "Our goals," Klass said, "are to balance containment of annual increases as much as possible while not allowing the benefit level to erode." The final decision to keep Chickering was made in late March, though exact rates hadn't yet been decided. [See the rates announcement (.pdf), released in early April.— Ed.] The committee was weighing some changes to the plan, including removing a $5,000 cap on outpatient surgery.
The cap is of particular interest to graduate students, who learned at the March meeting that 46 of their peers were financially strapped last year when the cost of surgeries—for common procedures including knee repairs—exceeded Chickering's limit. One student was left with a $22,000 bill, according to Van Orman, who also directs the Student Care Center. Acknowledging that such expenses are too steep, she said, "We are committed to doing whatever we can to control costs."
Last fall Chicago's Save Our Student Health Insurance (SOSHI) formed to pursue alternative solutions, including asking the University's help paying for the campus plan. "Given the crisis in health care, we felt [the plan's cost] wasn't sustainable," said Gabriella Coleman, one of the group's co-organizers. "Universities in the same class [as Chicago] were moving toward partial subsidies or full coverage for all grad students." For example, Coleman said, New York University, Columbia University, University of Michigan, and Massachusetts Institute for Technology have partly or fully assumed the expense.
Although Chicago's biological and physical sciences divisions foot the benefits bills for their charges, the majority of the University's graduate and professional-school students must cover their own costs. "While we don't carve out health insurance as a separate element of graduate-student support, the University has taken concrete steps to increase [funding] for our graduate students," Klass said, noting that overall financial support for students in the Humanities, Social Sciences, and Divinity School has risen 60 percent in the past five years. "How we might think about providing additional assistance to students to address the sharp annual increases in insurance premiums is a matter under analysis."
Such assistance might determine where prospective students opt to study, SOSHI's leaders say. "If I were a prospective student and I had [a] $15,000 [stipend here] and $15,000 somewhere else," but had to pay $2,000 with steep yearly increases for Chicago health insurance, U of C would be out of the running, said Coleman, a seventh-year anthropology doctoral student who entered Chicago when benefits were less expensive. "We want the University to acknowledge there's a problem and [show] a willingness to look for a solution."
For their part, Chicago administrators confront the issue regularly, Klass said. "These skyrocketing costs are burdening every one of us at the University," he noted. "[W]e certainly recognize the additional burden that is placed on students whose fellowships and other forms of aid and income remain relatively flat while insurance costs have risen sharply." In early spring Provost Richard Saller and other administrators planned to meet with SOSHI's leaders to continue searching for a solution.—M.L.