Glimpses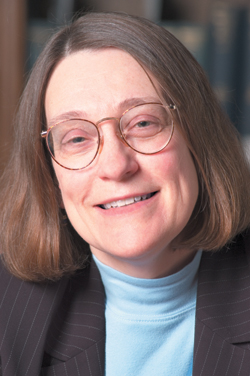 Photo by Bill Denison
Judith Gaskell, AM'75, started a new job in August. After 20 years as director of DePaul University's Rinn Law Library in Chicago, Gaskell became the tenth librarian of the United States Supreme Court. The third woman to hold the post, Gaskell—who earned her bachelor's degree at Carleton College (1967) and her J.D. at DePaul (1980)—beat out three other finalists in a competition that included interviews with Justices Antonin Scalia and Ruth Bader Ginsburg. The interviews weren't as intimidating as she'd expected, Gaskell, a longtime Indiana Dunes resident, told the Northwest Indiana News, in part because she'd already met Scalia when they both worked at Chicago's Law School: "So we talked a little about Chicago—the weather. We eased into the tougher questions."
Gaskell, who taught advanced legal research at DePaul, first worked as law librarian at the Chicago law firm Sonnenschein, Carlin, Nath and Rosenthal. After six years at the University's law library as a reference librarian and then associate director, she joined DePaul in 1983. At the Supreme Court she supervises a staff of 25, including four full-time reference librarians, and oversees a 450,000-volume collection.
What it's like to work at the Supreme Court: The DePaul Law Library is very beautiful, but the Court Library has a stunning Reading Room with incredible oak carving. Because the Court Library is very quiet and secure—with few public patrons—I feel like I'm working in a museum.
All in a day's work: I really don't have a typical day because my work is primarily administrative and can vary from working on budgets to working with staff on planning and problem solving to giving tours of the library to visitors. Some days are very peaceful, and others race by.
Library patrons: After the justices' law clerks, members of the Supreme Court Bar use the library most. A few of the justices do their own research on evenings and weekends.
The library's most famous patrons: I'm often asked if I see the justices regularly. So far I have met seven of the nine justices, and I see them primarily at oral arguments or special events.
Most-often pulled cases: Volumes of Supreme Court reports are pulled and delivered frequently, usually during oral arguments, but most of the legal research is done online and covers any and all jurisdictions.
Biggest challenge facing the Court Library: The same challenge facing most law libraries today—how to develop a balanced collection to provide information in whatever format is needed or requested as quickly and as authoritatively as possible. And to do this within budget constraints.
Biggest surprise about working at the Court Library: Finally, no complaints about photocopiers. Plus a much smaller group of patrons.
Special perk: I am very proud that, because I am a court officer, my name will be on the first page of every volume of Supreme Court reports published during the time I work here.
In her spare time: Although I am still enthusiastic about natural landscaping and land preservation, I have a very small space for planting in D.C. This spring I plan to get involved with groups who are working to preserve and restore areas in and around D.C, so that I can stay close to the land and learn the vegetation of the Mid-Atlantic region. And I love to visit the National Botanic Garden, which has a native plant garden in one of its courtyards.