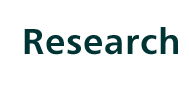 Coursework
What the governess knew
English professor William R. Veeder leads his class through the twists and turns of a gothic tour de force.
Syllabus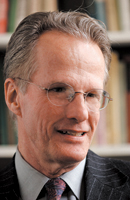 Photo by Dan Dry
English 460, Anglo-American Gothic Fiction in the Nineteenth Century, focuses on what English professor William R. Veeder, who serves on the International Gothic Association's advisory committee, calls "the transatlantic aspect of the gothic tradition."
To that end, the class crosses and recrosses the Atlantic, starting with Washington Irving's "Rip Van Winkle," shifting to Mary Shelley's Frankenstein and Emily Brontë's Wuthering Heights, then Edgar Allan Poe's "The Cask of Amontillado" and "Berenice." Along with those often-read writers—and Robert Louis Stevenson ("Dr. Jekyll and Mr. Hyde") and Charlotte Perkins Gilman ("The Yellow Wallpaper")—a number of lesser-known gothic works, including Irish novelist Joseph Sheridan LeFanu's "Carmilla" and "Circumstance," by Melville contemporary Harriet Prescott Spofford, round out the readings.
As someone for whom "the pleasures of reading remain paramount," Veeder encourages his undergraduate and graduate students to "give full attention to the particular qualities of individual texts." Tracking "textual intricacies," he explains, "will lead to questions about gender and psychology, as well as culture." Underscoring the importance of close readings for meaningful class discussion, Veeder gives quizzes on each text.
Passing the quizzes, the syllabus stresses, "is a precondition for a grade," not a percentage of the grade, "since reading and attending class are the preconditions of serious discussions and learning." A student who does not take and pass 70 percent of the quizzes "will have demonstrated that s/he has not in fact been a member of the class—and will not qualify for a grade (regardless of his/her performance on the mid-quarter and final papers)."—M.R.Y.

It was a dark and stormy night. Or it should have been. The story opens in Cobb 201, a few minutes before the start of English 460, Anglo-American Gothic Fiction in the Nineteenth Century. In the dimly lit room a cluster of early students (three-quarters of them women) read or quietly talk. Outside, the late-winter sun shines with more light than warmth, but the blinds are drawn.
William R. Veeder—a professor in English language & literature, the Committee on Interdisciplinary Studies in the Humanities, and the College—quietly enters the room and begins to rearrange the chairs into a discussion-friendly circle. After moving to the windows to let in the sun he takes his place before the blackboard. With the slightest of focus-gathering pauses, he turns to the day's text, Henry James's 1898 novella, The Turn of the Screw.
Veeder, who earned his Ph.D. at the University of California, Berkeley, in 1969, the year he joined the Chicago faculty, has done his share of close readings of James. The author of Henry James, the Lessons of the Master: Popular Fiction and Personal Style in the Nineteenth Century (University of Chicago Press, 1975), he is writing a study of The Turn of the Screw and Lacanian criticism. But in class he wants to learn what the 15 graduate students and 11 undergraduates find in the text (keeping mental track, he notes later that 18 students ventured opinions during class).
He is not, however, open to every reading of the work that Oscar Wilde called "a most wonderful, lurid poisonous little tale," the story of a parson's daughter in her first position as a governess, hired by a handsome, self-absorbed bachelor to care for his niece and nephew, whose soldier father died in India. Taking up her duties, she becomes convinced that Miles and Flora have fallen under the depraved control of the ghosts of their former governess, Miss Jessel, and their uncle's valet, Quint. Though critics once debated whether the ghosts are real or the narrator's hallucinations, Veeder dismisses those who argue the former: "To believe that, it helps not to be able to read."
To Veeder gothic fiction—known for its bleak or isolated settings and mysterious, ghoulish, or violent twists—is also a way to explore gender, psychology, and culture. "Why does Miles die?" he asks. "What is the material cause? What if he were smothered? So what? That would raise the question of intention—why would someone want to kill Miles?"
This complex layering of questions matches the complex folds of Jamesian prose, and on the blackboard Veeder limns a simple diagram: India + Gender. Imperialism and primogeniture, he reminds the class, are "ways by which culture produces the other," whether conquered races or women unable to inherit their father's estate.
Within that context, it's on to the text. Picking up his paperback, Veeder instructs, "Let's begin with Chapter 1. Her first five words are, 'I remember the whole beginning.' What is she referring to?"
A self-conscious quiet is the only response. He goes on: "It's the beginning of her job, it is the beginning of her narrative, but it doesn't correspond to her whole life."
In gray suit and black shirt, Veeder looks a bit like an Anglican cleric but speaks with an evangelical's fervor: "Remember, patterns have meanings. It is through form that we get to content." He leans forward to bring the point home. "It's not enough just to find a pattern. You have to ask what work it does—to know what it means."
The search for motifs resumes, this time in a "monstrous paragraph at the very bottom of page 210." The narrator notes that her young charges
…had a delightful endless appetite for passages in my own history to which I had again and again treated them; they were in possession of everything that had ever happened to me, had had, with every circumstance the story of my smallest adventures and those of my brothers and sisters and of the cat and the dog at home, as well as many particulars of the whimsical bent of my father, of the furniture and arrangement of our house and of the conversation of the old women of our village.
Laughter greets the reading, and Veeder asks a student to his right, "Having laughed, what is wrong with it?"
"She mentions everything but her mother," he answers.
"Let's push on this a bit," Veeder agrees. "What is this 'conversation of the old women of our village'—this is a long sentence that builds up for that ending."
"The old women are a repository of stories," a ponytailed woman replies.
"That's one line you can take," he nods. "What else?"
"There's something else that she doesn't want to talk about," another ponytail offers.
"What else?" Veeder presses. "Remember, she's the parson's daughter. Why is she talking to these old women?"
Interpretations are hazarded: it's more evidence of the narrator's marginalization within her household. The old women are keepers of superstition, perhaps predisposing her to believe in and see ghosts.
A blonde with a British accent notes that later in the passage the governess refers to "Goody Gosling's celebrated mots." Because a "gosling is a goose," she says, the reference "ties in with her own self-deprecation."
Veeder nods. "She's talking to someone else, someone who is like a mother or a grandmother. Her mother may have died in childbirth. Who else isn't there in her household who might be? Female friends? A housekeeper? There is a massive erasure of the maternal, a black hole."
With that the readers return to Chapter 1, and the governess's first view of the estate: "The scene had a greatness to it that made it a different affair from my own scant home…" James's choice of the adjective scant gets noted. "Let's focus on the factual," Veeder instructs, and they read on: the governess is "struck" by the grandeur of her bedroom, with "the long glasses in which, for the first time, I could see myself from head to foot."
The parsonage's lack of a full-length mirror, he says, has psychological meaning: "She won't have seen herself as a person." Taking the observation further, he asks, "What might this say about the kind of upbringing she had? That it was fragmented? That she didn't have the steady mirroring that a child wants, that she didn't have a governess, a mother?"
"But she had sisters," a woman in a long-sleeved T-shirt argues back. "Where were they?" It's a question the text has left unanswered, and the speaker notes another oddity: "It's curious that she had no curiosity—there may not have been mirrors in her home, "but there are mirrors everywhere." Perhaps, suggests a woman in jeans, the lack of a head-to-toe view means that "it's OK to be a woman in bits and pieces, but not as a whole person."
"Would anyone like to step to the plate for Jacques Lacan," Veeder asks, "and take a swing at what mirroring" signifies to the French psychoanalyst who merged Freud with post-structuralism? When no one picks up a bat, Veeder goes into huckster mode: "I'll tell you, friends and neighbors, mirroring is good. We all need mirroring," a reflection of ourselves. But seeing oneself in a mirror can also be "an alienating act," revealing a view at variance with one's self-construction.
Because "close reading is the precondition of the introduction of theory," he redirects the students to the passage: Why glasses? James had visited enough stately homes to know that even the grandest seldom had more than one full-length bedroom mirror. So why did he diverge from custom? Why is it important to his story?
"Even at the moment that you can see yourself from head to foot," a woman says, "you see several different views of yourself." Thus the governess goes from no self-image to multiple, conflicting ones.
"Miss Jessel is so frightening to her," the British woman adds, going from physical to psychological reflection, "because she sees what she might herself be."
"You're all doing great," Veeder encourages. "You've got to let the text control. Because texts are always smarter than theories." With that, it's back to the closely watched text: "the same page, the next paragraph," and the next question.—M.R.Y.