Rock-solid mission
By Megan Lisagor
Photos courtesy Special Collections Research Center, University of Chicago Library. Captions drawn from exhibition material by Sara Ritchey, a graduate student in History.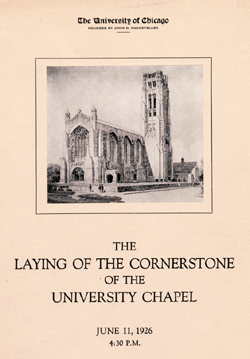 A cornerstone laying—with an accompanying program—had launched the project.
Though written in stone, Rockefeller Memorial Chapel's founding vision has room for change.
"As the spirit of religion should penetrate and control the University, so that building which represents religion ought to be the central and dominant feature of the University group," U of C founder John D. Rockefeller wrote in a December 13, 1910, letter outlining his $1.5 million gift for a chapel. The University took those words to heart, chiseling them inside Rockefeller Memorial Chapel's front door. Today Rockefeller looms above the 242 other buildings on Chicago's 211-acre campus, and evoking "the spirit of religion" remains a key part of the chapel's mission.
Rockefeller's letter of bequest is one of approximately 110 archival documents and photographs in a 75-year anniversary exhibit, Life of the Spirit, Life of the Mind, revealing how a continuum of thought has kept the chapel in tune with Chicago's expanding diversity of faith. "I was particularly struck by how similar the goals, hopes, and basic theological perspectives" of the chapel staff have been over time, says the Reverend Alison Boden, Rockefeller's dean. "Letters, speeches, programmatic brochures, and sermons all testify to the real through-line of opinions and concerns."
Reflecting Rockefeller's vision, the chapel's designs suggest a bigger-is-better theme. Massive windows and a 72-bell carillon—both among the world's largest—seek to inspire awe. The plans also confirm what has long been campus legend: no other building can top Rockefeller's 207-foot tower. Such grandeur extends beyond architecture. From its 1928 dedication Rockefeller, while largely interdominational Christian, set out to have wider reach. That same year a newly formed Student Chapel Council noted in its by-laws that Rockefeller belonged to the entire community, not a single group.
An emphasis on forward-thinking ideals further defined the chapel's scope. "We must be ready to adventure forth upon new and creative experiments in the reshaping of religious thought and tradition to meet the new needs and opportunities of modern University life," the Reverend Charles Whitney Gilkey, the chapel's first dean, said in a dedication speech. Gilkey's guidance proved propitious: today countless religions are represented by Chicago's faculty, staff, and students. Items on display, including flyers advertising a 1969 Vietnam War protest and a 1998 birthday commemoration for Martin Luther King Jr., testify to Rockefeller's role in campus life.
Though Life of the Spirit, Life of the Mind—at Regenstein Library's Special Collections Research Center through June 18—looks back on the chapel's legacy, staff have its future in mind. Rockefeller's basement, currently under renovation, will house an interreligious center, providing prayer space for Muslims, Hindus, and other religious groups, in the latest reinterpretation of the chapel's mission.