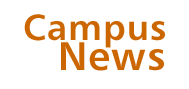 Chicago Journal
The future of feminism
At a Gender Studies conference on feminism, a generational dialogue surfaces.
Who knew that the Disney/ Pixar animated film Finding Nemo could be viewed as a "model of queer time"? University of California, San Diego, literature and cultural-studies professor Judith Halberstam thinks so. In her analytical reading the character Dory (voiced by lesbian celebrity Ellen Degeneres), a blue tang suffering from short-term memory loss who helps clown fish Marlin search for his son Nemo, is missing female traits common in movies: she "doesn't desire Marlin" and "doesn't mother Nemo." And her memory loss, Halberstam argues, signifies the gay community's split from the past—when Nemo's mother dies, "memory dies with her."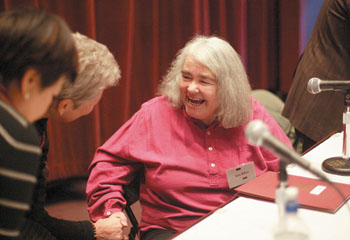 Photo by Jason Smith
Kate Millett greets a fan after her panel.
Such forgetfulness, Halberstam tells the crowd crammed into Max Palevsky Cinema, is a positive lesson for all feminists, not only gay-studies scholars. As gender studies largely has replaced women's studies in academia, the dynamic between teacher and student—the scholarly "mother-daughter relationship," Halberstam calls it—also has changed. The typical white woman professor often has lesbian and black students, and while the mothers want to pass on their 1970s work, the daughters want to forge ahead into new territory. Halberstam, whose youthful face, close-cropped hair, and 1991 University of Minnesota Ph.D. place her in the daughter—perhaps big-sister—set, argues that new ideas will pave feminism's next roads, and the '70s pathbreakers need to let go.
Throughout the February 28 Center for Gender Studies conference, Back to the Future: Generations of Feminism, Halberstam's point gets illustrated. Generational conflicts play out among the panelists and the mostly white, mostly female audience, where women with long gray hair and flowing skirts mix with younger types in camouflage tops and chains.
Halberstam sits on a morning panel with venerable '70s-era feminists. Literary critic Nancy K. Miller takes up Halberstam's argument, representing the mother's perspective—and agreeing with the younger panelist. When Miller's generation came of age—"when the daughters became mothers," she says—"they wanted to be acknowledged, their power respected. But the reformers must expect to be disowned. Only when the younger generation takes our work further will we know what our work has meant."
Kate Millett, author of the landmark Sexual Politics (1970), ignores the prior discussion. For Millett, whose light voice and poetic tones draw hushes and turned ears, the future of feminism is "tonight's evening news—gender wars in Iraq and Afghanistan," where the Taliban has re-emerged "everywhere but the capital." Since U.S. attention has been diverted, she says, prospects for Afghan women have deteriorated further. "Where women before would have been flogged, now they're raped—for showing an inch of skin at the market." But U.S. women, who should help, are no longer paying attention. The women of the world, Millett says, are now "separated from each other with a man"—President Bush—"in the center."
After Millett's remarks the group takes questions, and the generational debate resumes. When a college-age coed asks how Americans can try to help women abroad without forcing their own values on foreign cultures, the older, academic types in the crowd laugh dismissively. When a flowing-skirt audience member gushes that she's proud to teach Millett's work to her University of Nebraska students, Halberstam responds that such reveling in the past won't keep feminism strong.
After more back-and-forth the audience breaks for lunch, returning an hour later to what appears to be lighter fare: feminist pop culture. But that topic seems fraught too. Panelist Sabrina Craig, program director of Women in the Director's Chair, a Chicago women's film and video festival begun in 1980, bemoans the decline of such group activities. Once part of a "scene," where women came together to discuss art and issues, last year the film festival fell in March, right before war was declared on Iraq, Craig says—"and no one came." The light attendance was a wake-up call, she adds, that festival organizers need to rethink their approach.
Lynn Spigel, a Northwestern television and mass-media scholar, returns to the then-now argument, regretting the terms "first wave," "second wave," and "third wave" to describe feminism eras. "A wave puts old feminists on the beach," she says. Turning to her scheduled topic, Spigel notes that recent TV series such as Ally McBeal, Buffy the Vampire Slayer, and The Bachelorette "embrace girliness in the name of modern feminism." She shows a scene from HBO's Sex and the City and one from UPN's Girlfriends. Both programs feature strong media-worker heroines, but they're part of a larger trend "separating the races" via television, as one casts and attracts mostly whites, the other blacks.
Black feminist history takes center stage when Michele Faith Wallace, who wrote the 1976 classic Black Macho and the Myth of the Superwoman (1976), shows slides of her family—grandmother Willie Posey, mother Faith Ringgold, and herself, all well-known in black feminist circles—in Harlem and Florida from the '20s to the '80s. The images, grainy Posey in flapper-style hat through a reddish snapshot of Wallace in head scarf and bellbottoms, provide a confluence of the ages, reminding viewers that though recent generations may have differing opinions, they've all been fighting for women's empowerment. As Wallace sums up, "It's all about strong women."—A.M.B.