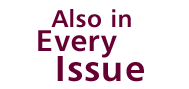 Letters
Welcome to the real world, Chicago.
Affirmative action?
Congratulations to Maureen Mahoney, JD'78 ("C. vitae," February/04), on her victory for the University of Michigan. My son, one of the top 100 mathematics students in Massachusetts, a New England Conservatory–trained violinist, and a three-season sports captain, with an SAT score in the 1500s and enough advanced-placement and college credits to begin an electrical-engineering program as a sophomore, was denied admission to Michigan. He received a letter from the university that stated, "We must select the best academically qualified from the entire applicant population." About the same time, I read a Newsweek article on MSNBC.com about a student from a public school near Detroit who was afraid that his 1270 SAT score would not get him into the University of Michigan's College of Engineering (but did).
There ought to be an analogue of Sarbanes-Oxley that would result in extended incarceration for anyone who put their hand to a letter like that. I am certainly glad that Ms. Mahoney is "comfortable" with Michigan's position. Getting comfortable with a combination of suboptimal resource allocation and barefaced dishonesty must be hard work indeed.
M. G. "Brandy" Brandon, MBA'77
Acton, Massachusetts
---
The University of Chicago Magazine welcomes letters on its contents or on topics related to the University of Chicago. Letters for publication must be signed and may be edited for space and clarity. To ensure the widest possible range of views and voices, we ask readers to limit their correspondence to 300 words or less.

Please send letters to: Editor, University of Chicago Magazine, 5801 S. Ellis Avenue, Chicago, IL 60637. E-mail: uchicago-magazine@uchicago.edu.