Chicago jazz struts its stuff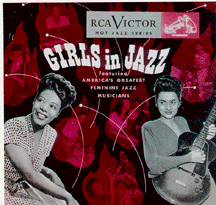 Hot wax: Among the rare items exhibited at Special Collections is Girls in Jazz, a 1940s RCA Victor compilation. (Photos courtesy of Chicago Jazz Archive, Special Collections)
The illustrious history of Chicago jazz--from its ragtime, blues, and spiritual roots to its modern innovations--is celebrated in the exhibition "From Dreamland to Showcase: Jazz in Chicago, 1912 to 1996" that runs through February in the Regenstein Library's Department of Special Collections.
"'Dreamland' is an exhibition of the cultural history of jazz," says Suzy Taraba, public-services librarian in Special Collections and the exhibit's caretaker. "These are materials that are important to historians, sociologists, graphic artists, and architectural historians as well as jazz lovers."
The exhibit contains such items as Ma Rainey's Mystery Record, for which listeners were instructed to "name that tune," and a Chicago Defender newspaper article that contains one of the earliest references to this type of music as "jass"--later, jazz. "It was not a nice term," Taraba says, laughing. "It came from Storyville, the vice district in New Orleans."
Taraba is especially excited about an album cover for the RCA Victor Hot Jazz Series titled Girls in Jazz: "You don't hear that much about women historically in the jazz world, but Lil Hardin Armstrong and others were prominent in the Chicago clubs."
While the exhibition is only temporary, most of the materials were culled from the Regenstein Library's Chicago Jazz Archive, one of only three jazz collections in the country. The archive is celebrating its 20th anniversary this year. Specializing in jazz documentation with a Chicago connection, it houses recordings dating to the 1920s, CDs, photos, oral histories, and more than 3,000 sheet-music imprints, most of which were published in or related to Chicago.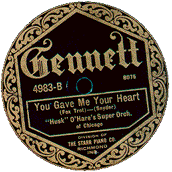 Another item on display is an an original 1922 recording of "You Gave Me Your Heart" by "Husk" O'Hare's Super Orchestra. (Photo courtesy of Chicago Jazz Archive, Special Collections)
---
In this department:
Also in the Journal:
Plus items For the Record.
---
---
Go to:
---
Return to October-December 1996 Table of Contents