Net gains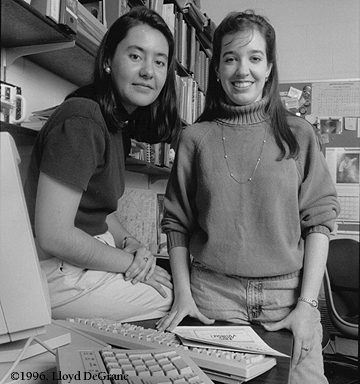 Plugged in: Lucia Muñoz-Franco and Luisa Rebull are CUIP curriculum coordinators
A collaborative effort between a group of U of C faculty, staff, and students and the Chicago Public Schools (CPS) brought the Internet to area public schools this fall.
The Chicago Public Schools/University of Chicago Internet Project (CUIP) was conceived by astronomy & astrophysics professor Don York, PhD'71, who headed a successful effort to bring an Internet connection to DuSable High School in 1995.
After hearing that the CPS wanted to try to wire all 500 Chicago public schools to the Internet, York--backed by the U of C's Community Affairs Office--approached CPS officials to offer University assistance in training teachers to help their students use on-line resources. Of the 16 schools that applied, 11 were selected to be part of the project based on their readiness for an Internet connection.
While contractors installed the necessary high-speed phone lines and internal networking equipment, CUIP members met weekly to help solve technical problems such as incompatible software and E-mail glitches. The University's most important contribution, however, will begin after the equipment is up and running.
"What's most important about this project," said Luisa Rebull, SM'93, an astrophysics graduate student who will serve as one of the curriculum coordinators, "is that we're not just bringing the lines in there and walking away."
Rebull--along with fellow grad student Lucia Muñoz-Franco, SM'95, and Duel Richardson, AB'67, director of neighborhood relations for the University--will serve as a curriculum consultant on the project, working closely with principals, computer teachers, and department heads at each school to implement programs that capitalize on the resources of the Internet and to foster a computer culture among the schools' faculty. They will also facilitate an exchange of resources among the schools.
"The University of Chicago has a vital interest in the surrounding communities," says Duel Richardson. "Our faculty, staff, and students live and work in the midst of a larger South Side community. The quality of life in each of these neighborhoods affects the others. Improvement in one area helps improve the life we all experience here. We believe the use of the Internet will expand student learning, and thereby improve public education. This will make all our neighborhoods better."
Meanwhile, York is thinking ahead to the next phase of the project. "After everything is working smoothly at these 11 schools, we want to foster the computer cultures" at 13 other Chicago public schools "so that eventually we can get them on-line, too.
"My pie-in-the-sky dream," says York, "is to have a terminal on every desk, a server in every room, and a digital library that everyone can hook up to. I saw the library in one of these neighborhood schools, and I wondered how any student could complete an assignment. If we had on-line books that were shared between schools we could multiply students' access to vital resources."
You can visit the Chicago Public Schools/University of Chicago Internet Project (CUIP) on the internet at http://astro.uchicago.edu/outreach/cuip/
---
In this department:
Also in the Journal:
Plus items For the Record.
---
---
Go to:
---
Return to October-December 1996 Table of Contents