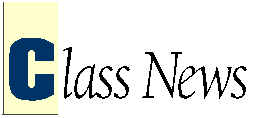 1920s and 1930s
---
What's the news? We are always eager to receive your news at the Magazine, care of the Class News Editor, University of Chicago Magazine, 1313 E. 60th St., Chicago, IL 60637, or by E-mail: uchicago-magazine@uchicago.edu.

To write us with your news directly, click here for our e-mail form: uchicago-magazine@uchicago.edu.

No engagements, please. Items may be edited for space. As news is published in the order in which it arrives, it may not appear immediately.

Please specify the year under which you would like your news to appear. Otherwise, we will list: (1) all former undergraduates (including those who later received graduate degrees) by the year of their undergraduate degree, and (2) all former students who received only graduate degrees by the year of their final degree.
---
25
Gladys Walker Rosenkrans, SB'25, enjoyed her recent travels to New Zealand and Australia.

27
The paintings of Charlotte Swanson Cleeland, AM'27, were on exhibit in October for the sesquicentennial of MacMurray College in Jacksonville, IL. Mildred Schieber Standish, PhB'27, volunteers for the AARP, plays bridge, does handiwork, and visits with a daughter living in the Chicago area.
28
Ester A. Marion, SB'28, AM'54, see 1934, June Rose Gaertner.
29
Walter E. Puschel, PhB'29, writes that Francoise, his wife of more than 62 years, died September 4 in Middlebury, VT. She was 87.
30
John E. Menzies, PhB'30, sends regards to classmates from Green Valley, AZ, where he has lived for 18 years. Victor Roterus, PhB'30, SM'31, writes, "I am 89 years old, and my objective is 90." The National Academy of Sciences, in a 1996 brochure, presented as exemplary the work on grain-elevator explosions by Robert S. Shane, SB'30, PhD'33. He and wife Jeanne Lazarus Shane, SB'41, tutor four days a week in the Martin County schools in Stuart, FL, where Robert is also a science fair judge. The couple has three great-grandsons and celebrated their 60th wedding anniversary in 1996 at their daughter's Narberth, PA, home. Bertha Heimerdinger Wadt, PhB'30, is pleased to be celebrating her 87th year of life.
31
Alexander Coutts, PhB'31, age 92, consults part time for the Chicago Area Project, which aims to promote healthy social adjustment among the city's youth. Also a voice student, he sings in annual recitals. James M. Sheldon, Jr., PhB'31, and wife Isabelle celebrated their 65th wedding anniversary in October. Sheldon has kept in contact with Arthur R. Cahill, PhB'31, of Branson, MO, and Stoddard J. Small, PhB'32, of Golden, CO.

32Winnifred Weinberg Blonsky, PhB'32, has celebrated her 90th birthday. Paul F. Coe, PhB'32, celebrated his 63rd wedding anniversary on September 24. Catherine L. Dobson, MD'32, retired in June as clinical associate in the department of obstetrics and gynecology at the U of C Hospitals but has kept her office, where she has a new computer she is learning to use. The 1974 novel Precious Heritage by Edward G. Klemm, Jr., PhB'32, is now available in paperback from the International University Press. Rubin Sharpe, PhB'33, JD'35, continues with the Service Corps of Retired Executives and enjoys the achievements of his grandchildren, including a U of C doctoral candidate. Stoddard J. Small, PhB'32, see 1931, Arthur R. Cahill.
34
While visiting Chicago, June Rose Gaertner, PhB'34, enjoyed "a talkfest" with friends including Ester A. Marion, SB'28, AM'54, and Nora McLaughlin Wayne, PhB'34. Gaertner took her fifth holiday cruise in December, this one through the Panama Canal. Belle Korshak Goldstrich, PhB'34, lives in Miami near her son, Bert Z. Goodwin, AB'54, JD'57, who served on the U of C Law Review staff with Kenneth W. Dam, JD'57, now a Law School professor, and Dallin H. Oaks, JD'57. Goldstrich's grandson, Michael D. Goodwin, AB'81, is a partner with Arnold & Porter in Washington, DC; and granddaughter Jean Goodwin, AB'79, JD'84, is a professor at Northwestern University. Olga Kawecki Hayes, PhB'34, AM'35, draws monthly cartoons for the trade magazine Kart Marketing International and enjoys the change of pace from being a schoolteacher. On June 10, Elisabeth Cason Nicholson, PhB'34, and Edward W.S. Nicholson, SB'34, celebrated the 60th anniversary of their Bond Chapel wedding. Sons Edward W.S., Jr., and Alan traveled with their wives to Sarasota, FL, from Winnetka, IL, and Rotterdam, Holland, to help celebrate. Grandson Christopher and granddaughter Sanne (the first girl born into the Nicholson family in more than 100 years) also attended.
35
Durward G. Hall, MD'35, writes that he serves as "senator" of the Academy of Senior Professionals at Eckerd College in St. Petersburg, FL, and enjoys traveling, both on continuing education cruises and by car to visit his daughter in Oregon. Irma Mitton Nebel, SB'35, continues to enjoy the beauty and serenity of her summer home in the Great Lakes region. Milton S. Ries, X'35, has retired as chair of the board of Ries Furniture after 60 years.
36
Although retired from the Electric Power Research Institute, David Saxe, AB'36, continues working part time as an officer of two small, lively Silicon Valley companies: an equipment manufacturer and an integrated-circuit designer. Robert G. Weaver, SB'36, MD'36, retired from medical practice in 1974 and raises purebred Arabian horses in the "red rock country" of Utah. Richard D. White, SB'36, and Sara Baumgardner White, SB'36, recently attended a granddaughter's college graduation. They travel and attend national geological meetings, where they see "old Chicago friends."

37 John M. Beal, SB'37, MD'41, see 1940, Colin G. Thomas, Jr. Joseph J. Ceithaml, SB'37, PhD'41, a BSD professor emeritus and former BSD dean of students, and wife Mildred have taken U of C alumni study trips to New Zealand, Australia, and Switzerland. Emanuel C. Liss, MD'37, has retired from the practice of dermatology. Floyd R. Stauffer, SB'37, continues to practice medicine and to dive and has won championships in platform and springboard diving. Stephen Stepanchev, AB'37, AM'38, whose poems have appeared in The New Yorker, Poetry, Commonweal, and The New Criterion, won the 1995 Oscar Blumenthal prize from Poetry. Since the 1989 death of husband Daniel D. Swinney, PhB'30, AM'38, Olive Walker Swinney, AM'37, has continued to live in the Washington, DC, area, where the couple both worked for the federal government: she on housing and social welfare, and he in the U.S. Public Health Service. Daughter Lael Swinney Stegall, AM'64, heads the Washington, DC, consulting business Social Change, International; son Daniel D. Swinney III directs the Midwest Center for Labor Research in Chicago. Swinney notes four "similarly promising" grandchildren. Edward D. Thompson, AB'37, enjoys gardening in California. Agatha Tosney Tyne, AB'37, visited Turkey in 1996 to see her granddaughter, a Rotary exchange student in Istanbul. Tyne volunteers for church and civic organizations and sits on the boards for both a community-
college foundation and a local bank in Polo, IL. Harriet Doll Van de Water, AB'37, who was born in University Hospital while her late father, Frank R. Doll, MD'18, was in medical school, met her former husband, John R. Van de Water, AB'39, JD'41, while at the U of C. She earned her master's degree from UCLA in 1970 and is now retired, after 17 years as a senior student-affairs counselor at UCLA's medical and dental schools. Her six children live in California, Kenya, New Zealand, and the Virgin Islands. John DeWitt Worcester, PhB'37, MBA'40, writes that in spring 1996, "I had a golden eagle perch in my torrey pine tree twice. I hear that some golden eagles were released from Catalina Island last year." Worcester, of Costa Mesa, CA, also frequently spots red-tailed hawks in that auspicious tree.
38
At more than 80 years old, Richard V. Bernhart, AB'38, was delighted to discover a new career. He and his wife publish the Senior News of Loudon County, VA. Jean Gayton Carroll, AB'38, AM'53, PhD'69, returned in October from two weeks of fostering economic self-sufficiency in Egypt as a volunteer executive with the International Executive Service Corps. Joseph J. Jeremy, X'38, has retired to Salt Lake City from the U.S. Department of Commerce, where his service as a director and a district manager of international trade led him to Utah, Nevada, California, and Japan. He has been recognized by Nevada's governor for outstanding achievements on behalf of the business community and has won California state tennis championships in senior doubles competitions for three different age categories.

Horace D. McGee, MD'38, retired in March 1984 from his obstetrics/gynecology practice. He and wife Sylvia celebrated their 56th wedding anniversary last August. Since the death of husband Miles, 90, on March 29, 1996, Emma Dum Stanton, SM'38, visits frequently with her 43-year-old son. Frederic R. Wickert, PhD'38, serves as commissioner on the zoning board of appeals and as vice president of the Michigan State University Retirees Association in East Lansing, MI. He teaches music appreciation to seniors and stays fluent in Spanish through thrice-weekly meetings of two conversation groups.
39
Mary Phemister Beal, X'39, see 1940, Colin G. Thomas, Jr. David Kritchevsky, SB'39, SM'42, of Philadelphia, an expert in lipid biochemistry, atherosclerosis, and aging, has been honored by the American Instuitute for Cancer Research for his research in diet, nutrition, and cancer. After leaving the insurance industry for gospel ministry, Mitchell S. Seidler, AB'39, was a pastor at five independent Baptist churches in five states for 50 years. Now in Hixson, TN, he plays softball with several teams, including the 60-and-over Chattanooga Choo-Choos. John R. Van de Water, AB'39, JD'41, see 1937, Harriet Doll Van de Water.
---
Within Class News:
---
Go to:
Return to February 1997 Table of Contents