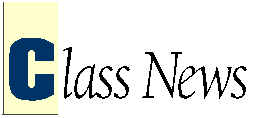 1990s
---
What's the news? We are always eager to receive your news at the Magazine, care of the Class News Editor, University of Chicago Magazine, 1313 E. 60th St., Chicago, IL 60637 or by E-mail: uchicago-magazine@uchicago.edu.

To write us with your news directly, click here for our e-mail form: uchicago-magazine@uchicago.edu.

No engagements, please. Items may be edited for space. As news is published in the order in which it arrives, it may not appear immediately.

Please specify the year under which you would like your news to appear. Otherwise, we will list: (1) all former undergraduates (including those who later received graduate degrees) by the year of their undergraduate degree, and (2) all former students who received only graduate degrees by the year of their final degree.
---
90
David E. Durant, JD'90, is an associate specializing in intellectual-property law and business/media litigation at Crosby, Heafey, Roach & May in Oakland, CA. He is a planning commissioner in Pleasant Hill; a director of Legal Assistance for Seniors in Alameda County; and a director of Youth ALIVE!, which trains at-risk youth to advocate for violence prevention. George A. Eldridge, MBA'90, became the second employee of Boston Life Sciences, Inc.; "took it public" in 1995; then joined a Cambridge, MA, biotechnology company--Ontogeny, Inc.--as its CFO. He writes that Jeffrey M. Donahue, MBA'90, left First Boston's oil and gas group to join Union Bank of Switzerland as a vice president for investment banking in oil and gas; Jennifer C. Kulp, MBA'90, and Paul G. Tashima, MBA'90, had a baby girl, Taylor Lubin, on August 29; and Glen M. Segal, MBA'90, married Lauren Gage on August 31 in Beverly Hills, CA. After a honeymoon in South America, the newlyweds are living in Palo Alto, CA. John P. Kelly, AB'90, joined the Atlanta office of Hunton & Williams as an associate attorney. He practices employment-defense litigation, with an emphasis on sexual-harassment claims. He invites classmates to contact him at jkelly@hunton.com. Annette I. Mayer-Ilmanen, MBA'90, see 1994, Antti S. Ilmanen. Patrick M. Robertson, MBA'90, and Kay Grout Robertson, JD'90, live with 19-month-old son Ian in Auckland, New Zealand, where Patrick works for Fletcher Challenge.
91
David R. Beaglehole, MBA'87, PhD'91, see 1983, Judy Weissman. Ramalakshmi Bollini, AB'91, see 1994, Anne M. Hillar. George Comer III, AB'91, completed his M.A. in economics at Stanford in 1994 and is pursuing a Ph.D. in finance at NYU. Patrick F. Feehan, MBA'91, is pursuing a Ph.D. in counseling psychology at the University of Missouri­Columbia. With interests in leadership and the study of personality in the workplace, he plans to return to the business world eventually. As a third-year medical student, Syed M. Husain, AB'91, is doing clinical rotations at St. Joseph Mercy Hospital in Pontiac, MI. "Since graduating from the U of C, I have managed to go skydiving, scuba diving, rock climbing, and bungee jumping," he writes, adding, "My next desire is to climb Mt. Kilimanjaro in Africa. Does anyone want to join me?" Marcy M. Krupa, AB'91, AM'94, lives in Spain, doing research for a Ph.D. in anthropology from the U of C. Steven P. Locascio, MBA'91, of Charlotte, NC, is the CFO for Eutectic Corporation, a Swiss-parented maintenance-and-repair welding company. Donnie E. Stark, AM'91, has begun work as an assistant professor of history at Sterling College in Sterling, KS, and can be reached at dstark@stercolks.edu. Of newborn daughter Matalyn Elizabeth, he writes: "She arrived at home on August 21, 1996, and was brought into the world by her dad and maternal grandmother--the midwife was on her way, but missed the big event by 20 minutes!" Matalyn joins Amanda Grace, 5; Luke Andrew, 3; and two foster children, ages 8 and 11--all of whom keep Stark's wife, Grace, busy at home full time.

92
John M. Brendel, AB'92, is an associate in the litigation department of McCarter & English in Newark, NJ. Jonathan G. Coules, AB'92, JD'95, is in his second year as a corporate associate attorney, specializing in mergers, acquisitions, and corporate finance, at Skadden, Arps, Slate, Meagher & Flom in Chicago. Fay E. Keane, MBA'92, continues accounting work for a nonprofit organization and expects her third child in March. Daughters Casey and Kaitlin are 2 and 4, respectively. As a chaplain, U.S. Navy Lieutenant William E. Middleton, AM'92, MDV'92, provides religious services for U.S. Marines on the USS Harpers Ferry, a warship off the coast of Southern California. Christopher R. Sherwood, AB'92, joined the Navy and, while assigned to the U.S. Pacific Fleet in San Diego, earned a chemistry Ph.D. at the University of California, San Diego.
93
Sarah M. Brooks, AB'93, reports that she has completed two field-research trips in South America as part of her doctoral studies in political science at Duke University. She hopes to return to Brazil, Argentina, and Peru in the 1997­98 academic year. Kenneth Dunkin, AM'93, directs the Robert Taylor Boys and Girls Clubs of Chicago and teaches in Chicago State University's sociology department. He also recently ran for the state senate. Adeline M. Masquelier, PhD'93, see 1988, William P. Fisher, Jr. Daniel S. Pettigrew, MBA'93, writes that he married Rebecca A. Hetland at Bond Chapel.

Suzanne C. Scherr, MBA'93, has left Rosary College in River Forest, where she was music director, to become director of education at the Lyric Opera of Chicago. Jen Sermoneta, AB'93, has returned from a three-year stint of teaching in Bogota, Colombia and lives in Oakland, CA. She plans to apply to graduate programs in psychology. William D. Stein, MBA'93, a junior board member of Teen Living Programs and a corporate liaison for Chicago public schools, was promoted to manager in the business-assurance advanced-development program at Coopers & Lybrand LLP.
94
Alexander S. Argüelles, AM'88, PhD'94, see 1961, Ivan Argüelles. Robert J. Bogart, MBA'94, is a regional manager for Sears, Roebuck & Company and lives with wife Rachel in Buffalo, NY, where they can be reached at 716/832-9561. Eve E. Buckley, AB'94, works in education at Chicago's Museum of Science and Industry. Rowan K. Flad, AB'94, spent last summer studying Chinese at Middlebury College's language school, then drove west to Los Angeles. En route, he stopped at the Grand Canyon, where he became engaged to In Paik, AB'94, an assistant director of student activities and leadership at the University of Michigan. In September, Flad began a Ph.D. program in archaeology at UCLA, where he says classmate Robert W. Delgado, AB'94, is currently a third-year student in the law school.

Rosemary Haefner, AB'94, was promoted to senior human-resource consultant in McGladrey & Pullen's Chicagoland practice. Anne M. Hillar, AB'94, now pursuing a master's in journalism at the University of Texas, was copyediting for the Daily Texan last summer when she ran into fellow copyeditor Ramalakshmi Bollini, AB'91, who's now with Hoovers, Inc., a publishing business founded and run by U of C alumni. Antti S. Ilmanen, PhD'94, and Annette I. Mayer-Ilmanen, MBA'90, announce the September 11 birth of their daughter, Kukka Marie. Kevin Klowden, AB'94, AM'94, is a geography professor at Santa Monica College in California. Formerly Chicago-based, Michael W. Lewis, MBA'94, has been named a managing principal in the Philadelphia office of Strategic Technology Resources.

Kelly Parling, AB'94, a second-year medical student at Kirksville College of Osteopathic Medicine in Kirksville, MO, helps recruit medical students for the field of primary care. Parling's e-mail address is Kelly_Parling@kcrunch.kcom.edu. Selva Raj, PhD'94, was promoted to assistant professor of religious studies at Albion College in Albion, MI, where he teaches comparative and Asian religions. A Catholic priest, Raj studied in India, served on a seminary's faculty in Calcutta, and was a pastoral associate at a Chicago parish. Having been promoted to lieutenant in the U.S. Navy, Robert J. Williams, AB'94, is spending six months aboard the USS Enterprise in the Persian Gulf.
95
Bradley D. Cherniak, MBA'95, is an associate at Gordon Capital Corporation. Aejaz A. Danishmand, MBA'95, enjoys his work in Merrill Lynch's international credit group. He invites classmates to join him and Sunny H. Baek, MBA'95; Nancy A. Miyasaki, MBA'95; and Alan L. Mowatt, MBA'95--who frequently meet to reminisce about "the good old days at U of C."
---
Within Class News:
---
Go to:
Return to February 1997 Table of Contents